CCUSD would like to celebrate outstanding efforts in teaching and learning by recognizing exceptional teachers and students:
Dr. David Savidge teaches 10th grade Honor's English at Cactus Shadows High School.  Savidge encourages students to think outside the box and not just read books but also "taste them" by sampling the foods that go with the timepieces they read about.  Savidge doesn't put limits on how creative students can be with his assignments and his students respect him for his willingness to listen to them and help them find their originality.  Savidge's classroom includes enlarged photos of students who are "being framed for success" and he encourages his current students to find these role model students around campus.  Pictured is Savidge with some of his students dressed like him on "twins day."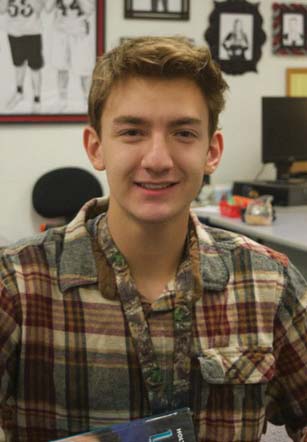 Zander Munhall is an 11th grader at Cactus Shadows High School and plays on the football team.  His former teacher, Dr. Savidge says of Zander, "He's the type of guy who doesn't make excuses.  He is calm, kind, honest and owns up to every situation as an opportunity to constantly improve.  Zander is a role model for other students because he knows how to persevere and this is an excellent quality to celebrate."  Pictured is Zander in front of his enlarged photo which can be seen on the wall in Dr. Savidge's classroom.