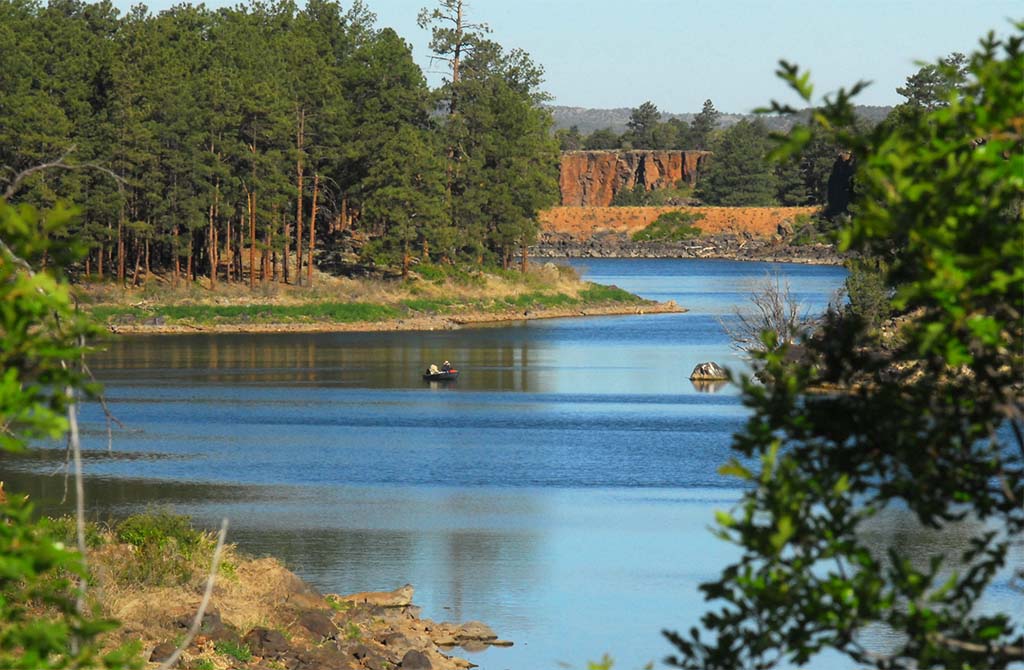 With destinations ranging from high-elevation lakes in pine forests to waters in grasslands and desert areas, how does someone decide where to go?
PHOENIX – The adventurous Arizona angler, boater or paddler now has a tackle-box tool that can unlock about any fishing excursion in the state.
The new edition of the Fish & Boat AZ map is now available for anglers to choose their own hook-and-line adventure.
Fish and Boat AZ not only gives door-to-ramp driving directions to individual waters statewide, it is filled with fishing reports and forecasts, stocking information, bag limits, and locations of marinas, pump-out stations, license dealers, fishing docks, life jacket loaner stations, certified fish scales, and more.
"This is a significant upgrade to the previous Fish & Boat AZ map," AZGFD statewide sportfish program manager Andy Clark said. "Take a quick look around at this map and you'll see it's one of the most valuable resources any Arizona angler can have at their fingertips."
The map includes all major lakes statewide, as well as Community Fishing Program waters. Streams are also planned to be added to the map.
As part of its "Have a reel fun summer" campaign, AZGFD stocked bonus fish through June. Extra catfish were stocked into Lynx Lake, Dead Horse Ranch State Park, City and Santa Fe Reservoirs, Frances Short Pond, and Scott Reservoir; bonus trout were dropped into Lower Lake Mary, Kaibab Lake, Woodland Reservoir, and Goldwater Lake.
Already have the perfect experience in mind? Use the Interactive Search tool to find individual waters, filter locations by species, watercraft regulations and more. Once you've narrowed your options, zoom into the map to see the facilities and amenities available to help make that perfect outdoor experience a reality.
With the Fish & Boat AZ map displayed on your mobile device browser, click "Add to home screen," to create a shortcut that functions similar to an app. Then explore all the fishing and boating opportunities Arizona has to offer.
Also, anglers can now purchase a license on the way to the lake from our new, mobile-friendly system. Resident license options include: General Fishing for $37, Hunt/Fish Combo for $57 and Youth (ages 10-17) Hunt & Fish Combo for $5. All are valid for 365 days from the date of purchase.
AZ Game and Fish collars 20 Flagstaff-area mule deer
FLAGSTAFF — Twenty Flagstaff-area mule deer are at the forefront of a three-year study that will help the Arizona Game and Fish Department analyze movement patterns and guide management strategies aimed at conserving mule deer migration corridors and providing guidance for preventing deer-vehicle collisions.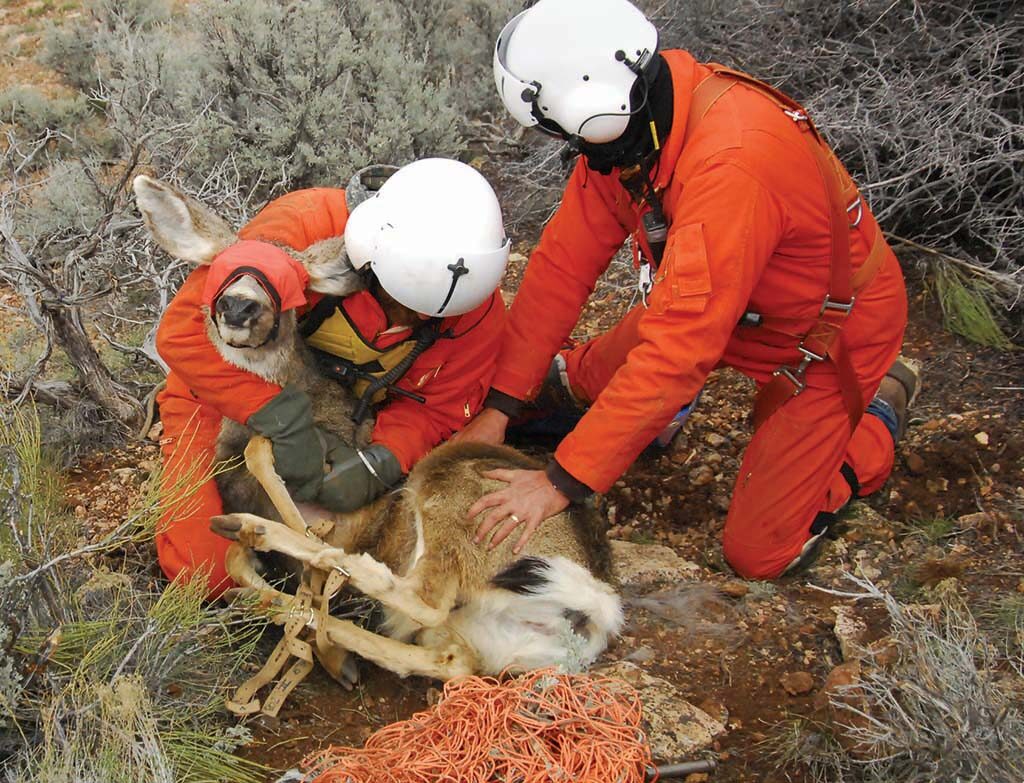 The department — in coordination with the U.S. Department of Interior (DOI), U.S. Forest Service Coconino National Forest, Hopi Tribe Department of Natural Resources and the Mule Deer Foundation — began the study in early June by safely capturing and collaring 20 mule deer around and west of the picturesque San Francisco Peaks, just north of Flagstaff.
"Studies such as these are instrumental for us to learn where local wildlife populations move within their natural habitat," AZGFD statewide research biologist Jeff Gagnon said of the study funded by DOI secretarial order 3362. "This data will guide management decisions to help us conserve and protect local deer populations and enhance the safety of motorists throughout northern Arizona."
AZGFD officials utilized people on the ground to scout for deer and to guide overhead aircraft (and an awaiting helicopter) toward the herd. Once spotted, the helicopter gave chase and if the net-gunner's aim was perfect, the animal was immobilized long enough for the copter to land and a handler or "mugger" to hop out.
Once on the ground, the mugger restrained and placed a blindfold on the deer to calm the animal. Biologists then placed an ear tag, took blood samples, its temperature and placed the GPS collar around the deer's neck, before turning the animal loose to rejoin the herd.
The collars collect and transmit location data every three hours, which provides biologists a wealth of information on daily and seasonal movements that can later be used by traffic engineers and wildlife officials to guide future road projects designed to mitigate wildlife/vehicle collisions. The collars are designed to automatically drop off after three years.
"One challenge in managing wildlife is working to address the impacts that roads, highways, railroad tracks and even fences have on wildlife," Gagnon added. "Each one these essentially serve as boundaries that can lead to habitat fragmentation. Finding solutions to address such issues benefits Arizona's wildlife and helps us to make informed decisions to ensure they are around for future generations."
Mule deer are one of the most-numerous and widespread native big-game animals in Arizona. Adult bucks may stand up to 42 inches at the shoulder and weigh in excess of 200 pounds, while does (females) can average 125 pounds.
For more information about what Arizona Game and Fish Department does to manage the state's 800-plus native species, visit www.azgfd.gov.
AZGFD celebrates 10 years of partnership
July 13-14 gathering in Flagstaff will focus on expanding recruitment, retention and reactivation efforts
PHOENIX – The Arizona Game and Fish Department will mark the 10th anniversary of an innovative partnership with sportsmen's/conservation organizations working to reverse a long-term decline in hunting participation.
The Hunting and Angling Heritage Workgroup (HAHWG) and the Outdoor Skills Network (OSN) is a unique collaboration of more than 60 organizations that has hosted nearly 500 public events geared toward the recruitment, retention and reactivation (R3) of hunters and anglers since 2009. In fact, Arizona's R3 program is the largest in the nation.
The majority of the events offer hands-on, mentored, in-field hunting experiences. There is an emphasis on teaching hunting skills to beginners, as well as educating them about fair chase, wildlife management / conservation, and how they can enjoy their harvested game meat.

The HAHWG has come a long way since it first formed in 2009, when it was just an internal agency effort, hosting a half dozen events.
The top 10 accomplishments of the partnership since 2009 are:
495 public events conducted / 60+ partners
8,000+ primary participants / 16,000+ attendees reached
20 R3 partner workshops conducted (two per year)
Developed Action Plan / Toolkit: includes information such as an action plan, best practices, event standards, event types by skill level, resources and more
Centralized calendar of events with single branding and promotion since inception
Participant data collection since 2011
Online event registration since 2016
Program evaluation: a body of works, including data analysis of participants; focus group study of participants; survey of partners; and focus group study on mentoring, done by a nationally recognized research firm
Contracted an R3 coordinator because of successful program growth and opportunities (2018)
Statewide mentor recruitment initiative: First-ever "Become a Hunting Mentor Trivia & Pint Night," mentor database, mentoring events, communication and outreach (2018)
"Arizona is blessed and indebted to the many partners of the HAHWG. Their tireless efforts for all these years have resulted in thousands of citizens being introduced—safely, ethically, and responsibly—to hunting and fishing in Arizona," said Doug Burt, the Arizona Game and Fish Department's hunting/shooting sports and R3 program manager. "It is only through collaborative partnerships that any state can achieve such scale; no one entity can do it all."
To mark the 10-year milestone and continue the partnership, the group will gather July 13-14 at the Arizona Nordic Village in Flagstaff, 16848 U.S. 180, with a focus on improving and expanding on its success. Enthusiasts of hunting, fishing and wildlife conservation are invited to attend. There is no cost for the two-day event, but an RSVP is requested for planning purposes. To RSVP and get more details, visit: bit.ly/HAHWG10.
"We've had great participation in this collaboration, but many of our volunteers have been carrying the load for the entire 10 years," said Burt. "We need fresh faces to mentor young hunters and novices, and we need more partners to grow the HAHWG to keep hunting relevant and engage the public with these outdoor lifestyle activities."
Burt added that it's easy to get involved.
"The only thing it takes to be a part of the HAHWG / OSN is just showing up – so come to Flagstaff and be a part of something great. You will not be disappointed," he said.
The HAHWG / OSN is the largest and longest-running statewide R3 program in the nation. It has the data to support that the model (1) Recruits new people (families, adults, and kids) to hunting, and (2) Retains newly recruited hunters. There are also ample indications that the program is reactivating lapsed hunters, and past participants are becoming mentors and advocates.
"The HAHWG addresses all the areas of the Hunter Adoption Sequence Model," said Burt. "We're looking forward to continue building on our successes."
To learn more about the Hunting and Angling Heritage Workgroup, the Outdoor Skills Network, and to access a schedule of dozens of public events, visit: www.azgfd.gov/OutdoorSkills.