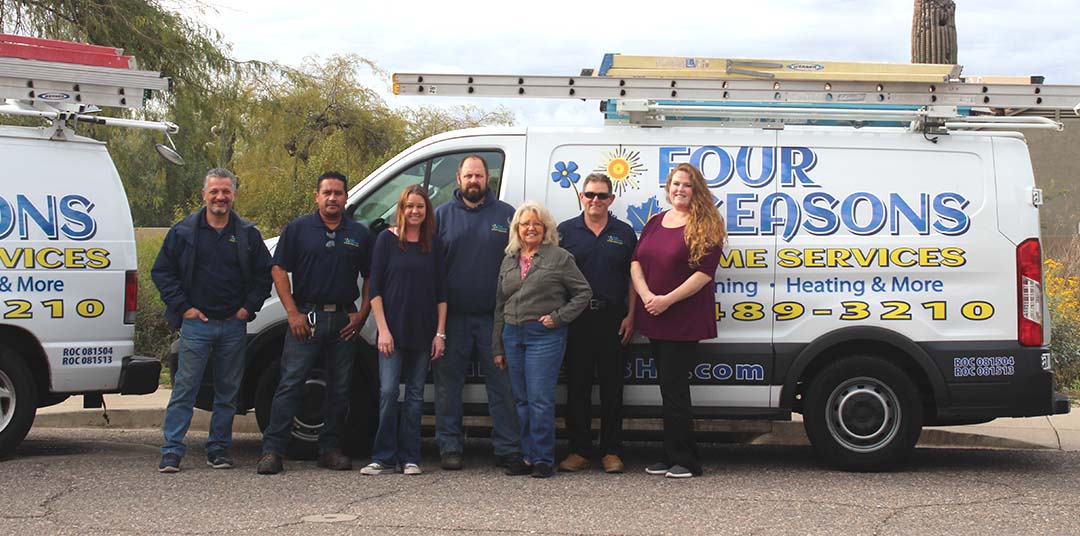 CAVE CREEK – Traditional summer temps have inched up on Arizonans, but Four Seasons Home Services owners Kevin and Jessica Morriston say it's still crucial to service your HVAC system. "Before we know it, monsoons will be rolling in and it's important to be proactive and remember that the condensate lines need to be cleaned," Jessica said. Monsoon season runs June 15 to Sept. 30, but irregular weather patterns make dates less predictable, so tune up now (for $59.95/unit for a limited time) to keep comfortable all year. Maintenance agreements are available for $125/unit, which includes two Complete Peak Performance Maintenance visits annually plus other cost-saving benefits.
The Morristons have also noted consumers are more aware and knowledgeable about the phasing out of R-22 freon (to take place January 2020). "People are calling us asking us how can they tell if they use R-22. For those who still use it, know that we find price increases every other month it seems as it grows more scarce," the couple offered. Because older units that are still operational use R-22, it's a good idea to plan to replace them sooner than later to avoid any delays should everyone wait until the last minute. A compelling reason to use Four Seasons for your AC needs is their techs do not work on commission so customers never need to worry about being sold something they do not need!
Along with Four Seasons, the Morristons own Scottsdale Customized Home Services, a home concierge service company. "We recently brought in a handyman," Jessica added. Those interested need not be Scottsdale Customized Home clients; anyone can call for full-on handyman requests. "Our guy used to do apartment maintenance. He's very nice, very smart. Some of our requests have been for painting, changing out latches and lightbulbs, hanging curtains, changing out dishwashers and faucets, changing RO filters, even putting together furniture." Need something done? Just ask!
Four Seasons Home Services/Scottsdale Customized Home Services like to maintain a small-town feel so customers will see the same face at their doors, however, they deliver big on service, so no matter your needs – HVAC, plumbing, homewatching, handyman – gave them a call at 480-489-3210 (AC) or 480-575-5777. Visit fourseasonshs.com for details.