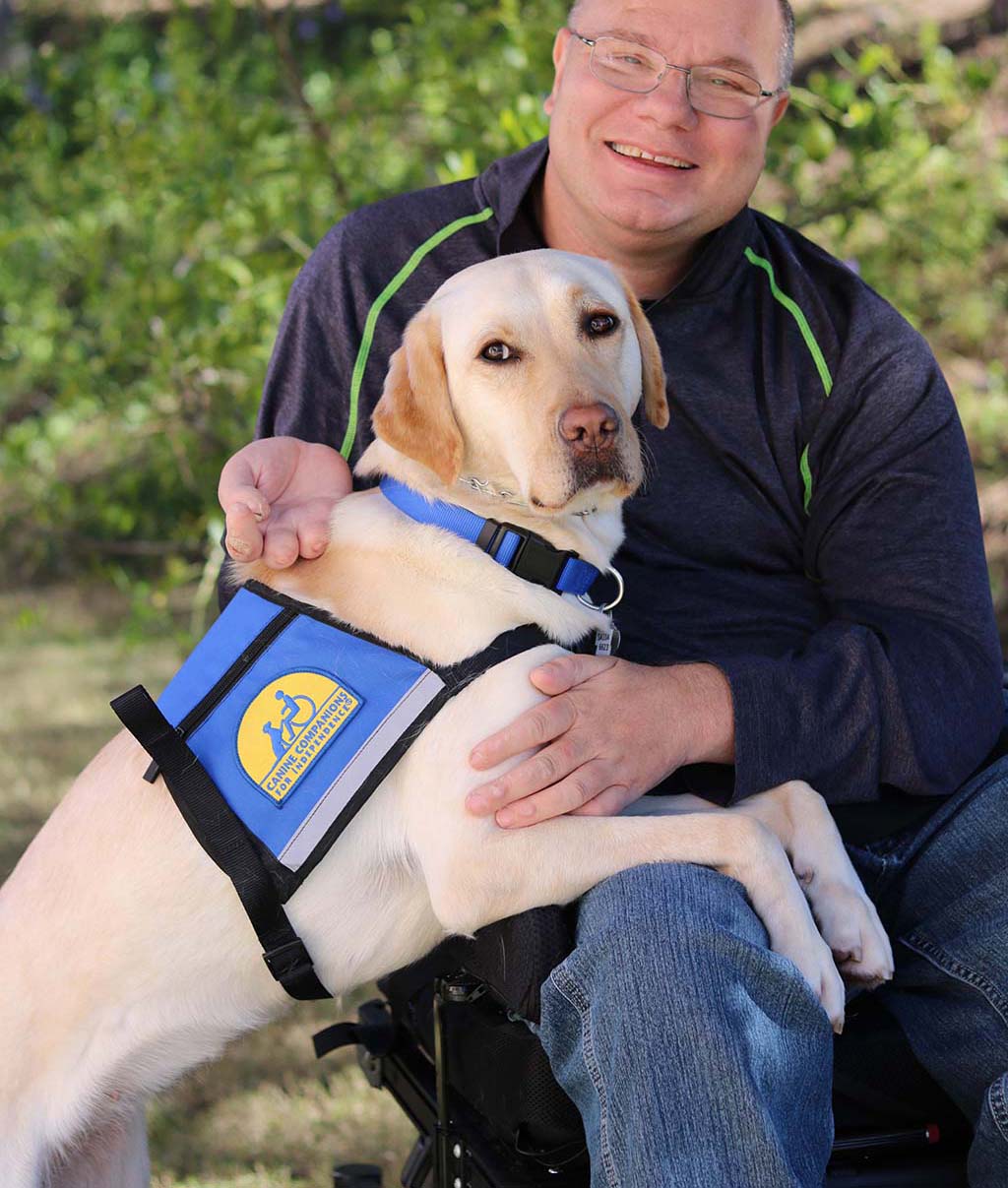 ANTHEM – Anthem resident and Technology Solutions Consultant Steve Karmgard has a new helper by his side, and she comes with a cold nose and a warm heart. Steve recently graduated from two weeks of training and received his second service dog, Saida, a Labrador/Golden Retriever cross, from Canine Companions for Independence, a non-profit organization that breeds, raises and trains assistance dogs for people with disabilities.
Steve spent two weeks at Canine Companions' Southwest Regional Center in Oceanside, CA completing an intense, residential Team Training course, where he was matched with Saida.
Saida has been professionally trained in over 40 commands and will assist Steve by picking up dropped items, turning on and off lights, opening and closing doors and drawers and other tasks that will enable him to live a more independent life. "In addition to working full time, I enjoy attending concerts, live events and shows, visiting with friends, playing board games, and taking my dog out for walks," said Steve.
Though costs to breed, raise, train an assistance dog and provide ongoing support to the team are estimated at $50,000, Canine Companions assistance dogs are provided free of charge to recipients.
Steve is excited to have Saida by his side and states, "having a Canine Companions dog perform many little tasks throughout the day like picking up dropped items and opening and closing doors reduces my pain and gives me the energy to have a successful professional and personal life." Steve and Saida make a perfect team!
About Canine Companions for Independence
Canine Companions for Independence provides expertly-trained assistance dogs to children and adults with disabilities. Established in 1975, Canine Companions has six training centers across the country, including two in California, one in Florida, Ohio, New York and Texas. Canine Companions is recognized worldwide for the excellence of its dogs, and the quality and longevity of the matches it makes between dogs and people. Although the price to raise, train and provide ongoing support for our dogs is estimated at $50,000, we provide our assistance dogs free of charge to recipients. For more information, call 1-800-572-BARK or visit www.cci.org.