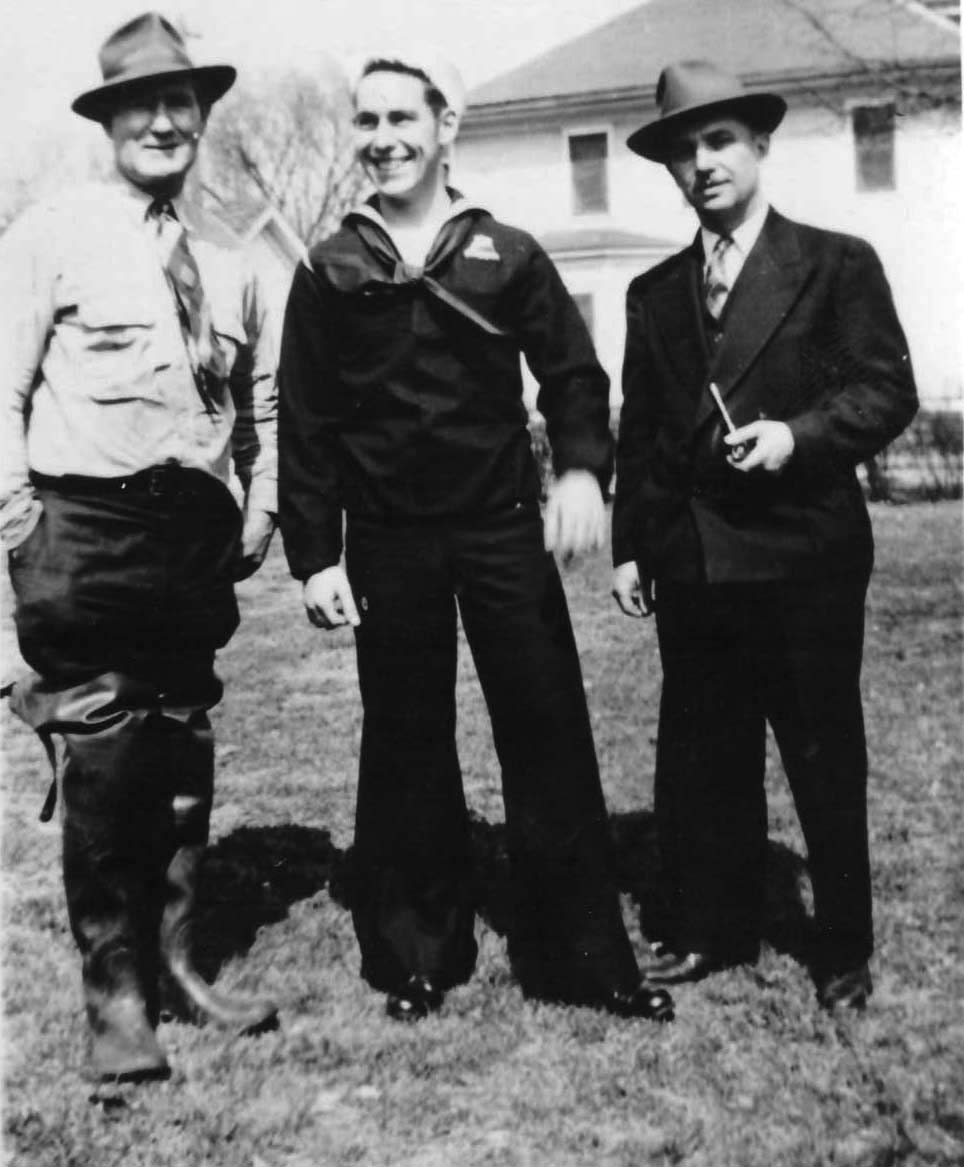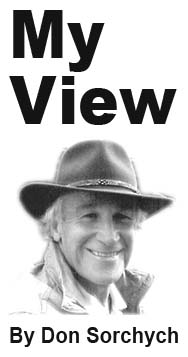 Ed Hall was a veteran of WWI and lost a lung to mustard gas in that war. An Army Doctor advised him to seek outdoor jobs and he did.
During the summer, Ed and his wife Inez, whom we called Nanny, leased a property called Walnut Grove on Lake Senachwine about four miles from Henry, Illinois which had a sign boasting, "BEST TOWN IN A DAM SITE." Henry was on the Illinois River and was dammed there in those days.
On that property they rented cabins, rented boats, sold bait and food. I thought it was heaven.
The Kurps owned a cabin there where they lived during summers. Note the pride of Earl Kurp in his naval uniform and his father dressed in a suit with pipe in hand, typical in those days, just short of WWII.
So to stay outdoors while working, Ed would immediately prepare for duck and goose hunting on land he leased. He and his sons, Mervin (Doc) and Lyle and hired employees built blinds, preparing for the wildfowl season.
Ed's clients were mostly doctors, lawyers and other professional men and Ed loved flashing the ever-growing collection of cash banded together in his pocket. Back in those days the limit for ducks was 15 and he guaranteed the hunters would go home with their limits. To assure that, he had his "pushers" shoot a limit also and nail the necks of ducks on the northern face of his two story house.He let clients choose their limit if they were short of 15 per day. Thank God for cold winters!
As soon as wildfowl season was done, Ed and sometimes cousins would begin setting trap lines on his leased lands. Both muskrats and mink were salable to the fur trade.
My father was employed at The New Jersey Zinc Company in Depue 20 miles from Henry. We drove to Henry in our Model A Ford with sisters Jeane and Betty on most weekends. Many of my mother's kin were not employed because of the Depression and my mother fixed food for a couple of weekend feasts for them.
Because of those trips I would both hunt and trap with Ed or his sons. Doc was the sharpshooter and once invited me to shoot doves with a 10 gauge shotgun. I was knocked on my butt and he thought it was the funniest thing in the world.
Another time Lyle and I went duck hunting with Doc, who was in charge. We were in a blind. Doc had the duck call and Lyle and I scared a flight of ducks after Doc had told us to not show our faces. He propped his shotgun in the blind corner, grasped both our heads and forced them in the mud. He had the duck call in his mouth, called in a flock, boom, boom, boom, and there were three dead ducks near the blind. None of us said a word, muddy faces and all.
Doc was employed upstream from Walnut Grove and he worked for a man named Buster Thompson. They seined carp and sold them mostly in Chicago. They would fill an open truck with carp, dump ice on them and drive to Chicago.
Doc once invited me to go with him to Chicago on a hot summer day. In a few miles we stopped for a stop light and two black men jumped in the truck and ran off with carp in each hand. I told Doc; he chuckled and said, "That is the tax I pay when I come here." We had several similar incidents before we reached the store that had ordered them.
Uncle Ed taught me to trap. Mink sold for about ten times what muskrats sold for. So, we found a live mink held in Ed's trap in a foot or so of water and Ed, in his usual hip boots, decided to drown it so he wouldn't hurt the hide. He stepped on the mink and the mink reacted by biting his hip boot and shredding the boot half way to his knee. He backed off, drew his pistol, killed the mink and said, "Don't tell anybody."
I spent one entire summer with Ed, Nanny and their daughters, Peggy and Lois. Neither my cousins nor I wore anything but bathing suits the entire time. It is still a wonderful memory!
Ed was always the veteran and he would often break into song, "Over There, Over There, The Yanks are coming, the yanks are coming…." Until his wife would suggest he shut up.
Years later, after I left the Navy, my wife at that time worked for an optician in Urbana, Illinois and he hunted ducks in Lake Senachwine. When the doctor was told Ed hall was my Uncle he asked if I would intercede with him. I asked what is the problem? He said, "We have a blind near him and when he sees ducks heading for us he shoots and scares them away! I'm afraid to confront him and he is armed of course." I told him maybe he has lost it, I don't know, but the most I will do is tell his son. I love the man and he was gassed in WWI.
I left it with Lyle and received no answer.