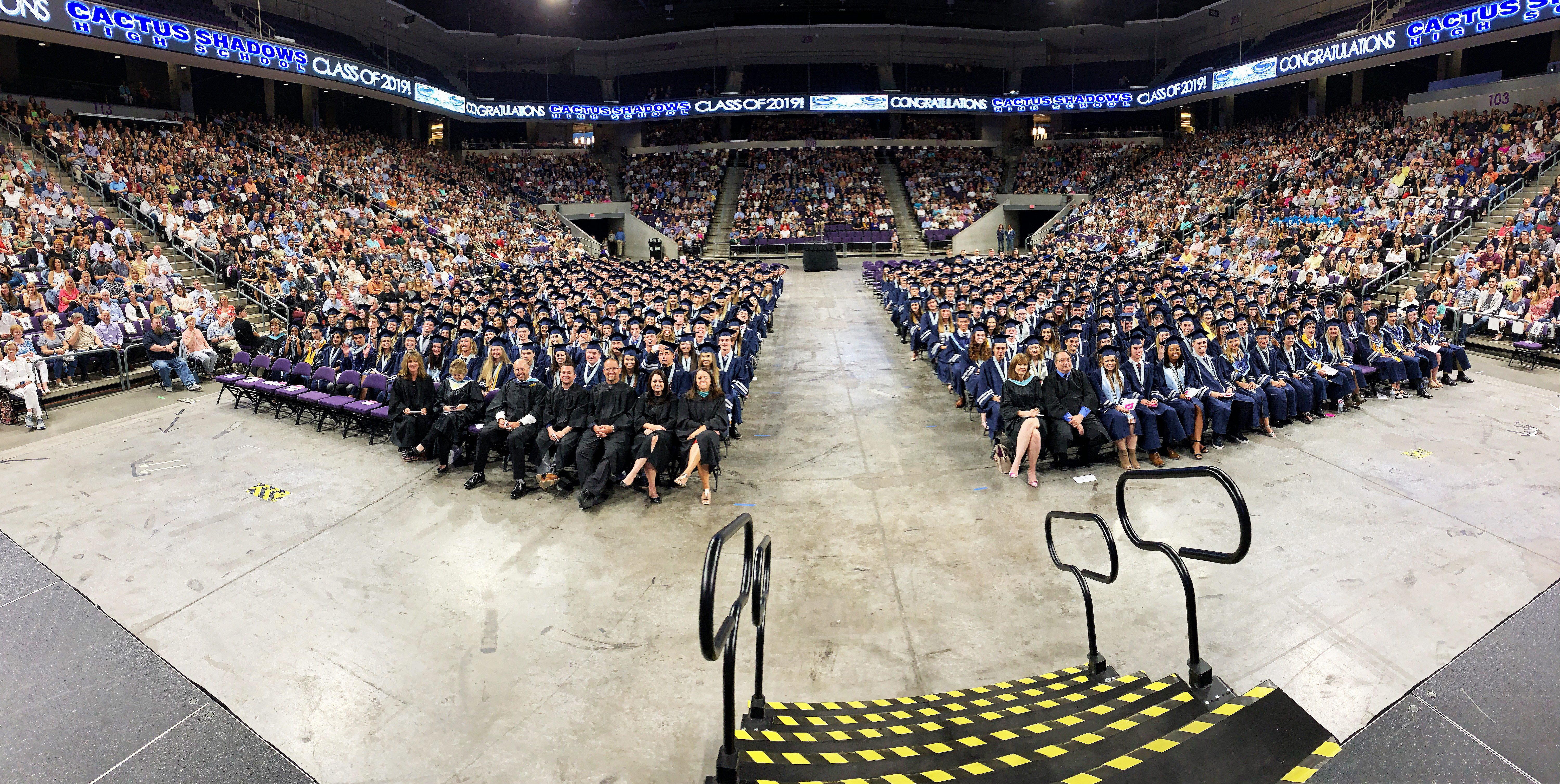 Class of '19 awarded $16,343,078 in scholarships and financial aid.
-Grand Canyon University – May 23. "All roads lead to home." So, goes the old college, it's origin unimportant. But on the evening of May 23, 2019, if you were a Cactus Shadows High School senior, all roads led to Grand Canyon University Arena, where the Class of 2019 jubilantly graduated. For the Fifth consecutive year, CSHS graduation was held at the audience-friendly venue on West Camelback Road. The event was as celebratory as a high school graduation should be.
-Following the Pledge of Allegiance, Choir Director Karen Dolezal's Honors Choir and concert orchestra began the program with their traditional rendition of "the Star-Spangled Banner." Performed with the bravado at the originally-intended tempo, our National Anthem, can, indeed, be a stirring musical work. Later, in the event's program, Honors Choir beautifully sang "This is me," the class song. "Well done!" young vocalists.
-CSHS Interim Principal Jim Swetter welcomed the audience, then delivered his congratulations and wishes to the class. "The class of 2019 will be remembered as fine young men and women who made Cactus Shadows a better place." At Senior Awards Night, May 20, Principal Swetter had proudly announced that the Class of 2019 had earned $16, 343,078 in scholarships and financial aid.
-CCUSD Superintendent Dr. Debbi Burdick then followed with her congratulatory remarks.
-"The entire CCUSD community cannot be more proud than we are of our 2019 Cactus Shadows High School graduates. With their attention to scholarship, community service and teamwork, they are an exceptional class and we look forward to hearing about their future accomplishments in the years to come," said Burdick.
-Enjoyably received by their classmates were words of encouragement from the Salutatorians Isabella Sayegh, Nick Cuc, and Emma Strouse, Valedictorian Luke Rodriguez, and Student Body President Ryan Pogemiller.
-After diploma certificates had been presented to each member of the Class, CCUSD Governing Board President Kathryn Hill, formally accepted the Class. For the Class of 2019, their graduation had, at long last, become official! "Cel-e-bre-tim time time! Come on!"
-Young folks you'll graduate high school only this once. Guard this milestone carefully in your memory bank as a clear reminder of your accomplishment and as a strength in meeting life's challenges that can hit you.
Here's wishing everyone a safe and enjoyable summer.