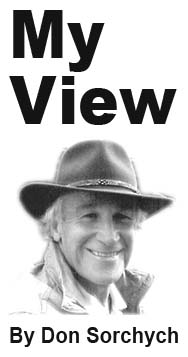 Perhaps I was hasty suggesting replacing our Troubadour Mayor would alleviate Cave Creek road closing and other slaps in the community face coming out of Town Hall. It will take a majority of four council men (and women) to right the ship of state here. That means Mayor Bunch and three more. Town voters managed to exit Adam Trenk and his followers in a heart beat.
I have discussed the dilemma with a few Creekers and there are votes to do the job if anyone agrees to run for a council seat.
Our previous friendly streets have turned into a nightmare. These idiot signs have slowed traffic down to a snails pace. Near back end traffic crashes are a daily occurrences. People slow or stop without a pedestrian in sight. The average speed on Cave Creek Road is about 15 mph, where is used to be twice that.
Apparently the town looks the other way when motorcycles speed down Cave Creek Road with blasting straight pipes. But for citizens who drive our one and only access road in cars with speed monitors  are reminded and told what their speed is in flashing monitors all over town. More town cost with little purpose.
Lets face it, the speed monitors are poorly designed. Oncoming drivers see a circle with "STOP" in large letters and so they stop or slow down without pedestrians in sight.
This is Cave Creek, not Scottsdale or Phoenix!
The other major issues are the use of Bar parking lots for outside businesses and then expecting to use our roads to park motorcycles, Use of town property for the Roadhouse sign, and way over due audit of cash businesses including out of town parking lot businesses.
Then there is a 4 day week at town hall because the town employees like it with no thought about town's people need of an open town hall.
City council member Kathryn Bikos Royer wrote a letter to an online page bragging about the disaster on Cave Creek Road and ended thanking Town Manager Carrie Dyrek for her help. Say is isn't so Carrie.
That puts Royer on the recall list along with the Troubadour/Crony Capitalist. Need two more, any ideas anybody? I regret I recommended her.
It is also pleasing to see an activist group challenging Mayor and Council about signs which have been out of control for years. Years ago when Adam Stein joined us as Marshal he first read the local laws and then picked up signs by the dozen and threw them on the ground behind town hall. I never found out who did it, I assume it was the mayor, told him to put all the illegal signs back from where to took them and he did. Be interesting to watch this fight. Read  Bruce Biemeck's article on this page.
Winter is fleeting
Our pool water is over 80 degrees, and is chilly but swimmable. The first western diamondback rattlesnake appeared as did a Gila Monster. Quail are paired up and nesting and acorn sized babies appearing with some parents. Good time to watch your speed as they all use our roads and please don't squash them.
It is a productive time for landscapers. All the rain has produced a bumper crop of weeds that have to be eliminated before fire season.
Be safe!