May 2019
– Saturday, May 11 at 1:30 pm – Golden Reef Stamp Mill Run
FREE – Come watch the Golden Reef Stamp Mill in operation. It will be crushing gold bearing ore mined at its original location on the back of nearby Continental Mountain.
– Sunday, May 19 – 2:00 pm to 4:00 pm – 2nd Sundays @ CCM
*Please note that this is actually the 3rd Sunday!
ANIMAL ADVENTURES
FREE – Join Wildman Phil in a presentation like none you've ever seen! Learn about animals from around the world, and those in our backyard. Note: This is the 3rd Sunday! 2nd Sundays @ CCM take place every second Sunday at 2pm, except for this one! Participating children will create CCM Passports that will be stamped at each event. Collect at least five stamps over the 2018-2019 season to get a special gift from CCM.
JULY 2019 – NEW! – CAVE CREEK MUSEUM – STEAMPUNK SCIENCE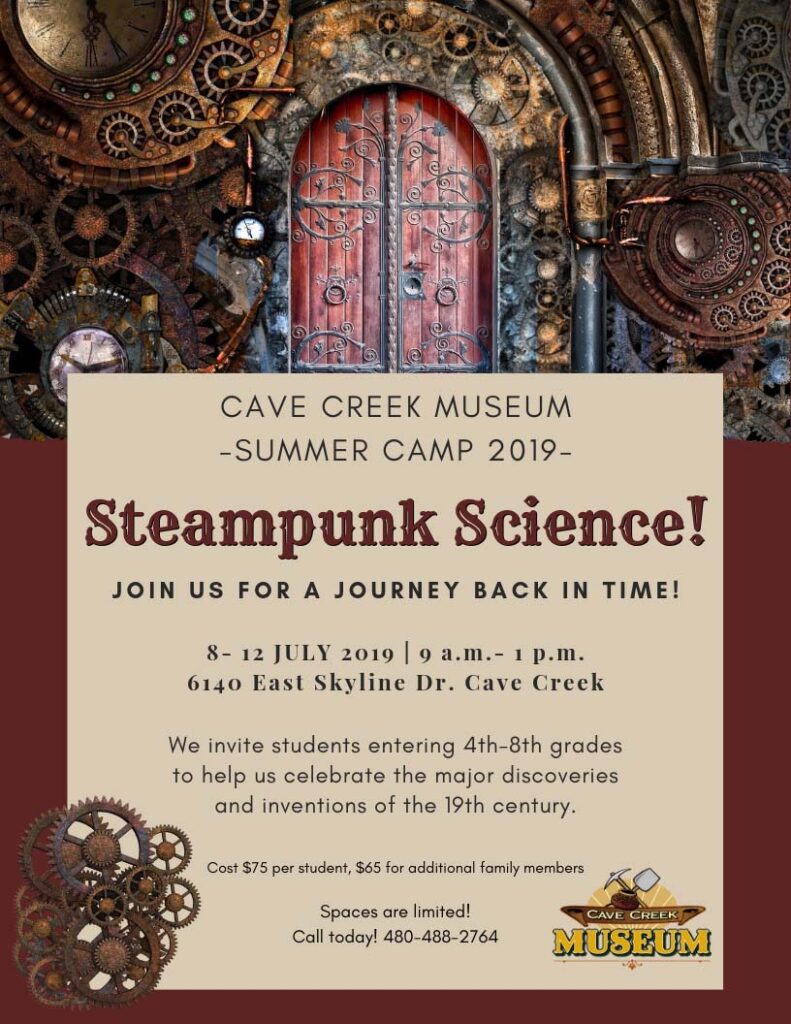 This summer, Cave Creek Museum is offering "Steampunk Science Camp," a half-day camp (9am-1pm), Monday through Friday, July 8 – 12, 2019, for students entering the fourth through eight grades. We will be exploring the history of science in Arizona and the innovations that propelled our territory into Modern Statehood. Some of the topics we will cover include: regional geology and archaeology; technological innovations that would include the steam locomotive, the gasoline combustion engine, and telecommunications, such as telegraph and telephone; and even space exploration with the discovery of Pluto. Kids will have fun investigating the History of Science in the Desert Southwest, learning how these innovations changed life on the Frontier, and dressing up in Steampunk Style!
MAKE HISTORY!
– Join the Cave Creek Museum as a Member for as little as $50/year
– Become a Business Member for just $250/year
– Volunteer your Time – as Little or as Much as You Can -Share Your Talents!
Cave Creek Museum
6140 Skyline Drive
Cave Creek, Arizona 85331
480-488-2764
www.cavecreekmuseum.org 
Open: October 3, 2018 – May 31, 2019
Hours:
Weds/Thurs/Sat/Sun: 1:00 pm – 4:30 pm
Fri: 10:00 am—4:30 pm
General Admission:
$7 Adults / $5 Seniors / $5 Student / Children Under 5 are Free