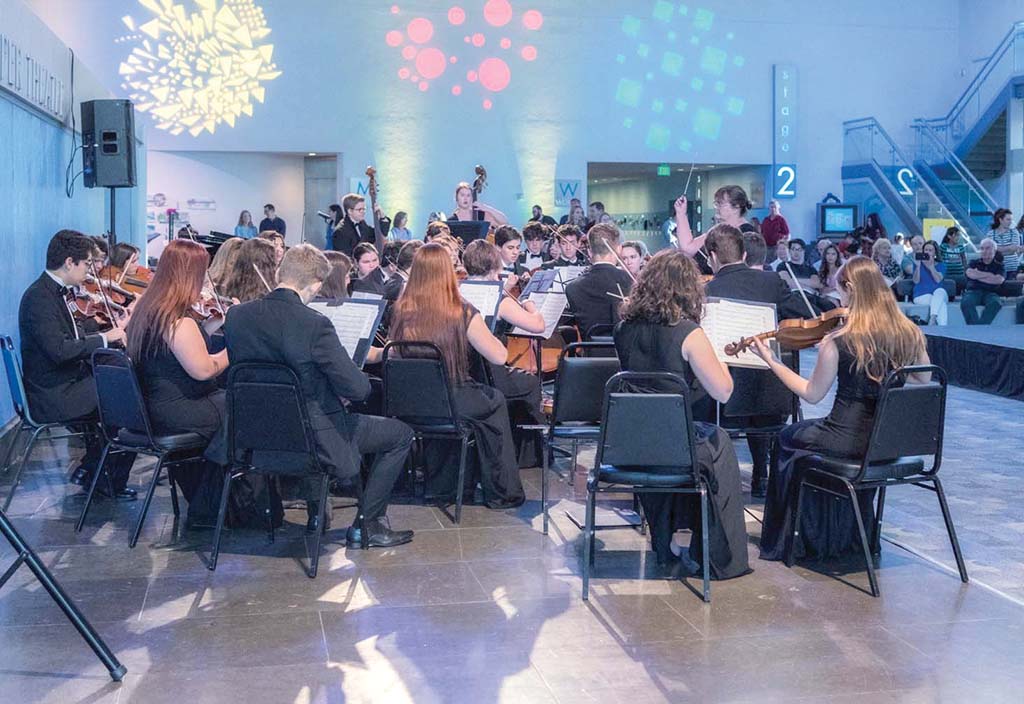 SCOTTSDALE — Because community is at the heart of Scottsdale Arts and the arts are at the heart of our community, join Scottsdale Arts Education & Outreach to celebrate a "Work of HeArt" from 5:30 – 7:30 p.m. Thursday, May 2, during the 8th Annual Arts Education Showcase at Scottsdale Center for the Performing Arts, 7380 E. Second St.
The showcase has adopted the "Work of HeArt" theme for this year as it invites members of the community to experience a free, fun-filled celebration of the visual and performing arts, each representing a different aspect of Scottsdale Arts Education & Outreach's efforts in the community, from the organization's work with local schools and nonprofit organizations to its outreach work with seniors.
"The arts are a crucial part of what makes our community vibrant, thriving, and healthy," said Natalie Marsh, director of Scottsdale Arts Education & Outreach. "They contribute to our creative economy, build empathy by bringing people together, and make our community a beautiful place to live, work, and visit. That is why the education team at Scottsdale Arts engages with people of all ages and abilities to ensure everyone has access to the public, performing, and visual arts."
Each year, more than 40,000 youth and adults share moments of discovery through Scottsdale Arts Education & Outreach's diverse school and community programs, including Memory Lounge, Poetry: Personal to Performance, and Marvel & Make.
The event will include exhibitions, activities, and displays from partnerships with schools, community organizations, and City of Scottsdale senior centers. Among Showcase features are artistic bowls from the Alli Ortega Empty Bowls Benefit Sale, photographic and written works by youth from the Boys & Girls Clubs of Greater Scottsdale, a woodburning demonstration, and performances by student musicians, singers, and dancers.
Attendees can even take part in some creative activities, including the opportunity to design your own friendly felt monster at Marble Mountain, which was recently featured at the Scottsdale Arts Festival.
"This year, Scottsdale Arts Education & Outreach collaborated with partners across the Valley to touch more lives than ever before," said Chris Harthun, arts education coordinator for the organization. "While the individuals that we work with are diverse, the arts reach and connect us at the core of our humanity. Art is a universal language that transcends boundaries, heals, and gives hope."
Many family members and friends of the student and senior artists attend the event alongside local educators and members of the Scottsdale City Council. The free event is also open to the public, but attendees are encouraged to RSVP online. Visit EducationShowcase.ScottsdaleArts.org for information.
In addition to the performances and pop-up exhibitions on display for the event, Scottsdale Arts Education & Outreach also has two ongoing exhibitions at the Center. More information about those exhibitions can be found below.
"All That You Can't Leave Behind" Ongoing through May 2 in the Young@Art Gallery
During the Holocaust, millions of people were forced into ghettos and camps located across Europe. At times, given only moments, a few precious items were packed. Belongings were chosen to bring physical and emotional comfort, to re-establish business, and to barter or trade. Ultimately, satchels and suitcases were filled with objects that would help to restore hope. Inspired by the recent "Violins of Hope" exhibition and a presentation by a local Holocaust survivor, visual art students at Chaparral High School created found object assemblages to answer the questions of what empowers them — what gives them hope. The personal objects in these vintage suitcase vignettes quietly tell stories of the human experience.
"Double Agents of Change" Ongoing through June 2 in the ArtReach Space
Change, and what constitutes positive change, may be defined differently from one person to the next. Today's youth are observing the current sociopolitical landscape and have unique perspectives of their own. Rather than platforms, what if activism disarmed confrontation and contentious debate through artistic dialogue and creative solutions? "Double Agents of Change" is inspired by artists Pedro Reyes and Carla Fernández's recent exhibition, "Double Agents," at Scottsdale Museum of Contemporary Art. After viewing that exhibition, visual art students at North Canyon High School reflected upon issues important to them and created their own statement pieces by customizing white T-shirts. By depicting the world as they see it, these youth hope to spotlight important issues and empower others to engage in a creative dialogue for change.
SCOTTSDALE ARTS Through its partnership with the City of Scottsdale, the nonprofit Scottsdale Arts (formerly known as Scottsdale Cultural Council) creates diverse, inspired arts experiences and educational opportunities that foster active, lifelong community engagement with the arts. Since its founding in 1987, Scottsdale Arts has grown into a regionally and nationally significant, multi-disciplinary arts organization offering an exceptional variety of programs through four acclaimed divisions — Scottsdale Center for the Performing Arts, Scottsdale Museum of Contemporary Art (SMoCA), Scottsdale Public Art and Scottsdale Arts Education & Outreach — serving more than 400,000 participants annually.