The "Live Your Dream" (LYD) award was established in 1972 and is available to women who are head of household, demonstrate financial need and are motivated to achieve their education and career goals.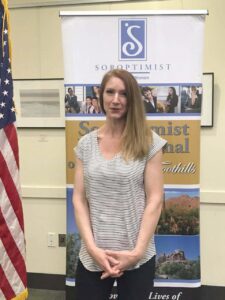 Melissa, the LYD award winner from Tempe, was awarded $2,500. Melissa is a recent graduate of the dental hygiene program at Rio Salado College. She attended college full time and gained one year of clinical training in dental hygiene while caring for her two young children. Melissa has been selected as a finalist in the Golden West region of Soroptimist International and has the opportunity to win more awards at the regional level.
This year we had seven runner ups to our LYD award, each of whom received $1,000. The runner ups were Elizabeth, Nicole, Primrose, Tarra, Katherine, Natalie and Marcella. Elizabeth is in school to obtain a degree in psychology. She is currently serving in the U. S. Air Force and intends to utilize her education to support her law enforcement career. Nicole recently graduated from ASU with a degree in Criminal Justice and Criminology. Her goal is to obtain a law degree, concentrating in criminal law. Primrose is a student at Barrett, the Honors College at ASU. She plans to obtain a dual master's degree in global studies and creative writing to assist her goal of improving the lives of rural women in Sub-Saharan Africa. Tarra is pursuing her degree at Carrington College to become a registered nurse while working to support her family. Katherine is a patient care assistant at Banner Health. She is presently enrolled in the nursing program at Gateway Community College and is also taking online classes at Northern Arizona University. Natalie is currently a working full time and is studying software engineering at ASU in order to be a software developer. Marcella is pursuing her associate's degree at Central Arizona College in social work while working full time. Her career goal is to be a substance abuse counselor.
The "Young Women's Service" award recognizes young women who make their community and world a better place through their volunteer efforts. This program honors girls between the ages of 14 and 17 who contribute their time and energy to volunteer projects in their schools and community. Each girl was awarded $500 along with $100 to their charity. The award recipients this year are Emma Torrey volunteering for Cactus Shadows High School Superintendent's Student Cadre, Jessica Brashear who volunteers for Cave Creek Youth Education Foundation, Lauren Anderson volunteering at Veteran's Heritage Project, and Emily Ahern who volunteers at Wild at Heart.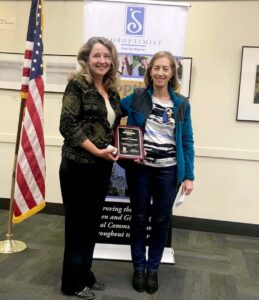 The Soroptimist "Ruby" award honors women who have worked to improve the lives of women and girls through their profession and/or volunteer work. This year's Ruby award winner is Cynthia Driskell. Cynthia moved to Arizona in 1981 and started her own physical therapy practice in Carefree in 1987. Cynthia has enriched many lives through her years of community participation and leadership. She was president of the state physical therapy association for three years and was also active at the national level, serving on several committees and projects. She has served as a mentor to several students and young women in her profession. Cynthia was the primary sponsor of the Foothills 10K for ten years and ran the aid station for that event. She has coached basketball and soccer for girls and boys while raising a family of five children. Cynthia was a very active member of Soroptimist International of Saguaro Foothills for thirty years. During that time, she held several offices including the Presidency and the chair of the Service committee. We would like to thank Cynthia for her dedication and leadership in the community.
Soroptimist International is a global women's organization working together to transform the lives of women and girls. We work at the local, national and international levels to improve lives through education leading to social and economic empowerment.
Learn more about Soroptimist International of Saguaro Foothills at www.sisaguarofoothills.org