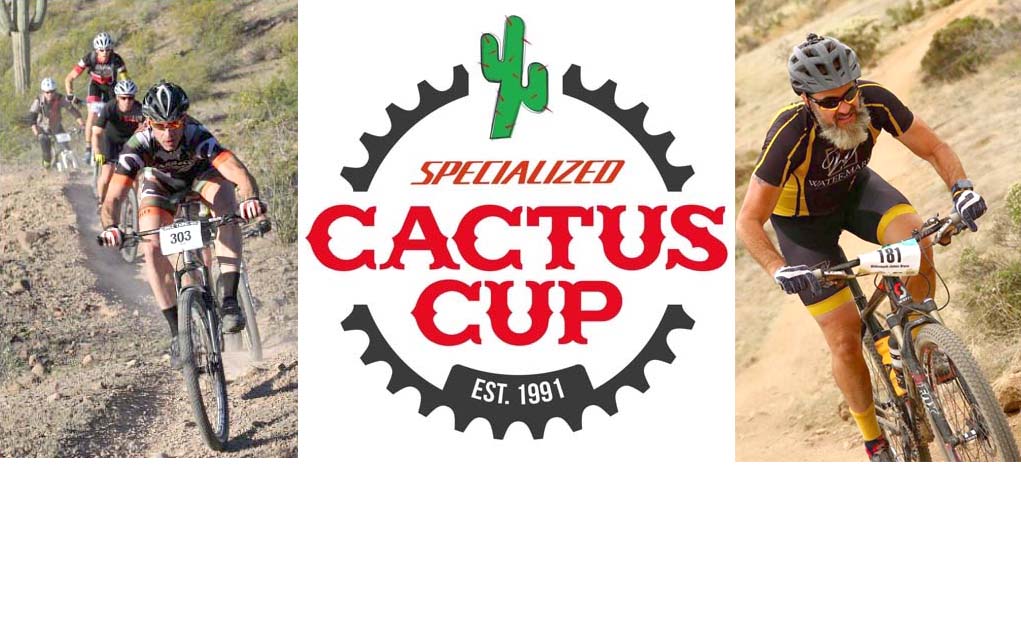 Scottsdale — The Specialized Cactus Cup Mountain Bike Stage Race will take place March 8-10, 2019. Over 1,000 bikers from across Arizona and the Southwest will gather at McDowell Mountain Regional Park in Fountain Hills, Arizona to celebrate this iconic spring event. The 2019 Cactus Cup is sponsored by Specialized Bicycles (Specialized). Taking place over three days in March, the Cactus Cup includes three races for professionals, amateurs, and juniors. This is 3 days of racing to crack open the season featuring a Short Track, XC and Enduro event. To chase the Cactus Cup and capture the overall title, all 3 days of the stage race must be completed.
Founded in 1991, the Specialized Cactus Cup is rooted in Arizona's mountain biking history and is credited not only for bringing awareness to the sport, but for also contributing to trail development and the advent of mountain bike racing in the state until the last race in 1999. Revived in 2017 by Hub Events, today's Specialized Cactus Cup is continuing the tradition of bringing professional and amateur mountain bikers and their families together for a weekend of competition and fun, while encouraging a new generation of enthusiasts through the addition of kids' races and activities.
According to Sage Melley Race Director, "The Specialized Cactus Cup provides something for the whole family; challenging race courses for the beginner to seasoned athlete, kids' racing for all ages, food trucks, live entertainment and a Huss Brewing Beer Garden!"
Before the last race in 1999, the Cactus Cup had become the sport's noted season opener, gaining international attention and growing to attract thousands of riders annually. Over the years, the race has drawn some of the biggest names in mountain biking, including Ned Overend, John Tomac, Dave Wiens, Travis Brown, Tinker Juarez, Juli Furtado, Alison Sydor, Susan DiMattei, and Ruthie Matthes, as well as renowned Arizona locals like Scott Paulsel, Doug Roether, Andy Gelle, Jon Milliken and Dan Basinski.
Specialized will sponsor the race for the third consecutive year. During the original series from 1992-1998 Specialized was the original title sponsor of the Cactus Cup and resumed that role when the event was reborn in 2017.
"Specialized is excited to continue its support of the original preseason Mountain Bike Race, the Cactus Cup. Specialized will be supporting the 2019 Cactus Cup with an Elite Team of Racers, neutral mechanical support, a hospitality booth for everyone to hang out, swag, demo bikes to tryout, an Epic Pro for raffle, 50 helmets for the first Juniors that register and a few surprises including the first ever cross-country ride along with six time NORBA National Mountain Biking Champion Ned Overend," said Scott Paulsel, Arizona Market Developer at Specialized Bicycles.
A prize purse of $5,000 will be distributed among the top five elite male and female finishers of the Cactus Cup, and the top elite male and female finishers of the short track. Unlike other races, competitors do not need to be qualified professionals to register for the elite race. Racers must compete all three days of the event to be eligible for the overall title.
Saturday, March 9th is the Kids race including a Balance Bike Race for kids ages 1-5 and a Pedal Bike Race for kids ages 4-12.
Registration for the Specialized Cactus Cup is open. Competitors may register at https://thecactuscup.com. For Adults/Elites, the Cactus Cup is $109; the Mini Cup is $95. For Juniors (9-18), both the Cactus Cup and the Mini Cup is $65. The kids' race is $10. Promo code for additional children is available. For more information visit https://thecactuscup.com
The Cactus Cup supports a number of local non-profit organizations including: Gravity Riders of Arizona, Mountain Bike Association (MBAA) and the Central Arizona Mountain Bike Patrol. The support includes financial, co-promotions and volunteering throughout the year. Projects include trail maintenance, adding features to terrain parks and trail user (bikes, hikers and horses) sustainability. All Huss Beer Garden proceeds will go directly to Central Arizona Mountain Bike Patrol.
Meet James Bruce of Cave Creek
James Bruce is an avid racer whose whole family races! James has been the coach for Cactus Shadows High School Mountain Biking team in Cave Creek for 6 years and is the winner of the State Championship. His team is named Watermark and is comprised of 70 kids valley wide including Brophy, Xavier, Boulder Creek and of course Cactus Shadows; from beginners to state champions.
The Bruce family is easily spotted on the trails as Tristan Bruce, James' son, is known for always having his dog a miniature rescue pincher in his back pack!
James has also put together a corporate team called the Watermark – for his company Watermark Estate Planning. Be sure to look out for the Watermark team this year since they will certainly be making a "mark" on the trails.
James Bruce – Cave Creek – James@watermarkestateplanning.com 480-203-6358
• Whole family races the event
• James is head coach of a high school team, brings out the entire team ~ 70 kids (Watermark Racing)
• His son Tristan races with his little dog in his back pack
About the Specialized Cactus Cup:
The Specialized Cactus Cup Mountain Bike Stage Race was founded in 1991 and continued until 1999. The Race was restarted in 2017 under the ownership of Hub Events. Taking place over three days in March, the Cactus Cup includes three races for professionals, amateurs, and juniors. For more information visit https://thecactuscup.com