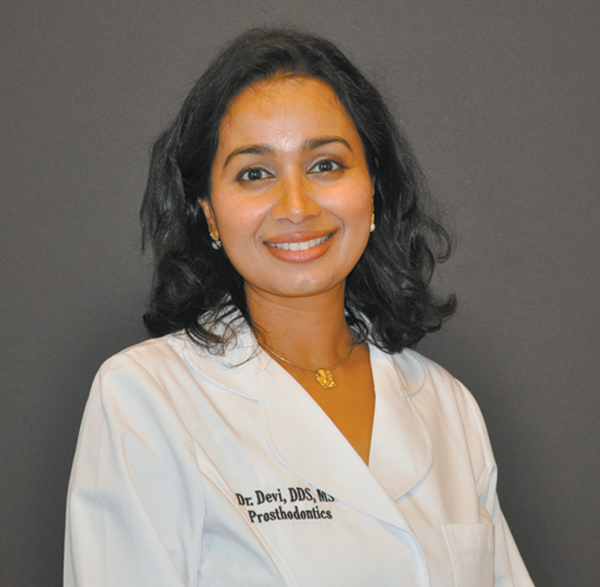 SCOTTSDALE – Nowadays when seeking a dentist for your treatment needs there are hundreds of choices and patients can easily be fooled because every doctor claims to be the best and top-notch in their fields without the additional education to support those claims. The marketing and sales pitch can be quite overwhelming.
If considering any dental treatment involving dental implants, esthetic dentures or full mouth reconstruction and you want treatment done by a well-trained, highly-qualified dentist, consider Dr. Devi, DDS.MS.FICOI. She is a prosthodontist and her exclusive private practice locations are in north Scottsdale/Carefree (34597 N 60th St) and Glendale area. Patients refer to her as a genuine and compassionate dentist, one they can trust.
Dr. Devi earned her dental education from top US universities: Loma Linda and specialty training from University of Alabama, Veterans Hospital, NYU and California Implant Institute. Dr. Devi's research work on dental implants is published in the prestigious Journal of Prosthodontics. She has completed thousands of hours of continuing education to further her knowledge in dentistry.
How does the practice stand out?
Dentist with 19 years of clinical experience/specialty training on Prosthodontics/Implant Surgery. No matter how bad your mouth condition is, a prosthodontist with additional three years of university training can handle the complex treatment needs of patients.

Being proficient in advanced restorative treatment procedures and in implant surgical techniques treatment is handled exclusively by Dr. Devi from start to finish – never switching patients from offices to offices.

Private meetings with Dr. Devi to discuss, understand and accept treatment plans that suit you. No salespersons in the office pressuring you to make your treatment decisions. Dr. Devi's primary focus is to improve your mouth condition and quality of life and not to sell cases.

Holistic approach in treatments. Dr. Devi helped patients by treating as a whole person by advising they change habits like smoking. (See patient testimonials at drdevi.com)

Dr. Devi treats only few patients a day and her schedule is kept light. Patients receive the personal attention they deserve!

Dr. Devi offers sedation dentistry and treats patients with dental phobia. Her calm personality and gentle touch make it possible for patients with extreme fear to undergo dental treatments after avoiding treatment for many years. Google reviews reveal so many patients' life changing stories.

Fees are very reasonable. Dr. Devi can work with you and offer treatments plans to fit budget constraints. (Financing plans available.)

Exclusively beautiful, calm, private office with indoor waterfall