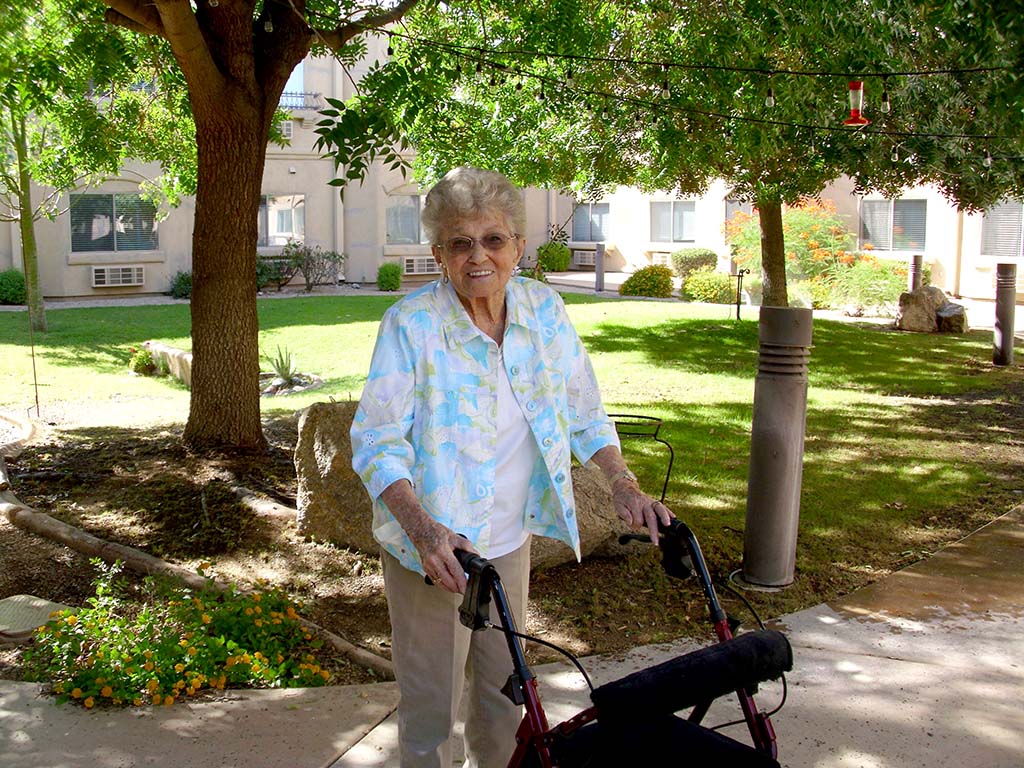 CAREFREE – "I come and go as I please. I'm very independent," said Helen Audrey Krebaum, 93, who moved from Prescott to the Heritage at Carefree in February. "My daughter found the Heritage. It's close to where she lives. I feel very welcome here. I love it."
Krebaum has praise for all aspects of the Heritage. "Donna [Holbura] and [her daughter] Christina are so nice. And of course Natalie and Rachel. There's a real sense of camaraderie because you see the same people. You eat with the same people. I don't think I ever see grouchy people!" she laughed.
Because she's free to do what she wants, Krebaum enjoys time in her room reading and crocheting. She also walks the halls two times a day. "We have options to go and listen to music [in the common room] or watch movies."
The Heritage has a grand façade and ornate artwork, and Krebaum commented, "It's fancy, but it doesn't make you feel out of place." She added that everyone goes out of their way help, especially in the kitchen. "They really strive to make it (the food) tasty."
Krebaum pointed out the newest Heritage residents have four legs and have been quite a hit. "We got two rabbits!" she shared. "They eat grass and the kitchen staff feeds them."
Audrey found the perfect place in the Heritage at Carefree. "Even when I am at my daughter's and I'm ready to leave, I say, 'I'm going to go home.'"
Whether you're independent, need assisted living or a memory care unit, the Heritage receives accolades in all aspects of attentiveness. Offered are studios, one- and two-bedrooms and suites (floorplans available at heritagecarefree.com). Ask for a tour! For greater details, call 480-488-1622. The Heritage at Carefree Retirement Living is located at 36590 N Pima Rd. #3481.