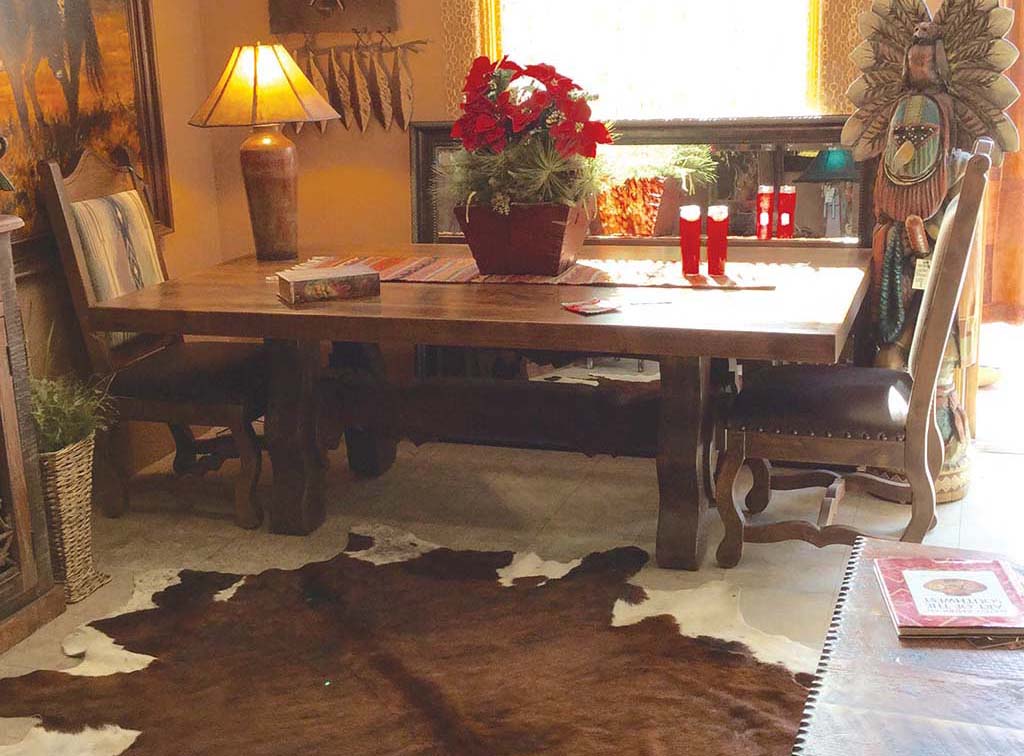 CAVE CREEK – It's mid-August and most folks likely aren't thinking about the holidays. "I see it year after year," Beverly Sexton said. "People are weeks away from hosting Thanksgiving and they realize they need a bigger table. Since it's so close, they scramble to find something that might work but they may not love."
Beverly owns and operates Out West Interiors with husband and upholsterer extraordinaire Robert Sexton and their son Zack. One of their biggest sellers continues to be dining room sets. "Our furniture can be custom made to any size you need, and it's all crafted in the US. It's alder wood and it's sturdy and beautiful."
The holidays may seem months away, but keep in mind that Out West furniture is in demand, so check out options early and make your selections to assure your party of twelve can be seated comfortably at a single table for turkey dinner.
If a new dining room set makes the rest of your house look dated and blah, know Out West has furniture for the whole house. Accessories, too! "We have the big, leather head- and footboards for the master suite, but we also have quite a few new sets that would work perfectly in spare or guest rooms," Beverly added.
She knows excellence, and with her eye for balance and colorization, she can pick out pieces to wow and impress. Go online at outwestinteriors.com to see some of the magic Beverly and her family have created. Then, stop in the showroom (open seven days) at 38252 W Jaqueline Dr.
"We don't carry mass-produced items from China," Beverly assured. "It's quality, made in the USA often by local artisans and we strive to assure our customers are one hundred percent satisfied."
Phone 480-575-8000 for hours or directions, then think Thanksgiving celebrations in the summer and prepare your home now!