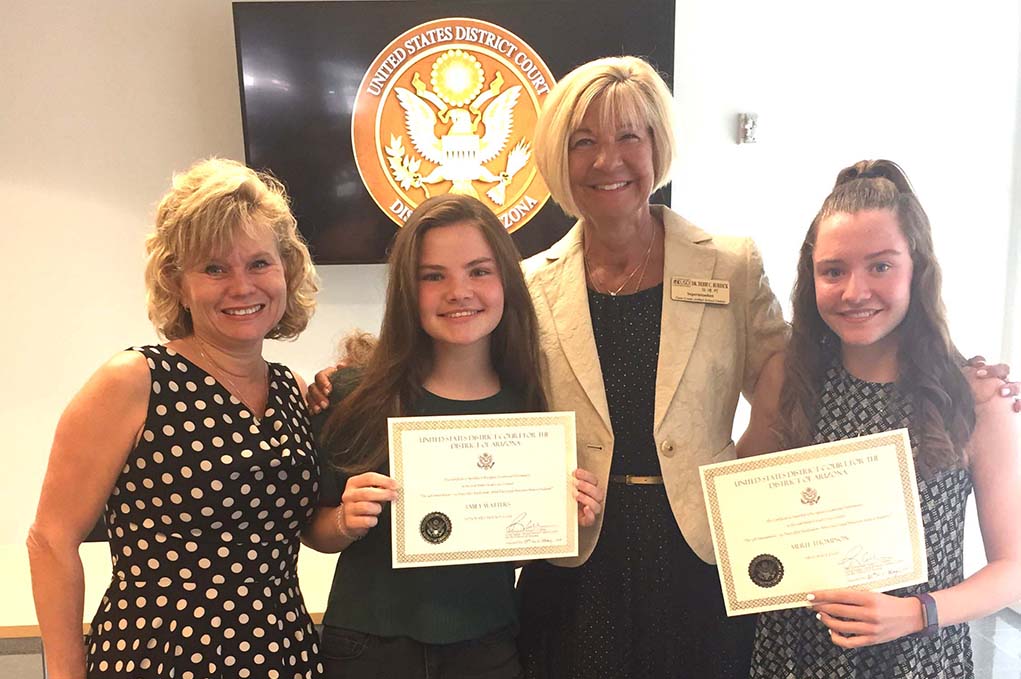 Cactus Shadows High School, located in the Cave Creek Unified School District, is pleased to announce that several students and a teacher were winners in the 2018 Ninth Circuit Civics Contest.
Ms. Christine Marsh's students, Merit Thompson (freshman), took 1st place; Isabella Sayegh (junior) took 3rd place; and Luke Rodriguez (junior), Mia Sabbara and Emily Watters (freshmen) received Honorable Mention for their essays.   The first place prize comes with $1000 and a chance to win additional money at the next round.
Ms. Marsh, Cactus Shadows English Teacher and 2016 Arizona Teacher of the Year, won a teacher award for promoting Civics Education.
The 2018 Ninth Circuit Civics Contest received over 200 essays and 27 video entries.  In their award letter they noted that, "…it was difficult to select only three essays and three videos as the District of Arizona finalists to advance to the circuit-level of the competition to compete for additional prizes."
The students, Ms. Marsh and Dr. Debbi Burdick, Superintendent, attended the awards reception held on May 30th at 3:30pm in Phoenix at the Sandra Day O'Connor United States Courthouse.
Dr. Debbi Burdick, Superintendent, said, "I am so proud of our students and Ms. Marsh for their knowledge and eloquence in sharing protections we are so fortunate to have as Americans.  It is notable also that Cactus Shadows High School was second in the number of entries statewide."
Cactus Shadows High School is an A+ School of Excellence and a World Class High School for the 21st Century.  For more information, contact Dr. Steve Bebee, Principal, at sbebee@ccusd93.org or visit our website www.ccusd93.org .