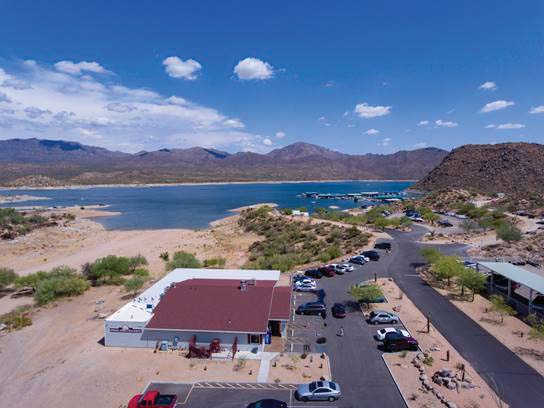 CAREFREE – "It's the best deal in boating," Bryan Church, co-founder/owner, along with brother, Eric, of Bartlett Lake Marina, said regarding their boat club. "Yet a lot of people don't know it exists or they have misconceptions about it. It's not a yacht club where you have your own boat and meet wealthy people for drinks on the lake."
What it is is a one-year commitment with an affordable down payment, monthly dues, no credit check for use of one of the ski or pontoon boats in Bartlett Lake's fleet. "Boating is one of the few activities where the whole family can be involved and interact. For one, cell phones usually don't work on the water, so everyone is involved. You can get the kids helping because it really requires a team effort," Church explained.
As part of the Bartlett Lake Boat Club, members have use of their vessel from 9 to 6 Mon – Fri and on Sat. and Sun either 8 – 1 or 2 – 7. Any water toys you want are included in your membership costs. Church said they currently have six members per boat and they can have up to ten, so spots are filling up and boating season is in full swing until October. What are you waiting for?
If you're on the fence (or maybe it's the jetty) about joining the boat club, consider this: owning a boat for five years (including costs for a slip, repairs, insurance, etc.) would come to roughly $68,500. Being a Bartlett Lake Boat Club member for five years? Approximately $18,135, with a savings of $13,474 the first year! (See the math at bartlettlake.com)
Bartlett Lake Marina remains a hidden gem in Tonto National Forest and is less crowded than nearby lakes. If you need another reason to visit, then Last Stop Bar & Grill is it. Food is really tasty and the bar is full!
See for yourself at 20808 E Bartlett Dam Rd. For information, phone 602-316-3378 or (boat club) 480-221-0503.