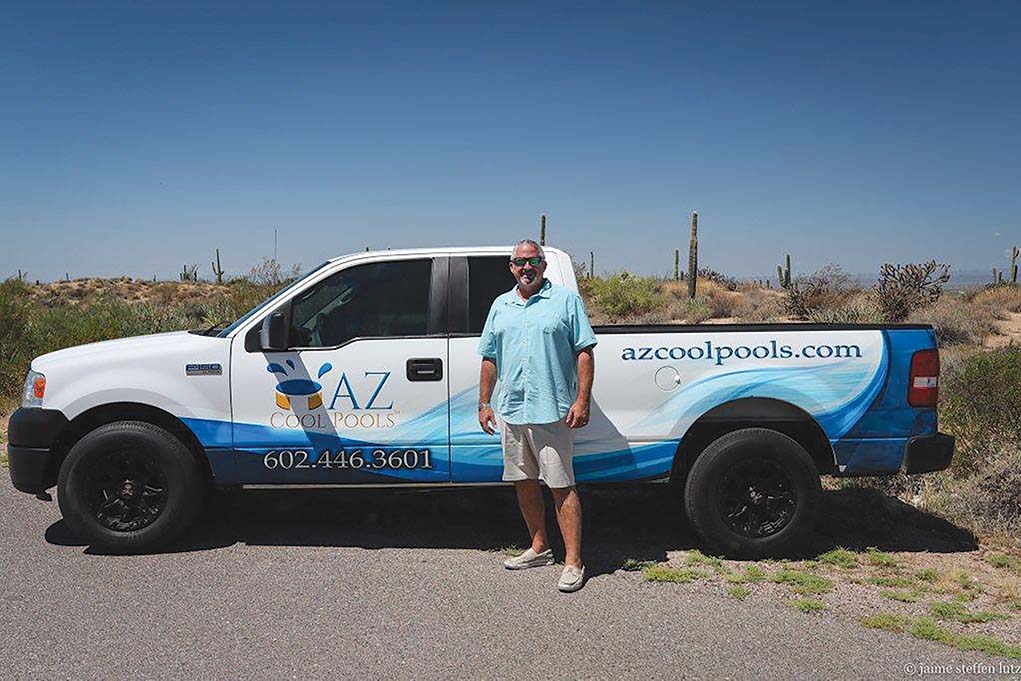 Now's the time! "Pools are waking up," John Lutz, owner of AZ Cool Pools, said. Get your pool and/or spa ready for summer fun!
AZ Cool Pools has a whimsical tagline – "Saving the World … One Pool at a Time," but Lutz is serious when it comes to his job. Matter of fact, AZ Cool Pools was founded with the homeowner and property developer in mind, because Lutz saw the need as a homeowner and pool owner himself. "What we offer is consistent and knowledgeable pool service." Actually, his goals can be summed up in a DIP: dependability, integrity, partnership.
Partnership means "building trust and credibility with our clients while applying a 'homeowner' mentality." Lutz talks with potential clients to find out how much responsibility they want when it comes to maintaining their pools. He and his team (all of whom are CPO certified) will be as involved as a customer needs. Lutz is mindful that pool equipment can be costly, so when a motor, for instance, is dying, he develops a plan to keep it running for at least three to six months out (when possible) so the homeowner can budget and save, then when convenient for the owner, the motor can be replaced.
Lutz has 30 years of experience in the service industry, so he extends his expertise to more than homeowners. Property managers, need someone to maintain your tenants' pools? Lutz explained, "Sometimes renters have no idea how to take care of a pool. We offer a service to spend time with a tenant going over all water features until he or she feels comfortable. It's smarter than the renter uttering, 'I wonder what this button does,' and then pushing it and damaging something."
Realtors, have properties with pools? AZ Cool Pools can inspect, clean for open houses, even get water features in pristine condition for closings. What new owner wouldn't appreciate that?
Lastly, if a COA/HOA has a community pool, AZ Cool Pools is available as well. Because things happen, "Our typical work week is Monday through Friday, but if you have a pool emergency, we do our best to get out there on the weekend so it doesn't get worse!"
If you want your pool to operate swimmingly, call AZ Cool Pools at (602) 446-3601 for maintenance and/or major/minor repairs. Read testimonials at azcoolpools.com or visit Facebook for updates.