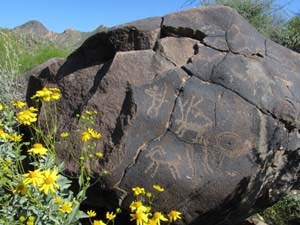 Saturday, April 14, 09:00 AM – 10:30 AM
Cave Creek Regional Park
37900 E. Cave Creek Parkway, Cave Creek
(623) 465-0431
Meet the Ranger at the Nature Center and we'll go for a short hike along a scenic trail in the Sonoran Desert foothills in search of seasonal wildflowers. Bring your camera and plenty of water. Sturdy shoes are recommended. No pets, please.
Friday, April 13, 07:00 PM – 08:30 PM
Cave Creek Regional Park
"Marshmallows!" It's just a fun word to say, right? The Ranger will make it even more fun as we sit around the campfire roasting sticky, sweet "marshmallows"! Sometimes we hear coyotes howling and owls hooting! Sometimes …, well, you just never know! Meet out back of the Nature Center for some fireside fun. No pets, please.
Thursday, April 12, 08:00 AM – 10:00 AM
Cave Creek Regional Park
Folks of all ages are encouraged to join us on Thursday mornings for a guided hike along one of the Park's scenic trails! Wildflowers are certainly a much better view than a treadmill can offer! Our trails are easy to moderate and range from 2-6 miles and 1-2 hours.
Friday, April 13, 2018 , 08:00 AM – 10:30 AM
Spur Cross Ranch Conservation Area
44000 N. Spur Cross Road, Cave Creek
Join Ranger Kevin as we look at the plants and animals that live in the riparian area along a perennial stretch of Cave Creek. The hike will take us through the Jewel of the Creek Preserve and along the lower Dragonfly Trail for a distance of approximately 1.5 miles. (moderate)