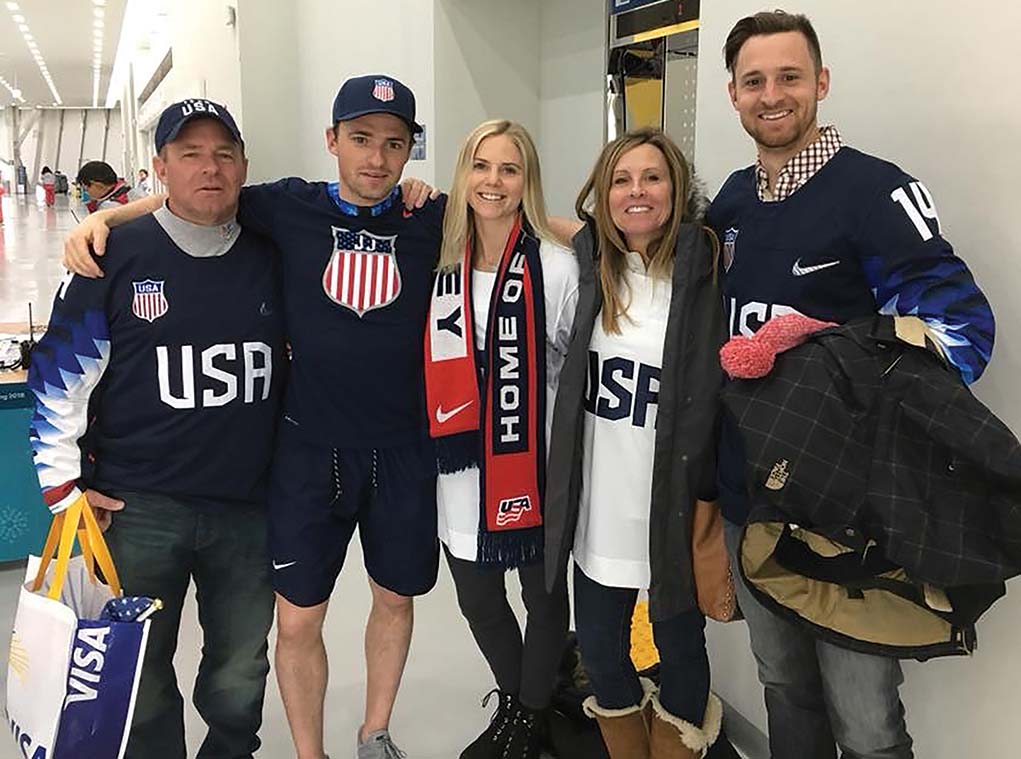 Don and Lisa Little recently became proprietors of The Black Mountain Coffee Shop locate in Carefree's Spanish Village. Not too long after that another big event happened in their lives. Their oldest son Broc was selected to be a member of this year's Olympic Hockey team. With only four weeks notice, the Littles put together travel plans for South Korea so the whole family, including younger son Ty, could be at the Olympics and cheer Broc and team USA on.
Employees at the Black Mountain Coffee Shop, and even the previous owner, made sure everything ran smoothly at the restaurant while they were overseas. The Little's spent 11 days in South Korea, but didn't have much opportunity to spend time with Broc. Don said they were told upfront that there was a slim chance of seeing their son due to training and playing schedules. "The longest time we got to spend with him was about a 30 minute taxi ride." He added.
Hockey was always an important part of Broc's life. Don, a Massachusetts native, and Lisa, moved from the Phoenix are to New England for a few years so Broc would have better coaching and playing experience. Broc attended college at Yale University playing hockey all four years with the Bulldogs winning two ECAC titles. While he hasn't made it to the NHL yet, He has been playing professional hockey in Europe and in the 2014-15 season was the scoring champion in the Swedish Hockey League.
Aside from watching their son represent the USA in the Olympics, the best part of the trip was, "Meeting people from all over the world with everyone getting along just fine." He said. The younger generation of South Koreans were some of the nicest people he met. "They all spoke English, while the older generation did not." He was surprised to learn that South Koreans had no concern about North Korea. The only rude fans they encountered were some Russians. While everyone would wave flags and cheer during breaks in play at the hockey venue, the Russians would continue to wave a large flag during play blocking the view of those behind them.
The P& G house provided a place where U.S. athletes and their families relax, celebrate and sometimes console. While there you could interact with other families of Olympians. He noted, "Competitive parents didn't exist." Don said of himself, "My son doesn't have to score, I just want him to play so he makes a difference."
For Lisa, the biggest part of the trip was having the whole family together if even for a short time. Broc currently lives in Switzerland where he plays for HC Davos in the Swiss National League. She says she was proud of her son representing his country at the Olympics and that gave her greater appreciation for those who serve their country.
Things are getting back to normal. Lisa is a Franchise Market Consultant for Wendy's, but still manages to spend a lot of time at the coffee shop. You can find Dan at the restaurant most of the time. If it's not too busy, this outgoing guy will be glad to chat with you about his son, hockey, the trip to South Korea, and a few other topics as well.