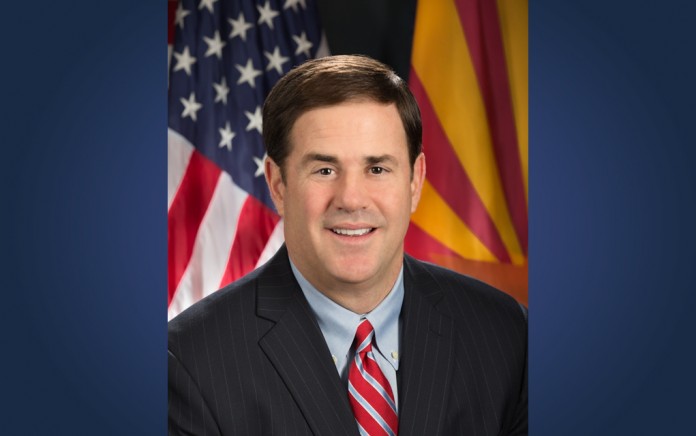 PHOENIX — In his State of the State address, Governor Ducey called for letting Arizona veterans keep more of the benefits they earned.
"Arizona has more than 600,000 veterans, and for the military retirees who qaulify for the exemption, inflation alone has chopped it in half. Their service has earned them a lifetime benefit from our nation. So please, send me a bill that increases the exemption and demonstrates to our vets that we value this service.​"
Since 1989, Arizona has provided an exemption from state Individual Income Tax for the first $2,500 in military retirement pay received by a retired service member. Unfortunately, for the 52,000 retired military personnel living in Arizona, inflation alone has reduced the value of that exemption by more than half.
Governor Ducey's Executive Budget will include an increase in the level of the military retirement pay exemption from $2,500 to $10,000, phased in over the next two tax years. The increased exemption, representing approximately $15 million in tax relief for veterans when fully phased in, is expected to save an Arizona retired service member more than $280 in state income taxes annually. Under the plan, it will be phased in over two years.
Governor Ducey Calls For Increased Investment To Place More Foster Kids in Loving, Permanent Homes
Governor Doug Ducey, during his State of the State address called for increasing funding for state programs and services that support finding loving, forever homes for more kids in foster care.
"Meanwhile, just two years ago, the problems at the state's new Child Safety department seemed insurmountable. But because of the committed service of our state's child safety workers, non-profit organizations and the faith-based community, combined with legislative support – the Casey Family Programs just named Arizona the best in the country for its foster care reduction. 
"The backlog that plagued the agency for so long, has been eliminated. The average caseload has dropped from 145 cases to 16. And since a year ago, we've found safety and permanency for nearly 11,000 children. So I'm proud to announce that our budget investment this year will be in adoption services, because we are finding kids loving homes again."
At the end of 2015, Arizona had roughly 19,000 children in out-of-home care. Thanks to the dedicated work of the Department of Child Services caseworkers, those in the faith-based community who have participated in CarePortal, and many selfless individuals and families, that number now is below 16,000 and dropping faster than anywhere in the country, according to Casey Family Programs.
A positive result of reducing Arizona's out-of-home population is an increase in the adoption rate for children in the State's care. To meet the increased demand for adoption services, Governor Ducey's Executive Budget will increase funding for adoption services by nearly $16 million, making good on Arizona's commitment to increase the number of children in loving, forever families.
Gov. Ducey: Accelerate Investments For Arizona Public Schools; Work Together To Restore Recessionary Formula Reductions
"If we are to succeed on future efforts around public education, we must work in the same way. Together."
Over the last three years, Governor Doug Ducey's top budget priority has been increasing funding for K-12 public schools. Since 2015, $1.7 billion in new state dollars has been added to K-12 education, including specific investments for teacher pay – the first time in more than a decade that's happened. In his State of the State address Monday, the governor pledged to continue adding more dollars to public schools in this year's Executive Budget. 
"This week, I will release my budget. It will include a full commitment to accelerate the state's K-12 investment, and restore long-standing cuts from the recession made before many of us were here."
The governor also called for unity moving forward between all education stakeholders and advocates on future public education investments.
"We know what works and we know how to get big ideas done. We've done it before. Prop 123 was the result of a partnership between Democrats and Republicans. The Education and Business communities. The voters, for saying "yes." And of course, our teachers – the biggest difference-makers of them all.
"If we are to succeed on future efforts around public education, we must work in the same way. Together."
Since 2015, per pupil spending has increased 10 percent and overall spending on school district salaries has increased 9 percent during that time. 
The governor also listed education programs that are making a difference for Arizona families and will continue to see targeted investments in this year's Executive Budget, including:
All-day kindergarten;

Career and technical education;

Teaching computer science and coding;

Efforts that reduce waitlists at high-performing schools;

Expansion of our best schools into underserved, low-income neighborhoods;

Major investments to connect rural schools to high-speed broadband;

And a plan to fund new school buses.
Expanding Arizona's Successful Second Chance Programs
Governor Ducey Calls for Expanding Second Chance Centers at Prisons And Announces New ID Program
During the State of the State address, Governor Doug Ducey highlighted Arizona's successful efforts to provide those who have served their time a real second chance – and called for expanding these programs in 2018. 
"At second chance centers we launched last year at prisons outside Tucson and Phoenix, we're teaching life and career skills to inmates who are scheduled to leave prison soon. Dozens of employers are participating, and of the hundreds of inmates who have graduated through these programs to date – many are leaving prison with multiple job prospects. So let's expand these programs, with capacity for 975 more inmates to participate each year."
At employment centers at Lewis and Perryville Prisons in Maricopa County and at the Tucson State Prison Complex in Pima County, inmates are being trained with in-demand skill sets— before exiting prison—helping improve their chances of success. To date, over 600 inmates have graduated from an employment center program, and more than half have found jobs.
Governor Ducey's Executive Budget will include nearly $450,000 to expand employment center programs at Lewis and Perryville Prisons in Maricopa County.
In his address, Governor Ducey also announced a new joint effort between the Department of Transportation and the Department of Corrections to ensure individuals who have served their time have proper identification before leaving prison, helping provide them the tools needed to successfully reenter society. 
Other Second Chance programs Arizona has implemented include:
The Second Chance Box: Following an executive order issued in November, state agencies will delay questions related to an applicant's criminal record until after the initial stages of interviewing. 
Uber For Jobs Program: Under a new public-private partnership launched in November, the Arizona Department of Corrections is working with Uber to help recently-released inmates utilize Uber's ride services to get to and from verified employment events like a job or interview.
Pre-enrolling Inmates For Medicaid: Since September 2016, Arizona has worked to ensure that inmates eligible for Medicaid are pre-enrolled prior to release for the best opportunity for success. To date, over 6,500 inmates have applied and been approved for Medicaid. (AHCCCS, accessed 1/8/2018)
Treating Addiction Inside Prison: Under a pilot program and by expanding the number of substance abuse counselors in prisons, the Arizona Department of Corrections is helping inmates address addiction before being released, increasing their chances of success. 
Governor Ducey Calls For Stepped-Up Actions To Prevent Wrong-Way Driving Deaths
During his State of the State address, Governor Doug Ducey announced new policies aimed at more aggressively deterring drunk-driving occurrences and preventing wrong-way driving deaths:
"Let's pass a bill: Those reckless enough to put lives on the line by driving the wrong-way on our highways, under the influence of drugs or alcohol, should face a felony conviction and prison time. No exceptions."
Under Governor Ducey's proposed policy, driving the wrong way on an Arizona highway while under the influence of drugs or alcohol could result in a felony crime and jail time, emphasizing Arizona's commitment to preventing wrong-way driving deaths and deterring decisions that put innocent lives in danger.
Governor Ducey also announced that his Executive Budget will include new resources for the Department of Public Safety to increase the amount of troopers working to prevent wrong-way driving deaths at night.
"And if you break the law, our troopers will have their sights set on you, because we're targeting even more efforts here: An enhanced "Wrong-Way Driver Night Watch," with resources to match. We're going to zero-in on these criminals, with the goal of stopping these accidents and saving lives."
Governor Ducey's Executive Budget, which will be released on Friday, January 12, includes $1.4 million to increase patrol coverage for the Department of Public Safety's "Night Watch," helping law enforcement more quickly respond to wrong-way and impaired drivers in metropolitan Phoenix. 
The proposal for additional law enforcement resources follows recent actions to prevent wrong-way driving deaths, such as installing a thermal camera system to better detect instances of wrong-way driving and improve notification for law enforcement. To date, over 145 cameras have been installed, in addition to new, illuminated wrong-way driving signs and increased patrolling of Safety Corridors.
BREAKING: Governor Ducey Calls For Special Session To Pass Opioid Legislation
During his State of the State address, Governor Doug Ducey called for a special session in January to pass legislation related to combating the opioid crisis.
"In the coming days and in partnership with Legislative leadership, I will call for a special session, so we can focus on this, as one of our first orders of business, with the priority it deserves." 
Last June, Governor Ducey declared a statewide emergency following new data from the Arizona Department of Health Services (ADHS) that showed an alarming 74% increase in opioid overdoses since 2012. Over 800 Arizonans have died from an opioid overdose and nearly 5,000 overdoses have occured since June 2017 alone, when the state began collecting enhanced data following an executive order issued by Governor Ducey. 
In September, ADHS released its Opioid Action Plan, a comprehensive strategy that includes twelve policy recommendations to reduce illicit acquisition and diversion of opioids, promote safe prescribing and dispensing, and improve access to treatment. Specific policy proposals include:
Imposing a 5-day limit on all first fills for opioid naïve patients for all payers;

Cracking down on forged prescriptions by requiring e-prescribing;

Ending dispensing of controlled substances by prescribers;

Requiring all pharmacists to check the Controlled Substances Prescription Monitoring Program prior to dispensing an opioid or benzodiazepine;

Enhancing continuing medical education for all professions who prescribe or dispense opioids;

Empowering prosecutors to take on opioid manufacturers that break the rules;

And enacting a good Samaritan law to allow bystanders to call 911 for a potential opioid overdose.
Article 4, Section 3, of the Arizona Constitution provides the governor the authority to call a special session of the Legislature in order to consider legislation that relates to specific policy issues.