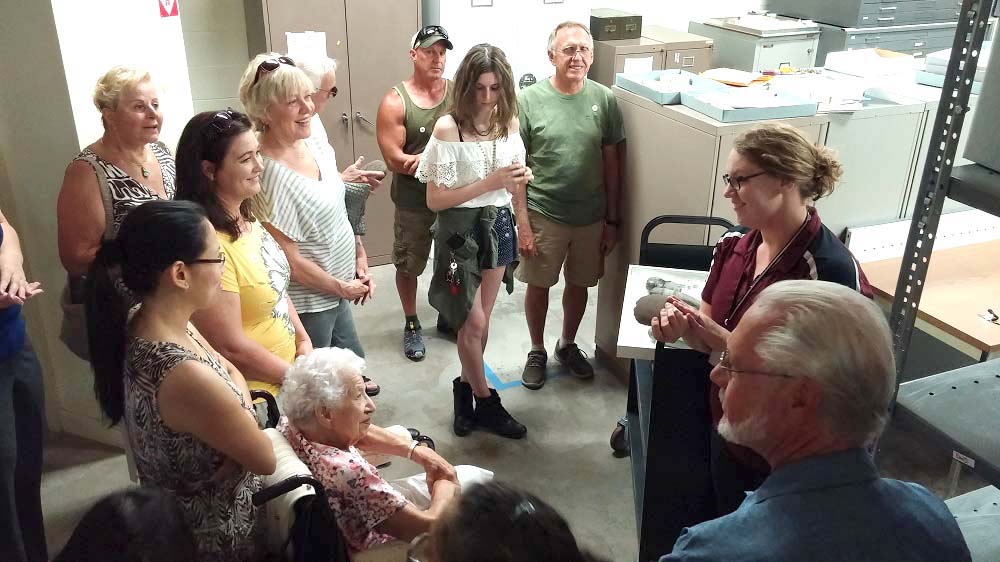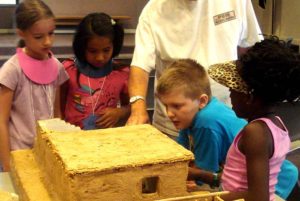 PHOENIX – Join Pueblo Grande Museum in February for a variety of tours, programs, and classes with something for all interests, ages, and budgets!  Register for paid programs at pueblogrande.com or through the Phoenix Parks and Recreation site at phoenix.gov/parks/classes-and-programs.
Architecture for Kids
Saturday, February 3, 9:30 a.m. to 12:30 p.m.
Children ages 7 to 12 can get arty with architecture! Explore the archaeological village of Pueblo Grande, walk into Hohokam homes and discover how they built 2-story structures the length of a football field without any machines or the wheel! Practice architecture skills such as adobe brick making, charcoal and pencil drawing, and experiment with insulation! Advanced registration is required by February 1. Cost: $15.
Behind the Scenes Tour
Thursday, February 15, 10 to 10:45 a.m.
Join Museum Collections staff for a "behind the scenes" tour of the museum. This is an opportunity to learn about the artifacts that are not on display in the museum and see how museums care for their collections. Space is limited. Register at the front desk, $5 tour fee is in addition to regular museum admission; Discounts for Museum Members.
Petroglyph Discovery Hike
Saturday, February 17, 9 to 10 a.m.
Bring the whole family for a short one mile Hohokam petroglyph discovery hike at South Mountain for an easy but also petroglyph rich hiking experience. An experienced Pueblo Grande Museum guide will lead participants on a quick one-mile, one-hour interpretive hike, perfect for all ages and busy schedules. Space is limited. Advance registration required by February 15. Cost: $5; All ages.
Drop-In Discovery
Saturday, February 17, 10 a.m. to noon
Join the Arizona Herb Association on the back patio of Pueblo Grande Museum to explore samples of plants found at Pueblo Grande with the perspective of how they fit into the lives of the Hohokam. Still common in the landscape or scattered in the surrounding desert, plants that function aesthetically now were hugely important to those early settlers of the valley. Included with Museum Admission.
Park of Four Waters Tour
Friday, February 23, 10 to 11 a.m.
The Park of Four Waters tour will take you on a tour through undeveloped, natural desert to the ruins of prehistoric hohokam canal systems. Space is limited. Register at the front desk, $5 tour fee is in addition to regular museum admission; Discounts for Museum Members.
Pueblo Grande Museum General Information
4619 E. Washington St., Phoenix
(602) 495-0901
www.pueblogrande.com
The Museum is located on the Southeast corner of 44th St. and Washington St.
Accessible by the Sky Train and the Sky Harbor Airport Light Rail Station Stop
Follow us on Facebook @PuebloGrandeMuseum and on Twitter @PuebloGrande
Museum Hours:  October through April – Monday to Saturday 9 a.m. to 4:45 p.m., Sunday 1 to 4:45 p.m.  CLOSED Sunday and Monday May through September and most major holidays
Museum Admission:  Adults $6, Seniors (55+) $5, Children (6-17) $3, under 6 are Free and Children 17 and under are free on Sundays
Explore the Ancient Heart of Phoenix
Pueblo Grande Museum is located on a 1,000 year old archaeological site once inhabited by the Hohokam culture located just minutes from downtown Phoenix next to Sky Harbor International Airport.  This National Historic Landmark and Phoenix Point of Pride has been a part of the City of Phoenix Parks and Recreation Department since 1929, and is the largest preserved archaeological site within Phoenix.  Easily accessible by the Sky Train and the Light Rail, the museum is open 7 days a week October through April, and closed Sundays and Mondays, May through September. 
A fully accessible 2/3 mile trail takes you through a prehistoric Hohokam archaeological village site with a partially excavated platform mound, ballcourt, and replicated prehistoric houses.  There are three galleries to visit while at the Museum.  The main gallery displays artifacts of the Hohokam and discusses the Pueblo Grande village site.  The children's hands-on gallery has activities to help kids learn about the science of archaeology.  And the changing gallery features exhibits on various topics from archaeology, southwest cultures, and Arizona history.  For authentic Native American gifts, art, and jewelry, the Museum Store has something for all tastes and budgets.
Throughout the year, Pueblo Grande Museum has programming for adults, children, and families, which include archaeology classes for kids, arts and crafts workshops, hikes, and lectures.  The Museum also holds annual events, such as the Indian Market, children's summer programs, a Native Art & Rug Auction, Ancient Technology Day and more to please all ages and interests!