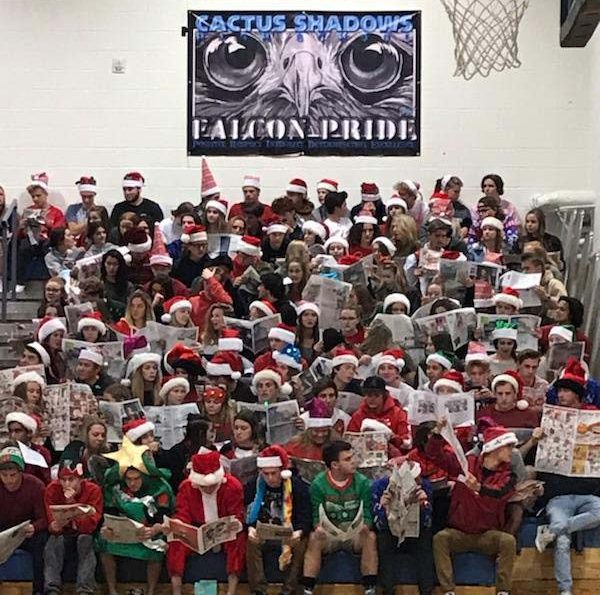 In keeping tradition with one of the most unique and fun home games of the year, the CSHS Boys played in front of a packed house on "Silent Night" and kept pace with a hot start to the season with a 72-36 romp over the Cactus Cobras on Thursday, 12/21/17, moving to a 10-1 record. Silent Night is a long-time holiday tradition at the school, where the Falcon Fans, fueled by one of the best student sections in the State, go "silent" and do not make a sound, and appear to be largely uninterested in the game until the Falcons score their 10th point of the game, then at that point, erupt in a loud ovation and cheering.
In another game where the CSHS team flat out overpowered the opponent with full court ball pressure, and a barrage of early points, the Falcons jumped out to a big lead to start the game. Junior Sam Goulet scored 7 of the Falcons first 11 points, including a nice breakaway dunk, to get the crowd out of "Silent Night" mode in a hurry.
Goulet and Junior Duncan Hearn lead all scorers in the game with 12 points each.
PLAY OF THE GAME
Just a few minutes into the game, after a Cobras turnover, Junior Jake Benci hit Goulet with a long pass for a layup and the 10th and 11th points of the game for the Falcons, giving the crowd the go ahead to scream and shout, and put an end to the silence.
FALCON'S RECORD: Overall: 10–1, Section: 0–1.
WHATS NEXT: Great Desert Shootout Holiday Tournament, hosted by CSHS and the Falcon's Athletic Club. December 27th, 28th, and 29th at Cactus Shadows High School, Blue Gym, 5802 E. Dove Valley Rd., Cave Creek. Games at 2:30, 4:00p, 5:30p, and 7:00p each day. $5 admission for all games each day.