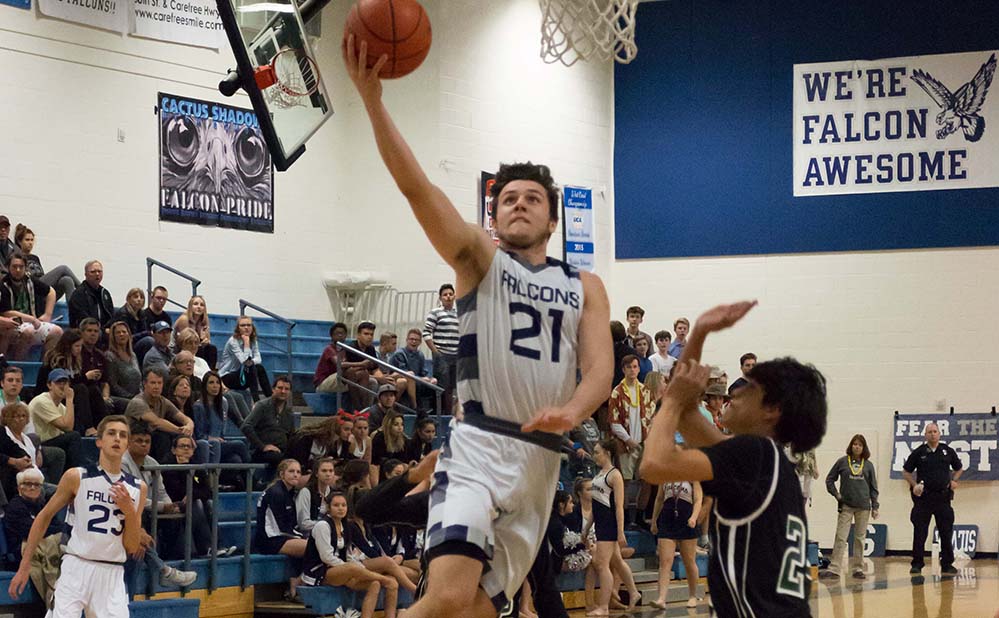 (Editor's note: recaps and photos have been submitted by CSHS boosters)
While Cactus Shadows Boys basketball has been a regular participant in the State Playoffs in recent years, and has built a solid reputation in basketball circles, the 2017-18 team has hope, and perhaps an expectation of something more this year. Lead by 1st year head coach Zach Washut, the team has jumped to a 9-1 start, with a preseason tournament championship trophy to their name, and the making of team that can make a deep run in the Division 4A Sate Playoffs in February.
And apparently the rest of the State is starting to take notice. The official rankings by AZPreps365 came out on 12/18/17 and had the Falcons ranked #7 in Division 4A. With impressive victories over 5A schools (Maricopa, Campo Verde, Queen Creek) early in the season, and recent wins over solid 4A schools (Peoria and Tempe), the Falcons Boys have a deep roster, with an aggressive, fast paced, style of play that is fun to watch. The team is loaded with scorers and skill players, but also has good leadership on the floor, and showed the toughness and physical play it takes to compete with the stronger teams in the State.
Perhaps the most rewarding part of the team is that it is made up kids who have grown up in the local area, playing in local clubs and leagues (DFAC and YMCA), and attended schools in the Cave Creek Unified School District (CCUSD) – something that may not be true for a lot of the better schools in the State.
Coach Washut took over the program this year from former head coach Jamaal Scott, who built a foundation of a winning program over 7 years, but moved out of the country to further his career. Coach Washut, a longtime member in the Cave Creek community, and long term coach with 6A Desert Mountain, has immediately established himself with the kids and the community, and didn't skip a beat with this talented group of boys. The only loss this year was to #1 ranked (4A and overall State) Shadow Mountain, who has built a team with players from across the country, and competing in National tournaments.
This is a team to keep your eye on, and definitely worth the time to join the Falcons faithful at games during the remaining part of the season…and just maybe, a long State playoff run.
Previous recaps:
CSHS Boys Basketball Moves To 6-1 With Rout of Youngker HS
The Falcons were lead by Duncan Hearn (12 points, 12 rebounds) and Jake Benci (16 points).
KEY STAT
12, total number of available players on the bench who all had the opportunity to make a contribution with good playing time in this game.
PLAY OF THE GAME
Easy call here, as time was expiring in the 1st quarter, Senior guard Julian Johnson had a blind side steal, followed immediately by a buzzer beating, fade away 30 foot three pointer from the right side, as he was falling out of bounds. It doesn't get much better than that.
Falcon Boys Basketball Improves to 7-1
On a night where it appeared to match up two evenly talented Division 4A teams, this one did not disappoint. In the end, the Falcon boys found a way to maintain control over a tough and talented, well coached Tempe Buffaloes squad, improving to 7-1 with an 80-69 victory
The leading contributors for Cactus Shadows were Jake Benci (21 points, 9 rebounds), Duncan Hearn (16 points), Sam Goulet (13 points, 7 rebounds) and Knox Riddle (10 points, 3 steals).
KEY STAT
78% vs 42%…the disparity of free throw shooting gave CSHS a huge advantage for the game, making 28 of 36 FTs vs. Tempe hitting only 8 of 19 from the line.
PLAY OF THE GAME
Jake Benci hustled for a rebound on his only missed FT on the night, then buried a fade away 10 footer from the right baseline, as he was shoved to the ground…And one!!!
CSHS Varsity Boys Hoops Gets Another 'W' and Now 8-1 on the Season
Many in the basketball world will tell you the difference between good teams and great teams is the ability to win games where you don't play your best. On Tuesday (12/12/17) when the Falcons Boys traveled to south Tempe to take on the Marcos de Niza Padres, they might have begun to define themselves in this young season with a 75-51 victory.
Leading the way for Cactus Shadows vs. the Padres was Junior Duncan Hearn (17 points), Senior Julian Johnson (12 points), and Sam Goulet (12 points).
KEY STAT
30, Points the Falcons were able to get off of turnovers, representing 40% of their points for the night.
PLAY OF THE GAME
With just over a minute left in the half and nice feed from Julian Johnson, Sam Goulet drained a 3 pointer, then grabbed a backcourt steal, was fouled, and hit 2 Ft's. 5 points in about 5 seconds.
Falcon Boys Basketball Wins 4th Straight, 9-1 on the Season
Cactus Shadows was expected to jump on the Greenway Demons in this matchup in Cave Creek, and there were no surprises here, as the Falcons bolted to a 20-4 lead, and won the game going away, 78-43.
Duncan Hearn continued his strong play with 17 points, followed by Adam Hawk (11 points, 6 rebounds), and Knox Riddle (10 points, 4 assists).
KEY STAT
2 vs. 21, Falcons total turnovers (2) versus the Demons (21). CSHS was very comfortable running their offense, and Greenway was in duress much of the night.
PLAY OF THE GAME
Just into the 4th quarter, Senior guard Adam Hawk, kicked out a pass to the top of the key from his corner dribble, then dove into the paint for high flying rebound of a missed 3 point shot, and quickly put up a reverse off the glass for a nice bucket.