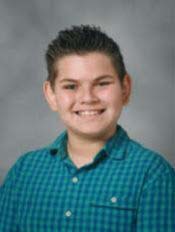 Sonoran Trails Middle School, located in the Cave Creek Unified School District, would like to congratulate Carson Hayes as one of the winners of the "Laptops 4 Learning" Essay contest.  His teacher, Ms. Desiree D'Ambrosi encouraged Carson to write his winning essay – she said, "I am so proud of Carson for  winning the essay contest! This young man's writing was heartfelt and gave an excellent explanation of why he needs his own technology to be successful in school."
Carson will be honored Thursday (Dec. 14) at Phoenix Police Headquarters Press Room with Sonoran Trails Student Resource Officer (SRO) Naegeli and his mother in attendance.
Mr. Bill Dolezal, principal of Sonoran Trails Middle School said, "I appreciate the generosity of the Phoenix Police Department and their partnership with us to help our students in and out of the classroom. I am so proud and happy for Carson and am excited he will have this tool to help him be successful in high school."
Since the summer of 2016, the Phoenix Police Department has teamed up with local business DNKB, Incorporated to provide laptops for middle school and high school students.  More than 50 students were given new laptop computers in October of 2016 thanks to this unique community-business partnership.
Phoenix Police officers (including Police Activities League and School Resource Officers) identify students through their service at Phoenix-area schools and community organizations.  Officers encourage youth to write a one-page essay on how they could benefit from a computer and achieve more academic success.
Mr. Dwayne Baker, president of DNKB, Incorporated, is committed to lifting the spirits of young people around the valley and also supports Veterans in need of computers.  Mr. Baker says, "donating laptops is part of our mission to the community."
There are expansion plans for the Laptops 4 Learning program to benefit more students.  Anyone interested in donating laptop computers or monetary funds for this program should contact Mr. Baker at 817-217-0399 or dwayne.baker@dnkbinc.com.
We invite our media partners to join us at Police Headquarters where we will highlight the awardees and their accomplishments through a public media event where the laptops will be presented and parents/sponsors will be in attendance.
This program has been a huge success for the Police Department and Laptops 4 Learning and we wanted to hold this event before the students take off for their winter school break.