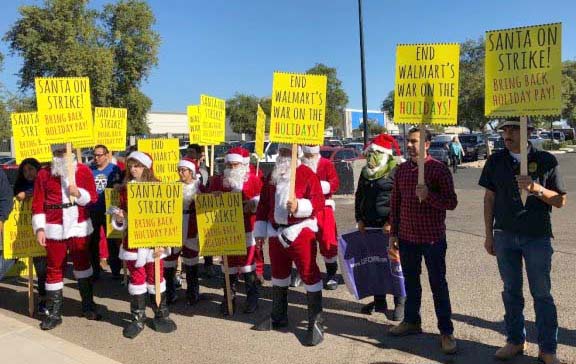 PHOENIX – Making Change at Walmart (MCAW), in partnership with United Food & Commercial Workers (UFCW) Local 99, joined labor allies, workers activists and Santas to rally outside a Phoenix Walmart and demand the retailer bring back the holiday pay it eliminated in 2016. According to a 2014 statement by Walmart, the retailer spent over $70 million in holiday pay, which is now taken away from workers during what is supposed to be "the most wonderful time of the year." Today's event featured a picket line of Santas on strike calling for the reinstatement of Walmart's holiday pay.
"Today, shoppers, workers, allies and activists joined together outside of Walmart, the largest private employer in the nation, to demand better for our community and working families. Holiday pay is something Walmart workers have earned and deserved; taking it away from 1.5 million working Americans does not reflect the spirit of the holiday season.  And as one of the most prominent symbols of generosity during the holidays, who better to stand up for workers and protest Walmart's 'no holiday pay' policy that Santa Claus himself?" said Arizona Senator Martín Quezada.
The event, held by the Walmart Supercenter on West Indian School Rd., kicked off the second round of actions for MCAW's initiative to denounce Walmart's "war on the holidays" and demand the retailer restore holiday pay. Labor allies and activists handed out over 350 informational flyers to Walmart shoppers and collected signatures  for an online petition. Arizona Senator Martín Quezada and House Member Richard Andrade were also at today's action and are sending a letter to Walmart CEO Doug McMillon urging Walmart to reconsider its decision to take away holiday pay. Also in attendance at today's event were the following groups: Living United for Change in Arizona (LUCHA), Central Arizonians for a Sustainable Economy (CASE), UNITE HERE Local 631 Ironworkers Local 75 and the International Union of Partners and Allied Trades (IUPAT) Local 86.
MCAW's holiday campaign also includes an aggressive digital component with viral videos and the second of 2 national TV ads to be released in targeted markets throughout the U.S. in the upcoming weeks.
Facts on Walmart's Holiday Pay and Paid Time Off Policy:
Walmart eliminated holiday pay in 2016, replacing it with a policy where workers accrue paid time off based on hours worked.

Under this policy, a new part-time Walmart worker has to work 43.33 hours to get just one paid hour off, which could take weeks to accrue given Walmart's inconsistent scheduling.

Holiday pay, for those who work on the holiday, typically includes a premium above and beyond what they are paid hourly. And, in the case of many union retail workers, they are given holiday pay even if they don't work that day.
Facts on MCAW's 2017 Holiday Initiative:
MCAW's 2017 holiday campaign is focused on making sure Walmart restores holiday pay for its 1.5 million workers.

For the first series of holiday actions, MCAW, workers, turkeys, activists and allies gathered near Walmart locations in 7 cities across 6 states to pass out informational flyers on Walmart's 'no holiday pay' policy over the Thanksgiving holiday.

The campaign also released a national 30-second ad during the week leading up to Thanksgiving and during the Macy's Thanksgiving Day parade on local NBC affiliates in the Madison, Cincinnati, Phoenix, and Sacramento media markets.