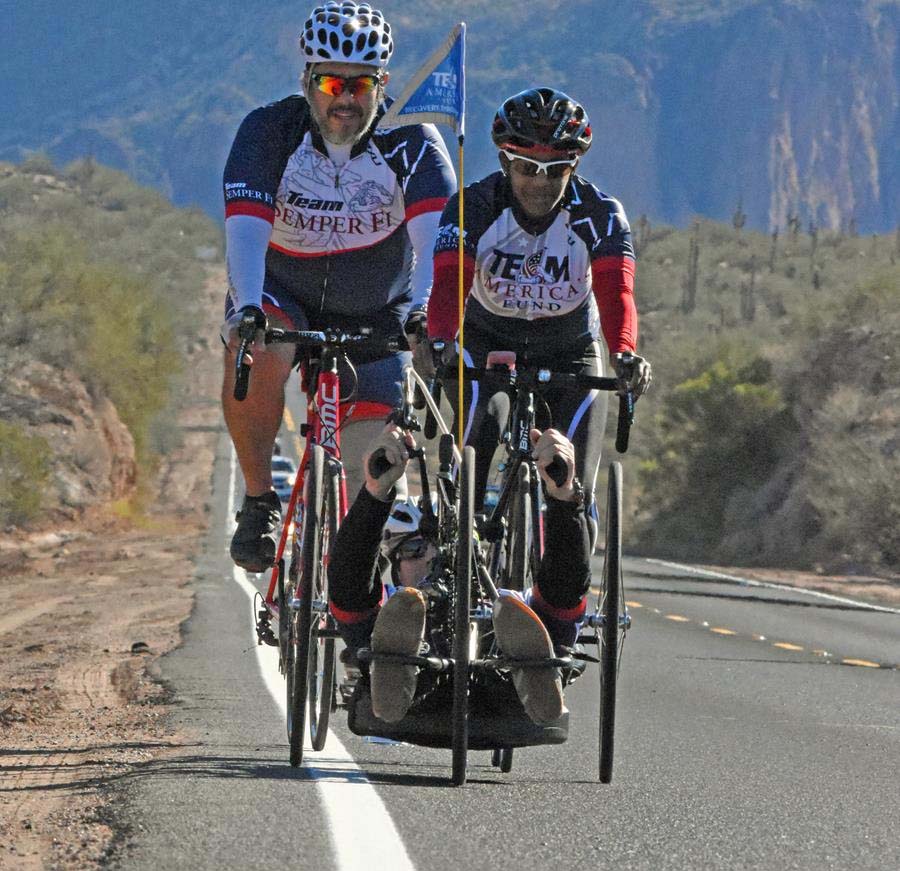 Who: Forty Team Semper Fi athletes, from Semper Fi Fund will be led by LaVerne Lindsey of Bike Ride Arizona on a bonding, mentally and emotionally stimulating and cathartic tour of Arizona's scenery by the road less traveled –by bike!
What: Semper Fi Fund's second annual participation in Bike Ride Arizona: Red Mountain 100. Forty service members will bike ride through Scottsdale Arizona to aid in recovery by building community and camaraderie with "Recovery Through Sport." This event takes place during Arizona's very own The Bob and Renee Parsons Foundation #DoubleDown4Vets campaign— assisting in the challenge to raise $10 million to help combat wounded, critically ill and catastrophically injured members of the U.S. Armed Forces and their families.
When: December 2nd & 3rd
December 2: 3:00–6:00pm Team shakeout ride — DoubleTree Paradise Valley
4:00–6:00pm Yoga and nutrition class
December 3: 6:30am Start 100-mile ride
10:30 -12:00 midpoint/lunch –Boulder Mountain Park at Las Sendas
2:00-3:00pm Finish 100-mile ride
Where: Needle Rock Recreation Site
Start/Finish: Service Road 20 Fountain Hills
Why: "Recovery Through Sport" has proven to be an ideal outlet for injured service members to hone both physical agility and mental focus, skills that are critical to navigating their recovery. Learning and practicing alongside fellow wounded service members, they can also trade stories, share strategies for coping with their injuries and forge lasting friendships.
ABOUT THE SEMPER FI FUND: The Semper Fi Fund provides urgently needed resources and lifetime support for combat wounded, critically ill and catastrophically injured members of the U.S. Armed Forces and their families. Case managers from the Semper Fi Fund work one-on-one with service members and veterans in order to understand and support their individual needs right now and throughout their lifetime. We keep our overhead low so our impact on the lives of service members and veterans is greater. The Semper Fi Fund has been awarded the highest ratings from watchdog groups: an A+ from CharityWatch – one of only two veteran nonprofits to receive this rating last year – and seven consecutive "4-Star" ratings from Charity Navigator, an achievement attained by only 3% of rated charities. Learn more at www.semperfifund.org.
ABOUT TEAM SEMPER FI: Team Semper Fi – is the heart and inspiration of the Semper Fi Fund's Sports Program, and is an extension of the assistance we provide. The teams are made up of servicemen and women who have overcome significant challenges in their service to our country and have embraced the fighting, athletic spirit on their road to recovery. They are an inspiration to us all, but more importantly, they are an inspiration to their fellow service members who are also recovering.