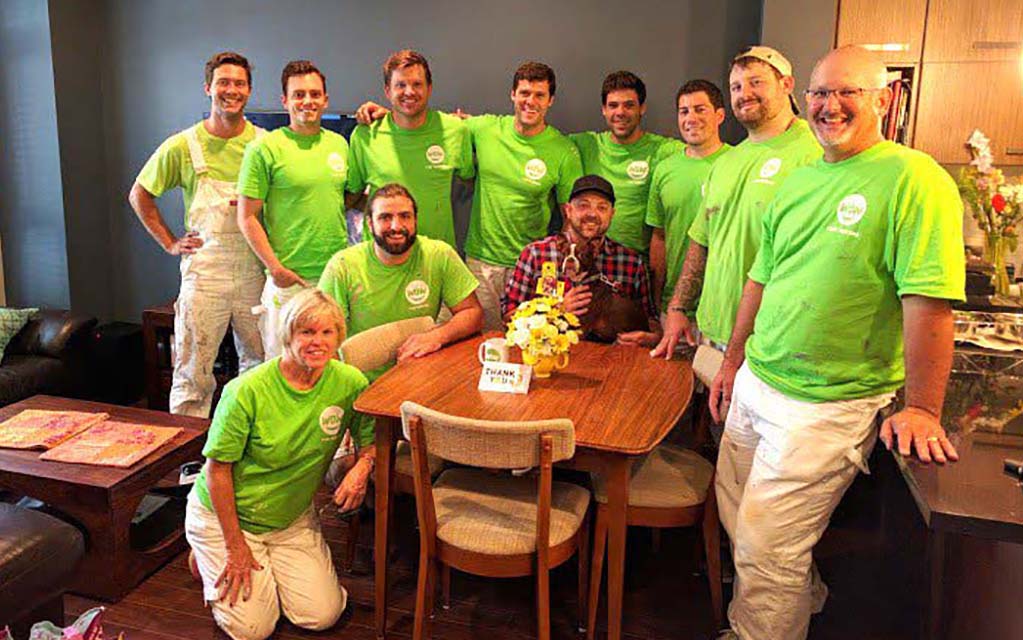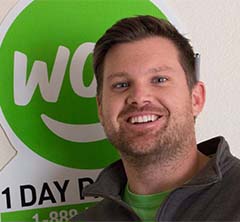 What a difference a day makes.
WOW 1 Day Painting takes the hassle out of painting, by giving you the quality you expect, in a timeline that's unexpected.
Painting can be a huge pain. Leaping over piles of furniture and ducking around ladders in your yard for weeks isn't exactly fun, is it? (Unless, of course, you're training for a furniture dodging competition.) You only have so much time, and that time is valuable—that's why we aim to have your painting job done fast.
WOW 1 Day Painting gives you the quality you want, without the usual hassle—we'll be in and out of your place in no time, so you can get on with your life.
No one likes an unwanted guest.
Don't worry, we'll never overstay our welcome. We're in and out as quickly as possible, and we always make sure to put everything back where it belongs. Blink and you'll miss us!
So, how do we do it?
Friendly, uniformed painters. Exceptional communication. Jobs that start and finish on time. BIG crews.
Let's get down to business. Here's how the process works: Schedule your free, no obligation estimate by calling us at 1-888-969-1329 or booking online.
One of our estimators will visit your home to give you a written estimate with paint information, pricing, and a work schedule.
Once you approve your estimate and schedule, we'll meet with you to discuss colors and next steps.
Our friendly painters will complete your quality job on time and on budget with minimal disruption to you and your space!
We'll complete a walk through with you to wrap up the project in your new space (…this is when you say WOW!).
Soon after, you'll receive a fol-low-up to ensure the work, colors, and products still meet all of your expectations. Our goal is that you can't wait to refer us!
How we operate:
– Wow 1 Day Painting is licensed, insured and bonded.
– We provide a detailed, personalized proposal in writing.
– We work hard to make sure you get your space back to normal in no time.
– For information, contact us on-line or call 1-888-WOW-1DAY.
WOW 1 Day Painting is locally managed and owned by co-owner, Lee Best (Scottsdale Desert Mountain HS grad and a 2007 ASU graduate). Best never dreamed he would be in the painting business, but when the opportunity came about to own his own company, he jumped in with both feet. He launched his company late last year and has been busy ever since.
Best enjoys meeting people and helping them feel happy about painting their homes/businesses. WOW believes that if a home can be painted in one day, it will be done in a day, without sacrifcing quality. Best's painting crews show up on time and finish on time. They even provide the homeowner with a coffee mug and flowers at the end of the job, as a thanks for being a customer. WOW also believes in paying it forward. They have participated in the Harold's Corral charity golf event and painted the exterior of a home as part of the "Day to WOW" charity last spring. They worked with Scottsdale's "OPeration Fix It" to enhance a home when the homeowner couldn't afford it. WOW is a Cave Creek/Carefree Chamber of Commerce member.
Best was born in Nebraska (Go, Huskers!) and raised in Scottsdale. He plays as much soccer and golf as he can. His favorite teams are the Suns and Cardinals.
"We started WOW in Scottsdale because we believe our clients deserve an exceptional experience from start to finish. Our goal is not to win your business but to win your trust," he said.