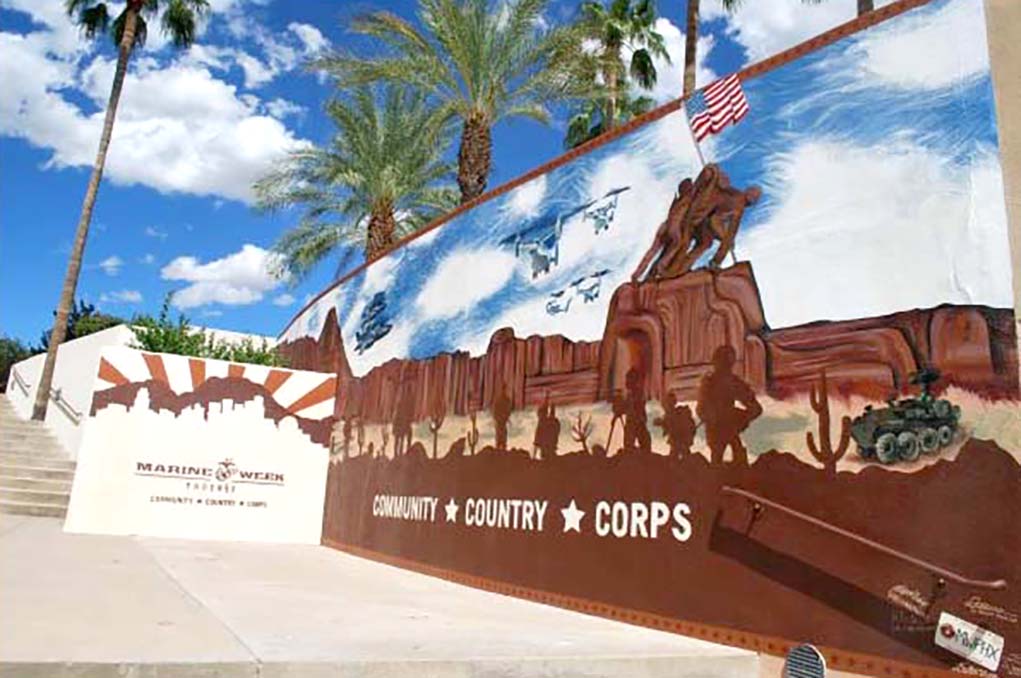 Scottsdale's Marine Corps Mural is a visual tribute to the men and women who serve our country and who fight to keep it safe.
Summer sun and rains, however, have damaged some sections of the mural. Volunteers will gather Saturday, Oct. 14, to give the art work some TLC. They will clean and paint the mural, which is located just north of the Civic Center Library, 3839 N. Drinkwater Blvd.
The mural was created by active duty Marines during Phoenix Marine Week in 2015. It depicts iconic U.S. Marine Corps images, plus a variety of Marine air and ground units training in an Arizona landscape.
Many of those pitching in to maintain the mural on Oct. 14 are veterans – and several have remarkable stories.
They include Dr. Vivian Wood, one of the first women to enlist in the Marines at the beginning of World War II. Wood, a Sun City resident and retired college professor, is active in many veteran organizations, including the Marine Corps Scholarship Foundation.
Wood will be joined by several others active with the Foundation, which is the nation's oldest and largest provider of need-based scholarships for military children.
Also assisting with the Oct. 14 mural maintenance project are volunteers with the Grand Canyon Chapter, National Society Daughters of the American Revolution and Scottsdale mural artist LuAnn Beardmore.