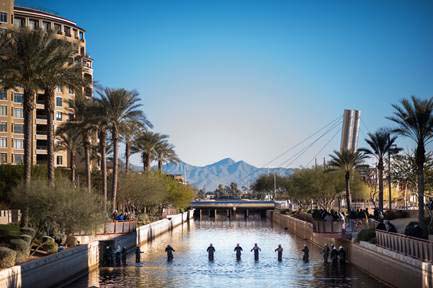 Artifacts, petroglyphs, and prehistoric canals at PGM
PHOENIX – Join Pueblo Grande Museum in October for a variety of classes and tours with something for all interests, ages, and budgets! Visit pueblogrande.com to learn more about these and upcoming programs. Register for paid class and programs at phoenix.gov/parks/classes-and-programs. Discounts available for Museum Members.
Archaeology for Kids
Saturday, October 7, 9:30 a.m. to 12:30 p.m.
Children ages 7 to 12 can become a Junior Archaeologist and discover the science of archaeology by doing a simulated excavation of a Hohokam pit house. Learn how to identify artifacts in the field, and discover how archaeologists use these artifacts to learn more about past cultures. Registration is required by October 5, cost is $15.
Petroglyph Discovery Hike
Saturday, October 14, 9 to 10 a.m.
Bring the whole family for a short one mile Hohokam petroglyph discovery hike at South Mountain for an easy but also petroglyph rich hiking experience. An experienced Museum guide will lead participants on a quick one-mile, one-hour interpretive hike, perfect for all ages and busy schedules. Space is limited. Registration required by October 12, cost is $5.
Behind the Scenes Tour
Thursday, October 19, 10 to 10:45 a.m.
Join collections staff for a "behind the scenes" tour of Pueblo Grande Museum. Take an intimate tour of the lab, storage, and archival areas not open to the public. See how museums process, organize, and care for their collections. Cost is $5; Space is limited, register at front desk in Museum Lobby.
Park of Four Waters Tour
Friday, October 27, 10 to 11 a.m.
The Park of Four Waters tour takes you on a walk through undeveloped, natural desert to the ruins of prehistoric Hohokam canal systems. The Hohokam people lived in the Salt River Area from approximately 450AD to 1450AD. They were an agricultural society, growing corn, beans, squash and cotton. In order to support their extensive agricultural system, the Hohokam people constructed miles of canals in order to direct water from the Salt River to their fields. Cost is $5; Space is limited, register at front desk in Museum Lobby.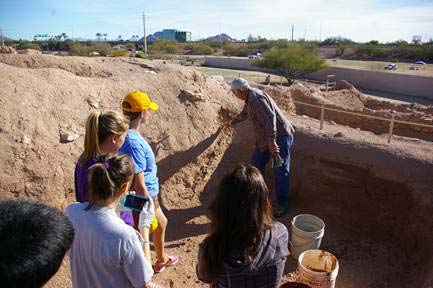 A Boot in the Door: Pioneer Women Archaeologists of Arizona
The men who explored Arizona are legends in the history of the region and of anthropology, but what about the women who accompanied them or explored by themselves? Get to know the women of Arizona archaeology with Dr. Nancy J. Parezo, Professor of American Indian Studies and Anthropology at the University of Arizona, at her presentation A Boot in the Door: Pioneer Women Archaeologists of Arizona on October 4, 2017 at 6:30 p.m. at Pueblo Grande Museum.
Did you know that Matilda Coxe Stevenson was a member of the first official government survey of Canyon de Chelly or that Emma Mindeleff surveyed ruins in the Verde Valley while Theresa Russell helped her husband locate Hohokam sites? Probably not, for none are listed in "official" histories. Learn about the hidden pioneer archaeologists of the 19th century and honor Arizona's unsung heroines of science.
This event is free and open to the public, made possible by the Pueblo Grande Museum
Auxiliary and the Arizona Humanities. Lectures are held the first Wednesday of each month, October through June from 6:30 to 8 p.m. in the Community Room at Pueblo Grande Museum. Donations are welcome. Visit pueblogrande.org for more information on the lecture schedule and other Auxiliary events at Pueblo Grande Museum.
Water works: Settling the Salt River Valley
Pueblo Grande Museum pays homage to the incredible prehistoric canal irrigation system upon which Phoenix was built with a free lunch time lecture series, Water Works: Settling the Salt River Valley, at the Museum in October. Commemorating the 150-year anniversary of Swilling's Ditch and the engineering legacy of canals left by the Hohokam, these lectures also coincide with the recognition of Indigenous People's Day by the City of Phoenix and will be filmed by PHXTV Channel 11. Come celebrate these significant achievements of our shared Arizona history. Discover how the ancient waterways of the past led to the modern water systems of today, and what lessons we can learn for the future.
Ancient Waterways of Life: Hohokam Irrigation Systems of the Salt River Valley
Date: Friday, October 13, 2017
Time: noon to 1 p.m.
Speaker: Dr. Todd Bostwick, Director of Archaeology, Verde Valley Archaeological Center
Find out what archaeologists know about the extensive system of ancient canals that were constructed in the Phoenix region by the Hohokam in order to live and prosper in the arid desert for a thousand years. More than a century of research has revealed that Hohokam farmers built the largest network of canals in the New World. Evolution of the canal systems, how they were engineered and maintained, and problems they encountered will be discussed. Illustrations, graphs, and photographs of canals excavated by archaeologists in the Salt River Valley will be shown to help explain the amazing ingenuity and skills of the Hohokam canal builders.
The story of modern water in the valley
Date: Friday, October 20, 2017
Time: noon to 1 p.m.
Speaker: Leah Harrison, Salt River Project Historian
Explore the history of the Phoenix area's modern water delivery system, starting with the Hohokam and moving through to the present day. Hear the stories of the innovative and collaborative spirit of early canal companies, community efforts to organize the Salt River Valley Water Users' Association, and the engineering and construction of SRP's water storage dams that supply the valley's canals. Changes in water management in response to the valley's transition from an agricultural community to a more urban center after World War II will also be covered, concluding with a conversation about current opportunities to interact with and celebrate the valley's historic dams and canals.
Museum admission is not required to attend these free lectures. They are open to the public, made possible by the Pueblo Grande Museum and the City of Phoenix. Visit pueblogrande.com for more details about the lecture series and other programs at Pueblo Grande Museum.
International Archaeology Day at Pueblo Grande Museum
PHOENIX – Celebrate International Archaeology Day (IAD) and explore the ancient heart of Phoenix at Pueblo Grande Museum (PGM) on Saturday, October 21 with a full day of archaeology fun! In collaboration with the Central Arizona Society of the Archaeological Institute of America (AIA), archaeology themed activities, children's activities, tours, and more will be available throughout the day from 9 a.m. to 4 p.m. For free Museum admission to this event, visit the PGM website, Facebook or Twitter pages to find out how to print a ticket for free admission on International Archaeology Day!
Each year City Archaeologist Laurene Montero celebrates IAD by getting dirty at PGM with the volunteer preservation and mound stabilization group, The Mudslingers. Montero says "It's a great way to celebrate archaeology, engage the community, and show people that archaeology is more than what they might think. I hope we'll even inspire a few people to choose archaeology as a career."
Archaeology aficionados of all ages will have the opportunity to witness preservation techniques on the prehistoric platform mound, do a simulated archaeological dig, and do hands-on archaeology crafts. Guests can also attend a free lecture at noon presented by The Central Arizona Society of the AIA on the Archaeological History of Stonehenge. The Museum will also be offering tours of the archaeological site, as well as have artifact show and tell stations throughout the day. All IAD activities are included with paid Museum admission or with a free admission ticket available online.
For more information on this and other events at Pueblo Grande Museum visit pueblogrande.com or call (602) 495-0901. Visit archaeological.org/archaeologyday for more information on International Archaeology Day.
Event Details:
9 a.m. to noon – Mudslinging preservation demonstration on platform mound
10 a.m. to noon – Archaeology for Kids excavation activity
Noon to 1 p.m. – Lecture by Brandelyn M. Andres, Professor of Art History – Yavapai College Prescott on Perpetual Mystery: The Archaeological History of Stonehenge
2 p.m. to 4 p.m. – Hohokam art crafts for kids
9 a.m. to 4 p.m. – Tours of the archaeological site and artifact cart show & tell
Volunteer Events at Pueblo Grande Museum
Arizona history lovers wanted! For those who love history, native cultures, or archaeology and want to learn more while sharing what they know, Pueblo Grande Museum (PGM) is the place to volunteer. Come to a volunteer event in October to explore all that PGM has to offer, from Tour Guides, Front Desk Ambassadors, Gift Shop Attendants and more! Visit pueblogrande.com for more information and to rsvp for a volunteer event.
Volunteer Breakfast
October 3, 9:30 to 10:30 a.m.
Open to current and interested volunteers, every year PGM hosts a Volunteer Kick-Off to celebrate the new season. This breakfast is a great chance for new volunteers to meet current volunteers, chat with staff, and learn about what's been going on at the museum. Feel free to bring a friend who may be interested in volunteering!
Docent Training
October 16 to 19, 3 to 5 p.m.
Open to current and perspective volunteers, each day covers a different aspect of the various volunteer opportunities available at PGM. Sign up for one or all to discover how to get involved at PGM!
October 16: What's new! Check out our updated volunteer handbook and follow a guided tour along the trail and in the museum's gallery spaces.
October 17: Be a guide! Attend our "Giving a Great Tour" presentation with special guest Kathy Farretta.
October 18: Show what you know! Our Docent Trainer will be giving an Artifact Cart demonstration and the City Archeologist will present a talk on Hohokam Archaeology.
October 19: Get crafty! Learn about PGM's newest and most popular crafts. Learn the ins and outs of an informational outreach.