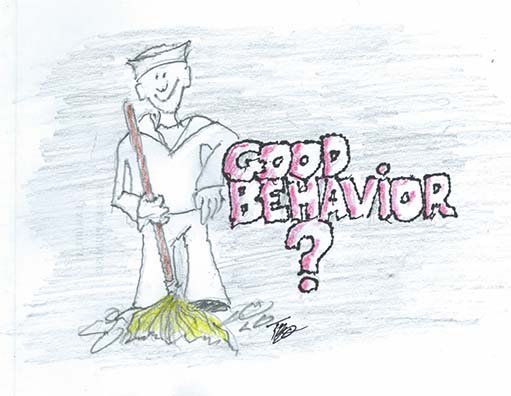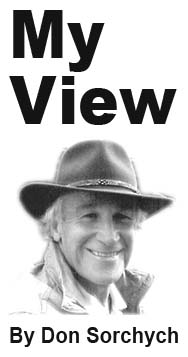 After high school I painted bridges for $10 per hour and thought I was at the top of the world. Painting started in the spring and was suspended in late fall so I had lots of time to hunt, fish, trap and take part time jobs.
I went into the Navy for four years rather than accept an Army draft notice in 1950 for two years of service. Along with my Honorable discharge, I got a Korean Police Action ribbon and a Good Conduct ribbon.
I deserved all except the good conduct ribbon.
The four years started in Great Lakes Naval Training Center. Next was Jacksonville Naval Training Center, then electronics training in Millington, Tennessee.
Millington was close enough to Illinois to drive or hitchhike home for weekends even though we were restricted to only go 100 miles from the naval base. There was a civilian building near the base where you could change clothes entering or leaving the base.
I had hitched a ride to Illinois with a sailor on base for the weekend. On our return he was supposed stop for a clothes change but he forgot.
I woke with awful pain as the gate Marine pummeled my ankles with a night stick because I had dungarees and white socks on. I swung at the gate guard and knocked him flat. Other Marines handcuffed me and threw me in the brig.
Then next morning a Marine arrived carrying written charges I was to face, got me out of the brig and took me to the Navy captain's office. Seated at the desk was everybody's friend because he sold liberty cards illegally and transported us to our homes for a fee, of course. He told the Marine, "Give me the paperwork and I will see he gets to the captain."
When the Marine was gone he read the charges and calmly said, "Did they fill out this form in triplicate" I told him I thought so. He said he knew the clerks who got the forms and he would retrieve and destroy them. His last words were, "You owe me; now get to class before they dock you for that."
My next step was radar school at Oakland Naval base which was where I finished my last four months in a Hunter Killer Squadron.
Then a troop ship to Hawaii for duty with Military Air Transport on Hickam Air Force Base.
I was assigned the radar bay to service the nose radar in VR-8's Super Constellations. Things went well until a new first class petty officer was assigned to lead repairs. One morning when I came in all hung over a second class petty officer accosted me and asked if the radar room was mine. I said it was. He jammed a mop handle in my hand and said, "Go swab it up sailor." I handed it back and said, "When I have time." From the landing with eight feet of steps to the bottom he once again jammed the mop handle in my face. I knocked him down the steps. He was unconscious.
Chief Lane (an Arizona survivor of the attack on Pearl Harbor) wrote me up.
We had a commander named Strain who had a tough and nasty reputation. In charge of our shop was a pilot nicknamed Tex who was an enlisted man at heart.
I was expecting brig time at a minimum. The next morning I was in Strain's office bracketed by two Marines but Tex was there.
Strain studied the complaint for what seemed like hours.
Her cleared his throat and said, "I can't believe Tex would have anyone in his squadron who would knock a superior petty officer cold. Case dismissed."
Thank you Lord!
Months later I was sent to Japan to build a radar shop for MATS.
It was only about eight years after the fall of Japan, yet Tokyo was safe anywhere. My shipmates and I frequented an enlisted club at the airport and about a dozen of us lived in a place at the airport.
A chief petty officer was generally in charge of the maintenance crew and near retirement. We had found that many sailors with many sea hours were much like prisoners. Living on a ship for all those years denied some sailors of sex and they, like prisoners, justified homosexual sex with no other outlet. Many of us had been in the Navy long enough to avoid old "salts."
One night our drunken chief staggered into our quarters and climbed in bed with a sailor who was a little effeminate. He howled and jumped out of his bed. The rest of us ran the chief out of the room and threatened him to cut it out.
A few months later as I was leaving the enlisted club, I was chatting with the Japanese hostess when the chief staggered up and asked me go to bed with him. I told him to get lost. He then put his arm around me and I decked him. He turned me in and both and the hostess and I gave testimony. The hearing officer quietly transferred the chief. The hearing officer told me the chief's replacement would be vetted to assure he was a "normal" person and he was.