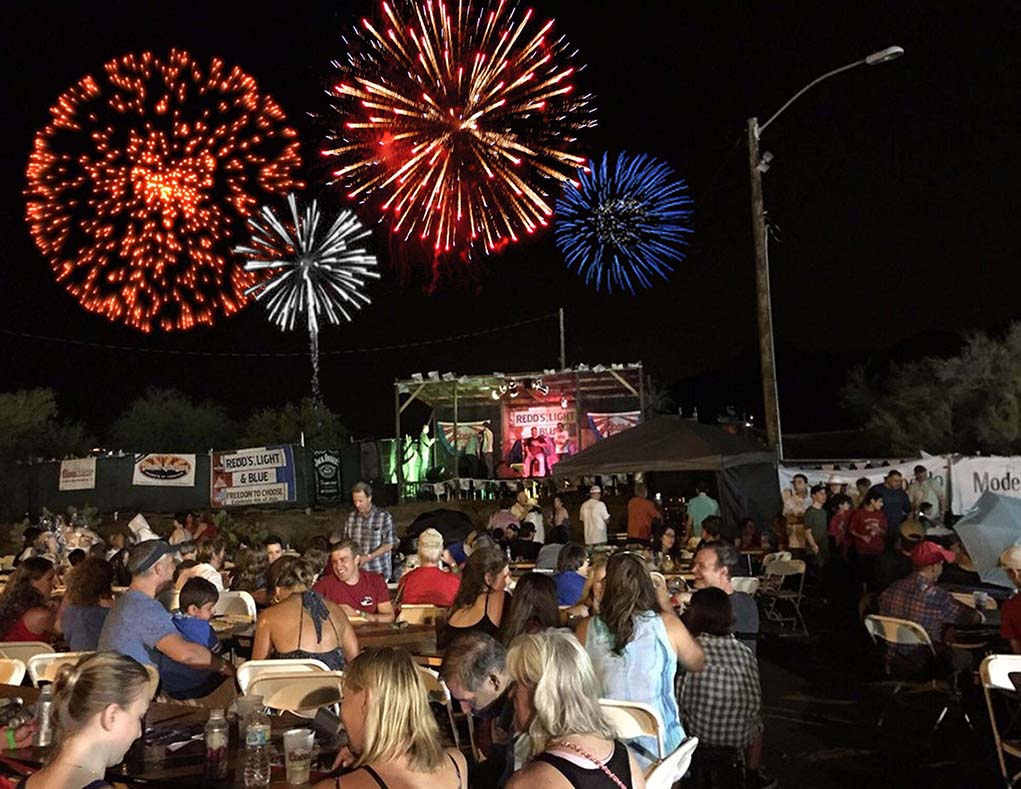 "The Fourth on the First" fireworks display set for Sat., July 1st at Frontier Town
CAVE CREEK – Frontier Town is celebrating Independence Day early this year with a new, exciting event, "The Fourth on the First." The family-friendly event begins at 4 p.m. and features live music, a kid's splash area, mechanical bull riding, delicious food and beverages and shopping throughout the Western-themed town in the heart of Cave Creek. The spectacular fireworks display will begin at 9 p.m.
For more than three decades, Frontier Town traditionally has held its fireworks display on July 4. Then in the spring of 2016, Frontier Town's anchor restaurant, the Silver Spur Saloon, burned down. The Silver Spur opened its doors in 1972, and its loss was felt not only in Arizona, but throughout the country as well.
"Thankfully, no one was hurt, but it was a big loss to all of us at Frontier Town," said Marc Peagler, co-owner and general manager of Frontier Town. "We've begun the rebuilding process of the Spur and we're looking forward to it reopening, but because of the fire, last year's fireworks event was very small."
Peagler and Frontier Town's special events director, Kimberley McQueen, decided that this year, not only would their event be bigger, it would fall on Saturday, July 1.
"We're planning a family-friendly, festive event to celebrate our freedom and patriotism, and of course, we are doing it Cave-Creek style" Kimberley McQueen said. "We have plenty of fun planned for kids and lots of great music and drink specials for the adults"
Frontier Town has lined up Dirty Tequila, Six Guns Entertainment, Boom Bandits Entertainment, and 96.3 Real Country to make the show and party memorable.
"Boom Bandits will set up their state-of-the-art stage, the Bandit Cave, and we've invited two talented bands to entertain us, each with their own style," McQueen said.
Redneck Revolution, a country band that also plays soft and southern rock, will perform from 4 p.m. to 7:30 p.m., and The Saints of Las Vegas, a rock band, featuring Brent Muscat from Faster Pussycats, will perform from 8 p.m. to 11:30 p.m.
Dirty Tequila will provide a full bar, as well as their specialty margarita bar. "Think adult slushees," McQueen said.
The food will range from delicious homemade street tacos to corn on the cob sticks to hot dogs, hamburgers, cotton candy, candy apples, and more.
Plenty of parking will be available on the lot east of Frontier Town, and patrons are encouraged to bring their own lawn chairs to enjoy the fireworks.
Frontier Town is a western-themed, family-friendly town that pays tribute to the miners, ranchers and cattlemen who settled in Cave Creek in the late 1800s. Located in the center of Cave Creek at 6245 E. Cave Creek Road, Frontier Town is just minutes from north Scottsdale.
Admission is free to attend the event, though there will be nominal fees for some of the activities, food and beverages. A portion of proceeds will benefit the Cave Creek Merchants and Events Association. For information, call (480) 488-9129 or visit www.frontiertownaz.com.
Harold's Corral hosts "3rd of July Fireworks Extravaganza"
CAVE CREEK – Celebrate Independence Day early at one of the Valley's biggest parties! Cave Creek's spectacular "3rd of July Fireworks Extravaganza" takes place after sunset on Monday, July 3 and is being hosted by Harold's Corral, 6895 E. Cave Creek Rd., in Cave Creek.
The festive, family-friendly celebration starts at 5:30 p.m. with live music, kid's activities, food and drink specials and great seating to view the fireworks, which begin after sunset behind Harold's. A free shuttle service will be available to transport people around town from 6 p.m. to midnight.
With the help of Rural Metro, the fireworks are safely shot off from a hill behind Harold's, making the largest display in Cave Creek one of the most exhilarating shows in the Valley. Admission is free with open seating, first come first serve.
Reserved seats outside are available for $15 for a two-top, $20 for a four-top and $35 for a 10-top. Live music will be a highlight, with the Crown Kings playing inside from 8:30 p.m. to 1 a.m., and Hillbilly Deluxe will energize the crowd outside from 7 p.m. to 11:30 p.m. While admission is free, it does not include game zone activities or food. Harold's outside bar and BBQ will be cash only, and ATMs will be onsite. Guests to Harold's also can help The Foothills Food Bank by donating canned goods or money, and those making a donation that night will be entered to win a prize.
For more information about the "3rd of July Fireworks Extravaganza," contact Harold's Corral at (480) 488-1906 or www.haroldscorral.com.