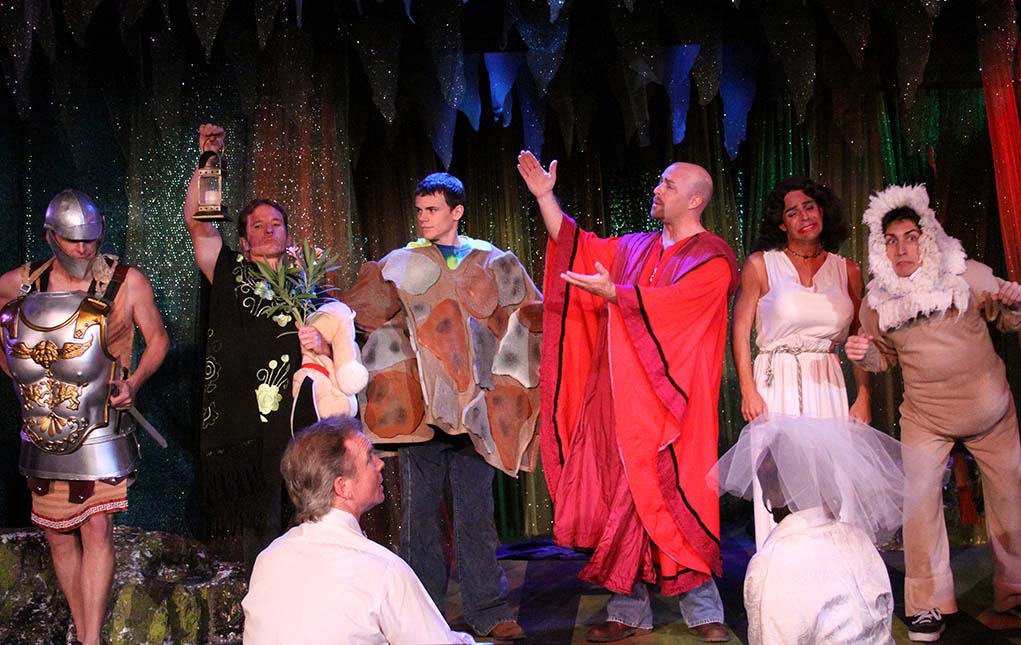 WHAT: 'Midsummer Dreamin' adapted by Peter J. Hill from Shakespeare's A Midsummer Night's Dream
WHEN: June 30-July 30, 2017
Fridays, and Saturdays at 7:30pm* (note new time), Sundays at 2:00pm
WHERE: Fountain Hills Theater
11445 N Saguaro Blvd., Fountain Hills, AZ
PRICE: Individual Adult Tickets $30, Youth 17 and under $23.
Group rates available. Veteran and Active Duty discounts. Senior discounts.
Fountain Hills Theater is proud to announce the opening of 'Midsummer Dreamin' the rollicking new musical adapted by FHT's Artistic Director Peter J. Hill from A Midsummer Night's Dream by William Shakespeare. Midsummer Dreamin' is a joyous and funny modern adaptation of Shakespeare's 'A Midsummer Night's Dream' set in the summer of love. When Shakespeare's characters are set in a hippy-dippy America and sing tunes like The Lion Sleeps Tonight, Y.M.C.A. and Aquarius, you know this ain't your Grandpa's classic.
Mia is in love with Andy, but her father wants her to marry Denny. To escape the arranged marriage, she and Andy elope into the woods. Denny follows them, and he is pursued by Helen, who nurses an unrequited passion for him. A love quadrangle develops among the young lovers when mischievous Puck plays Cupid. "The course of true love never did run smooth" says Andy. Meanwhile, a group of amateur actors rehearses a badly-written play in the woods, and soon all find their lives changed by the doings of Oberon and Titania, the warring king and queen of the fairies. Magic, action, love and humor are the ingredients for this unforgettable spell.
The adapting author, Peter J. Hill says that setting this comedy in the era of hippies and free love was a natural for A Midsummer Night's Dream. The conservative parents' fear that their straight-laced daughter Mia (Hermia) fall for the more rebellious, long-haired, hippy Andy (Lysander) was common during the summer of love. Add the forest fairies as true flower children, as well as a 'magical plant' that confuses the lovers and Shakespeare's play is alive and kickin'! Peter J. Hill adapted this, one of Shakespeare's most oft-produced comedies because of its enduring popularity. No wonder – it's about the world's most popular pastime, falling in love. But as Puck knows, falling in love can make fools of us all. Love is crazy, love is mad. Will love win out in the end?
( Midsummer Dreamin' photo is from a 2010 performance at FHT of this production. )