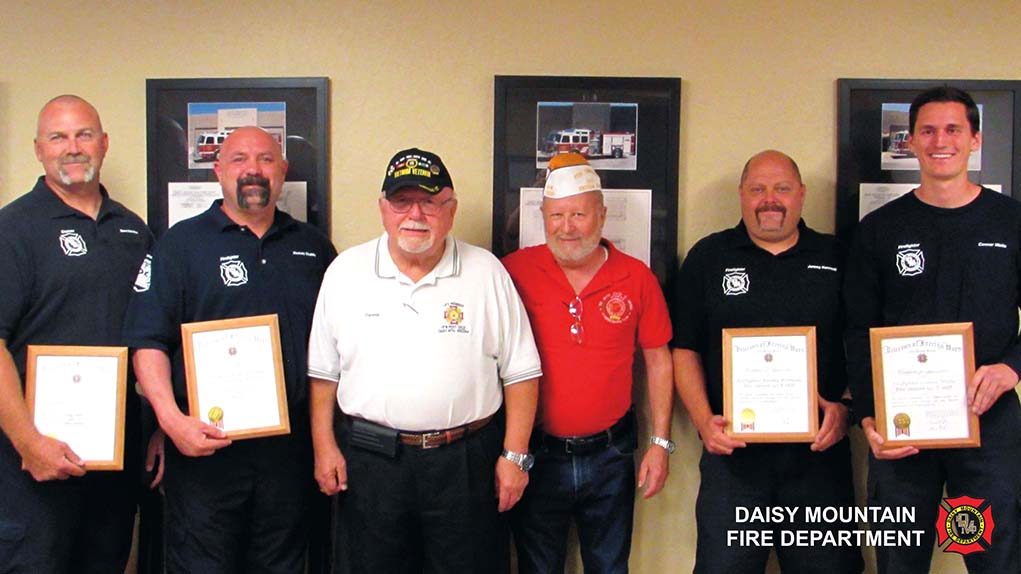 During the May Daisy Mountain Fire Board Meeting, VFW Commanders presented the 2016 VFW Public Servant; EMT of the Year, and Firefighter of the Year Awards.
Captain Dave Hamilton was the recipient of the EMT of the Year because of his extraordinary commitment to his crew and the Department. He was again recognized as the Captain of Engine 145 B-shift crew along with Engineer Randy Kennedy, Firefighters Jeremy Kennedy, Rodney Stubbs, and Connor Waite with the Firefighter of the Year Award. This award is normally bestowed on an individual, but the crew acted in unison to remove three victims from a hazardous atmosphere in a confined space, so an exception was made, recognizing the crew for their heroics.
The awards were presented by Dave Black, Incoming Commander (Center) and Dennis Hider, Past Commander (Left) of the Daisy Mountain VFW Post 12031. Randy Kennedy wasn't able to attend because he's currently assigned to a wildland fire. His brother Jeremy accepted the award on his behalf.