CAREFREE – Councilman Jim Van Allen asked to pull items 6 and 7, pertaining to street closures for two Thunderbird Artists Fine Art and Wine Festivals from the consent agenda during the May 2 council meeting.
Van Allen said Councilman Mike Farrar, who was unable to attend the meeting, wanted to make sure Sunshine Way is not blocked off.
However, he said the map included with the permit application still showed Sunshine Way blocked off for both events.
Town Administrator Gary Neiss said it is exactly what they've been doing for the past four or five years.
Neiss said it's a matter of space and in order to open up space in front of businesses, they shifted tent space to in front of town hall instead.
Van Allen, who said he volunteers at the festivals, stated it would only affect two tents. He said, "If those two tents were moved, it would open up Sunshine Way."
Neiss pointed out the number of participants varies from event to event, so the number of tents would also vary from event to event.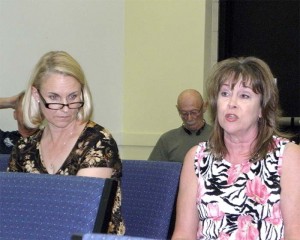 Marketing Director Gina Kaegi said she believed more than two tents would be affected but both she and Carefree-Cave Creek Chamber of Commerce President Patty Villeneuve said they were sure Judi Combs, CEO of Thunderbird Artists, would be open to working with the town.
Council asked staff to contact Thunderbird to see what they could negotiate to open Sunshine Way.
As Van Allen moved to approve the two agenda items, Town Attorney Michael Wright said because the maps with the road closures were included in the application, council would be approving the application as submitted.
When asked if they could approve it subject to amending that part of the map, Wright said they could so Van Allen said, "So moved."
Council approved the motion unanimously.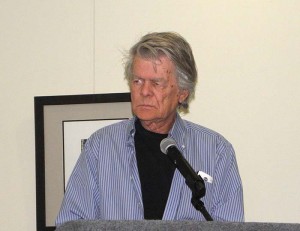 Call to the Public brought Robert Jacobsen to the podium to once again to complain about what he considered unsafe conditions along Tom Darlington Drive with respect to trees and signage since the bike lane project was completed.
Mayor Les Peterson noted he had conversations with Jacobsen since the last meeting and during one of those conversations he asked Jacobsen if he was a traffic engineer, to provide documentation of such or bring in a traffic engineer to support his belief that the trees in the median along Cave Creek Road and Tom Darlington Drive were dangerous.
Council reviewed a new three-year contract with Maricopa County Sheriff's Office.
Neiss provided a brief presentation showing how service would be adjusted to increase during peak times with a lower level of service at other times, which would save the town around $72,000 per year.
With those changes, Neiss said the cost for service for FY2017-2018 would run about $336,000.
Peterson said he and Neiss had talked about changes to the level of service and stated, "We don't want to be dollar wise and service foolish."
Responding to Peterson's question, representatives from MCSO said they believed the proposed agreement will serve the town well.
Council voted unanimously to approve the three-year contract.
Peterson thanked MCSO for their "wonderful service to the town of Carefree."
For the next agenda item, adoption of the tentative budget of $6.5 million for FY2017-2018, Neiss was asked by Peterson to explain where the town was at in the budget process.
Neiss said they were at the middle of the process and had previously held two budget workshops open to the public.
He said, "Today we will be adopting a tentative budget establishing an expenditure limitation/bottom line."
Line items can still be moved around within the budget but once the expenditure limit is set, it cannot be exceeded.
On June 6, a public hearing will be held where council will adopt the final budget for FY2017-2018.
The new fiscal year begins on July 1.
Council voted 5-1, with Van Allen dissenting, to adopt the tentative budget.
Van Allen didn't comment as to why he voted against the tentative budget but later explained there were a number of things in the budget he didn't agree with that had to do with increased spending while sales tax revenue is on the decline and down 15 percent over last year.
Although the tentative budget just sets the bottom line, Van Allen said he voted against it because once the tentative budget is adopted nothing ever changes in the final budget.