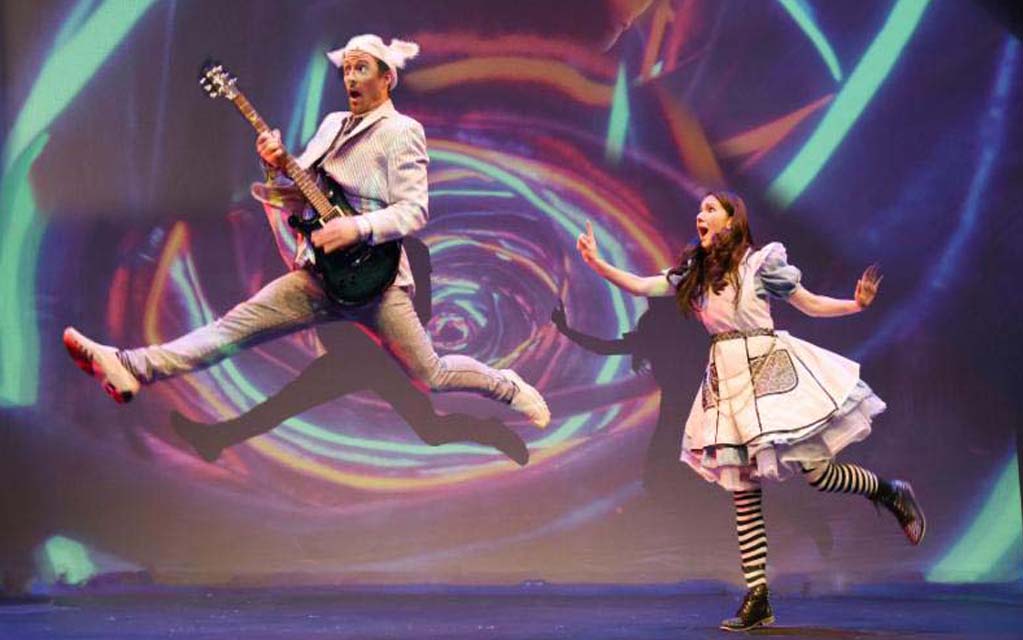 TEMPE – Childsplay Theatre brings Alice to life like you've never seen her before! Stumble down the rabbit hole into a rock & roll adventure where old favorites like The Mad Hatter and The Queen of Hearts appear with a brand new twist-the actors telling the story are also the band. The eclectic rock sound track underscores a fantastically fun story about a girl learning how to march to the beat of her own drum – literally!
Performances of Wonderland: Alice's Rock & Roll Adventure will be held at Tempe Center for the Arts, 700 W. Rio Salado Parkway, April 23 through May 21, 2017, Saturdays at 1 p.m. and 4 p.m. and Sundays at 1 p.m. Tickets start at $12 and are on sale now at www.childsplayaz.org or at the Tempe Center for the Arts Box Office (480) 350-2822 (ext. 2). The play is recommended for ages 6 and up.
"Wonderland is, more or less, a rock opera that mashes up musical theatre in to a rock concert setting. It draws from Alice's Adventures In Wonderland, Alice Through the Looking Glass, and The Jabberwock and ties it up with a great rock and roll score that ranges from straight up garage rock to Bollywood," said Director Anthony Runfola. "The exciting part for the cast and the audience will be that the actors themselves play all of the instruments during the show. It's as if Alice has fallen down the rabbit hole and landed on the stage at a Wonderland music festival."
The 4 p.m. performance on Sunday, April 23 is a special $12 Storybook Preview performance, sponsored by The Steele Foundation. Each family that attends this General Admission preview performance will receive a free book.
The Wonderland: Alice's Rock & Roll Adventure cast features Michelle Chin (Alice), Osiris Cuen (Lorina/Bianca/Unicorn), Cullen Law (Cheshire Cat/Felicite/Jabberwock), Katie McFadzen (Mad Hatter/Seven), Lauren McKay (March Hare/Red Queen), Kyle Sorrell (White Rabbit/Tweedle Dee), Tommy Strawser (Caterpillar/Tweedle Dum/Four), and Marshall Vosler (Dinah/Dormouse/Red King).
Director: Anthony Runfola
Music Direction: Alan Ruch
Choreography: Robbie Harper
Scenic Design: Aaron Jackson
Costume Design: Connie Furr Soloman
Wig Design: Kate Mammana
Lighting Design: Jeff A. Davis
Projection Design: Daniel Cariño
Sound Design: Christopher Neumeyer
Stage Manager: Sarah G. Chanis
"What sparked my ideas for our production was Lewis Carroll's original title for the story – Alice's Adventures Underground," Runfola said. "As we march towards adolescence, we somehow loose our identity and begin the journey of discovering of who we will grow up to be. Throughout our lives, we experience our own Mad Hatters, Caterpillars, Cheshire Cats, and yes, even Queens of Hearts but hopefully our time underground teaches us to keep our heads and temper our self-doubt with the fact that if we believe in ourselves we can achieve just about anything."