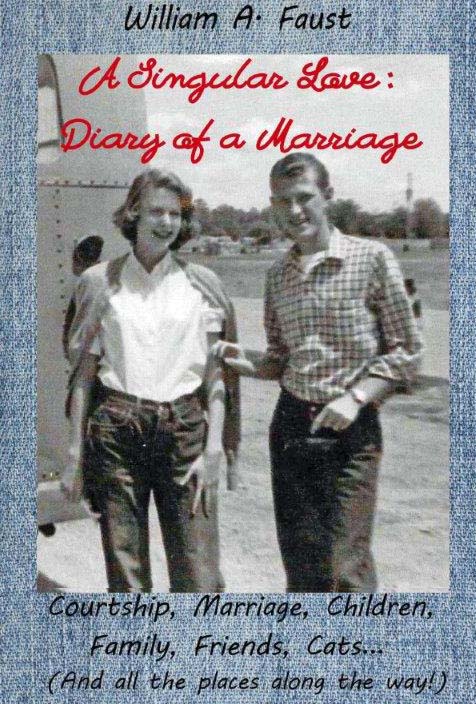 A Singular Love: Diary of a Marriage
CAVE CREEK — Highlighted by photographs, cards, notes and letters that were exchanged during more than four decades, in the words of the author, this book "celebrates the happiness of real life, with all its joys and conflicts". When William (Bill) A. Faust Sr. first saw 'the girl in the red coat' in a Phoenix College history class during September of 1956, little did he realize that 20 months later it would lead to a marriage that would create three children (Bill, Susan and Lauren), last 44 years, and take Bill, Pat and the children from Phoenix to Chicago, St. Louis and Kansas City.
Bill returned to Arizona in 2002 where his son, Bill Faust Jr. manages Scottsdale's Faust-King Galleries, specializing in Native American art. In December 2015, Bill moved to Cave Creek. He spent much of the following year writing a book described as a "labor of love". Family members and friends who have read drafts of A Singular Love agree that this history of a marriage would make a great gift to anyone who is engaged!
Chapter headings such as The Winter of Our Discontent and Life without Pat reflect the flashes of humor and high degree of intimacy captured by the book. A Singular Love enhances this journey of a marriage with loving and often humorous discussions of courtship, marriage, children, family, friends, cats and all the places along the way!
Delighted that the book was published near the date of wife's birthday! "I spent well over a year writing it, was frustrated a lot, and thought the process would never end: But it worked out for the best since the book was finally finished on Pat's birthday. She would have turned 80 on March 7th." Inspired by a winning entry in the Arizona State University Alumni Newsletter's Valentine Day Contest in 2010, the 80 year-old author compared writing the book to giving birth without the pain of actual labor. "I wonder how Pat would have liked that description," he says wryly.
Published by Outskirts Press, www.outskirtspress.com, A Singular Love consists of 238 pages and 17 photographs and illustrations. The softcover edition sells for $15.95. Amazon sells the softcover for $15.95, and an e-book version which sells for $4.99.