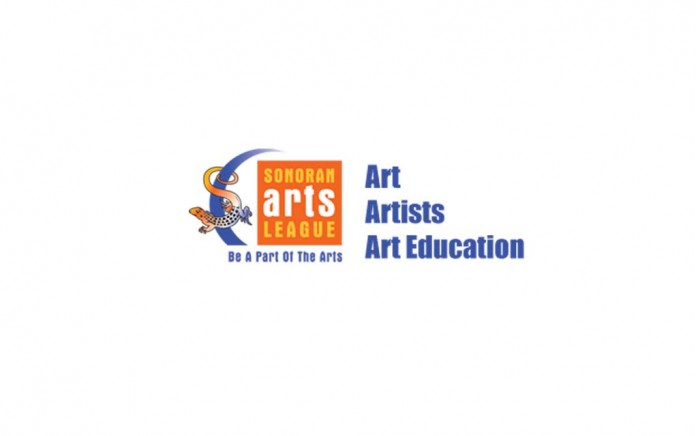 Invitations are out to attend the annual Garden Party & Fundraiser for the Sonoran Arts League, "April for the Arts" on Saturday, April 8 at 6pm at the Grotto Café in Cave Creek, AZ.
A fun-filled evening under the stars – mingling with artists, get into a bidding war at the silent auction tables, learn about the outreach programs (Youth Art, Veteran Art and Public Art); all while enjoying great food from the Grotto Cafe' and exciting entertainment.
The "Silent Auction" begins at 6:00 pm and closes promptly at 7:30 pm.
What's New This Year ?:
A "Create-A-Crate Challenge" using the same textile as last year – A WOODEN CRATE.
That's right, wooden crates, masterfully turned into works of art that are then donated and entered into a competition during the April for the Arts annual fundraiser.
Prior to and during the event, people are asked to cast their votes with dollar bills for as many entries as they choose. The top winners who have raised the most money will be awarded the People's Choice & Whiplash Awards. 100% of the proceeds benefit the following outreach programs: Youth Art & Education, Free Veteran Art, and the Public Art & Murals.
– Artists pick up a wooden crate at the Sonoran Arts League Center for the Arts in Stagecoach Village and create a masterpiece using the entire wooden box – no holds barred!
– Any choice of medium is allowed and multiple crates may be used in the creative process.
– Wooden crates may be disassembled then reassembled, and additional materials may be added. This challenge is not just for artists or League members, the community is invited to compete and there is no entry fee to enter.
For more tickets and details on the event, please contact the Sonoran Arts League 480-575-6624 info@sonoranartsleague.org. Reserve your tickets now!