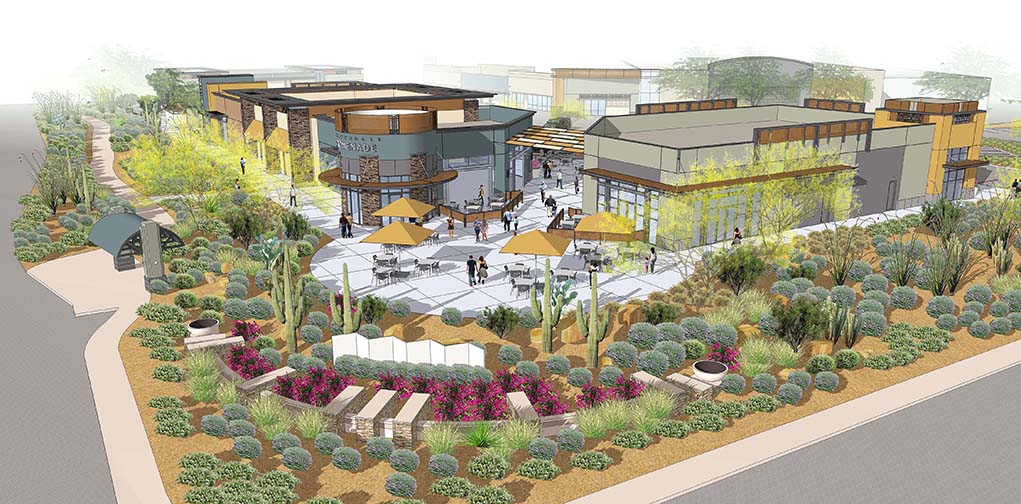 SCOTTSDALE —The Promenade, located at Scottsdale Road and Frank Lloyd Wright Boulevard is set to undergo a two phase façade redesign and redevelopment starting this month.
* Phase one includes the construction of a three building pad on the southwest corner of the property that formerly housed Fox Sports Grill. The new pads will bring a mixture of restaurants and retail stores. The Promenade has lease commitments for a significant percentage of the new space. New tenants include: Modern Market, Blaze Pizza, Pacific Dental and Verizon Wireless with many more on the horizon.
* Phase two of the redevelopment and redesign process will focus on the façade of the inner circle of the property from The Coffee Bean & Tea Leaf to Habit Burger, and should commence by March. These aforementioned shops will have a significantly updated exterior, while the rest of the center will receive updated paint colors that complement the façade changes.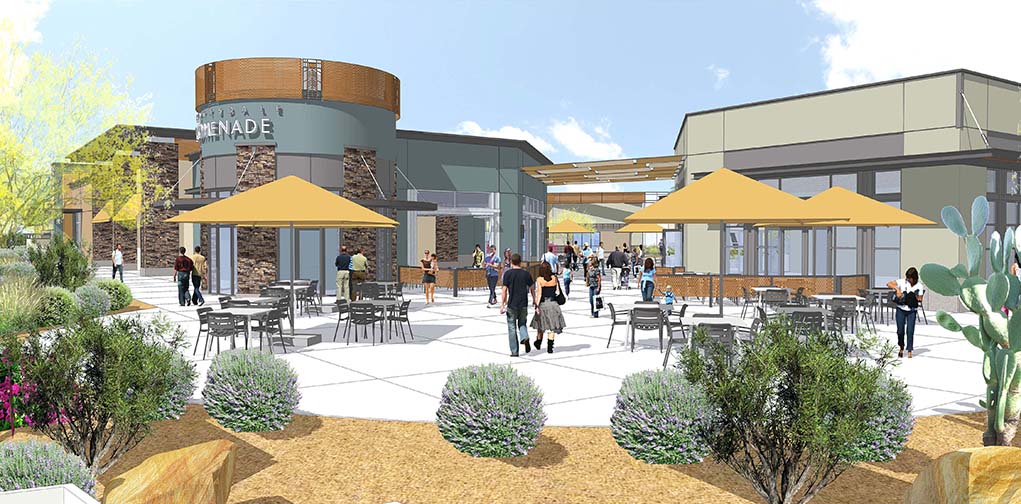 "The design we chose celebrates the architectural heritage of Frank Lloyd Wright while preserving the spirit of the existing center," said Cheryl Smiley, Property Manager at The Promenade Scottsdale.
The Promenade tapped SGPA Architecture and Planning as the lead designers for the center's redesign.
"SGPA was asked to bring this highly successful shopping center up to date by giving the property a face lift. The Promenade occupies an important Scottsdale intersection at East Frank Lloyd Wright Boulevard and North Scottsdale Road and is surrounded by relatively new retail centers, which are all competing for business. It was time to renovate and refresh the site," said lead project architect, Roxanna Kreisler with SPGA Architecture and Planning.
Kreisler added, "It was apparent early on as we visited the site and collaborated with the City Planner that it was important the renovation retained the original character and legacy of Frank Lloyd Wright. He obviously had a strong architectural design influence on the City of Scottsdale and his work is important to the history of the City. In our development of the design, we took care to draw from FLW's design principles by using strong geometry, rich, natural materials and finishes. In addition, there are many allusions to nature in our use of Wright's famous 'Tree of Life' patterns throughout the site."
"The Promenade is at a very important crossroads in Scottsdale and the additional investment in this successful commercial center while keeping in the Frank Lloyd Wright tradition is certainly appreciated," said Scottsdale Mayor Jim Lane.