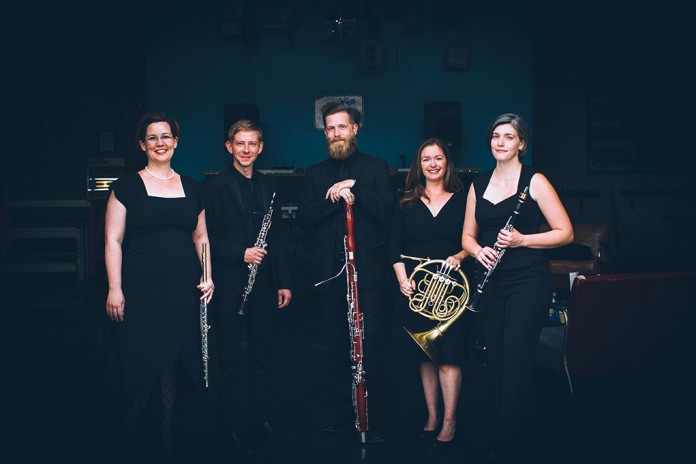 Pinnacle Concert Series invites you to "Time Travel" with the Mill Avenue Chamber Players: flute, oboe, clarinet, horn, and bassoon on Friday, November 18 at 7:30 p.m.
The imaginative and demanding program opens with Shostakovich's Quartet No. 8, a portrait of the composer's mind and the city of Dresden in 1960, saturated in desperation. "Bachianas Brasileiras" No. 6 for Flute & Bassoon by Villa-Lobos evokes Bach using the folkloric and urban street music of Brazil, yielding "wild, impulsive flights of fancy." And then, Monteverdi's simply exquisite "Pur ti miro" is as romantic as it gets. Composer John Steinmetz is well known in the double reed world, and his work is highly regarded and groundbreaking. His Quintet is "A great piece to perform!" says Rose French, the ensemble's horn player, and judging from the rave reviews on KBAQ, wonderful to hear.
The Mill Avenue Chamber Players CD, "What The Birds Said," released in August 2016, includes the Steinmetz Quintet that you'll hear at the Pinnacle Concert Series November 18 concert. "The watercolor artwork on the album cover is a painting of what John's music sounds like," says French. "The work begins with chants, then lively dance, shifting into a Copland-esque, "American" ending. "The piece unfolds, shifting, morphing, changing in character." It is spectacular.
The Shostakovich is also of special note. "No [woodwind] chamber music existed for Shostakovich, until now." exclaims French with enthusiasm, "It's really challenging, very exciting; it feels … desperate!"
The intimacy of the venue will make this a special treat. The November 18, 7:30pm concert will be held in the Chapel at Pinnacle Presbyterian Church, 25150 North Pima Road, Scottsdale 85255. General Admission tickets are $20 available at www.PinnacleConcerts.com, 480-303-2474 or at the door. Student tickets are free.
Pinnacle Concert Series is presented by Pinnacle Presbyterian Church, 25150 North Pima Road, Scottsdale 85255 (NW corner of Pima and Happy Valley Roads). Reserved seating is available for some concerts. Tickets range from FREE to $49 and are available online at www.PinnacleConcerts.com or at the door. For additional information, visit www.PinnacleConcerts.com or call 480-303-2474.
Video interview Sterling Beeaff's KBAQ interview with Rose French of the Mill Avenue Chamber Players and composer John Steinmetz:
http://kbaq.org/content/heart-arts-mill-avenue-chamber-players