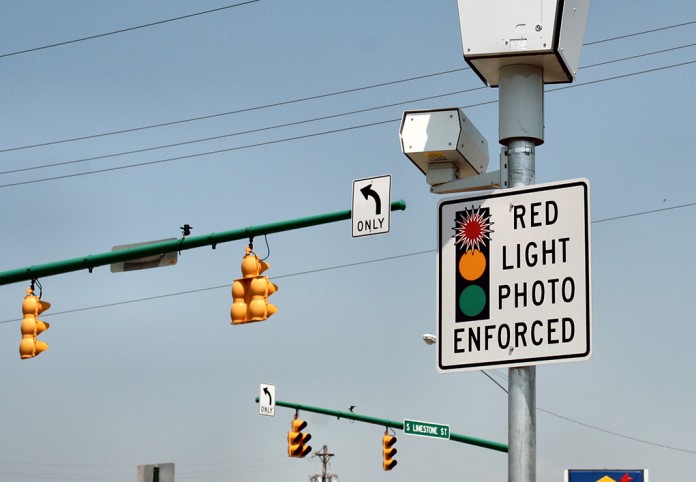 CINCINNATI – Tatum Ranch resident Karen Finley, 57, the former CEO of Redflex Traffic Systems, based in Glendale, Ariz., was sentenced on Oct. 19 to 14 months in federal prison for her part in a corruption and bribery scheme to obtain traffic camera contracts.
In a plea deal, Finley pled guilty to one count of conspiracy to defraud the United States in federal court in both Cincinnati and Chicago.
As part of her plea agreement, the Ohio District Court has agreed to allow Finley to serve her sentence in Phoenix and run concurrent with the case in the Northern District of Illinois, for which she is scheduled to be sentenced on Nov. 10.
In Chicago, Finley, who was forced to step down as CEO, was originally indicted on nine counts of mail fraud, three counts of wire fraud, three counts of federal program bribery and one count of conspiracy.
In her plea agreement there, the U.S. Attorney stated, "Defendant will plead guilty because she is in fact guilty of the charge contained in the indictment."
In early 2003, while Vice President of Operations at Redflex, Finley was involved in offering and making cash payments to John Bills, the Chicago city official in charge of the red light camera program, while Redflex was competing with another company for a red light camera contract with the city of Chicago.
Finley was aware the city was receiving $10,000 per year in federal funding in the form of various federal grants.
Redflex was awarded the Chicago contract in late May 2003 and, in return for Bills' assistance in awarding the contract to Redflex, Finley agreed to hire Martin O'Malley, a friend of Bills, as an independent contractor.
Finley's hiring of O'Malley was in exchange for Bills' help in getting the Chicago contract and assure Bills' assistance to Redflex in the future.
O'Malley's contract was finalized in the fall of 2003 and included provisions for lucrative increases in his compensation as new red light cameras were added, a provision that was out of the ordinary.
In 2007, after Finley became CEO of Redflex, O'Malley's commissions escalated.
Redflex employees began questioning his commissions and suggested renegotiating his contract and his commission structure.
Finley avoided discussions of O'Malley's compensation to keep Bills happy since he was assisting Redflex trying to have the new contracts sole-sourced to Redflex.
Meanwhile, Redflex was paying some of Bills' and O'Malley's expenses in order to influence Bills to keep and expand Redflex's business with the city of Chicago.
Finley approved reimbursement for airline tickets to Phoenix, car rental, meals and golf.
Finley also approved reimbursements for expenses incurred by friends of Bills, including stays at the Biltmore Hotel, rental car expenses, meals and entertainment.
According to the plea agreement, "Despite Finley's knowledge of and participation in the foregoing, Finley falsely certified on Economic Disclosure Statements in both August 2007 and September 2008, in connection with the application process for contract PO 16396 and as part of the contract process for contract PO 18031, respectively, that no agents of Redflex, during the prior five years, had bribed or attempted to bribe an employee of the city of Chicago."
In 2011, as part of this corruption scheme, Finley was told Redflex would need to help find a job for Bills when he retired from the city of Chicago, which ultimately led to Redflex helping Bills get a job with a nonprofit corporation.
In October 2010, a former Redflex employee came forward with allegations that O'Malley was paying Bills, which resulted in an internal investigation at Redflex. Finley never questioned O'Malley or Bills in response to the allegations.
The investigation concluded there had only been a one-time payment of a hotel room for Bills, which Finley knew was untrue.
When the Chairman of the Board of Directors of Redflex's parent company pointed out O'Malley's salary was quite high, Finley defended it, despite her own suspicions O'Malley was passing money to Bills.
Although Acting U.S. Attorney Benjamin C. Glassman for the state of Ohio requested the court impose a sentence of 27-33 months in prison to be served concurrently with any term of imprisonment ordered by the district court in Northern District of Illinois, Ohio District Court Judge Michael H. Watson sentenced Finley to 14 months in prison with one year supervised released.