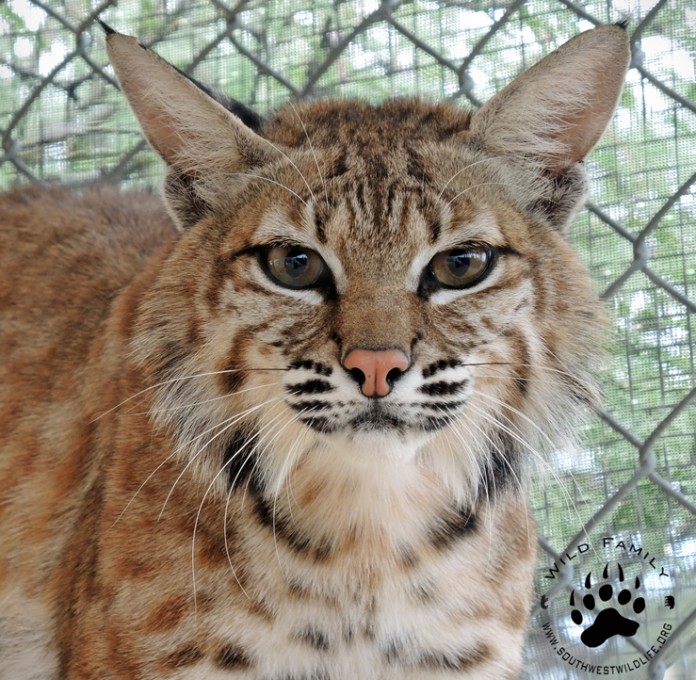 Southwest Wildlife Conservation Center has a new little mama in town, but don't let her size fool you, she's as fierce as they come!  It was time to look at our sanctuary residents for another possible bobcat foster parent, and we think we've found her!  Meet Dizzy.
We lost our terrific foster parent bobcat Mr. Foster to cancer and Mrs. Foster is trying to raise babies on her own. It's a big job and Mrs. Foster isn't a young cat anymore. Read all about how we chose Miss Dizzy to try her paw at raising rambunctious baby bobcats and how the introduction to her first foster kittens went on her Wild Family page on the website!
With the monthly support of our Wild Family, we make sure the animals get the medical care, time and attention they need to heal and thrive. Monthly giving is the easiest way to support the mission of Southwest Wildlife.  Find out more about how you can belong to our Wild Family of monthly supporters here: http://www.southwestwildlife.org/donate/wildfamily/wf.html
Seeing the foster parents care for babies truly touches our hearts. Nature provides wonderful miracles.
Nature Center Tours

Being able to share our Nature Center with others is very important to us—looking into the eyes of these animals truly does touch people in a way that is hard to describe and makes our educational wildlife programs unique and memorable.
If you would like to attend one of our inspiring educational programs, please click on the Visit Us tab on our calendar page. You can view the educational programs we will be hosting over the next several months.
Don't miss your opportunity to visit the wildlife at our Nature Center!  Remember, preregistration will be required, as space will be limited
Wildlife Clinic/Emergencies: (480) 471-9109
Wildlife Education/Tours: (480) 471-3621