CAVE CREEK – Wednesday night's special council meeting, following an executive session, originally sought to enter into a reimbursement agreement with the Cahava Springs Revitalization District to complete the water line that would provide west side residents whose wells have gone dry with access to municipal water.
Addressing the west side residents, who previously threatened to sue the town if they don't have access to water by Sept. 30, Mayor Vincent Francia said, "This is where we are. We don't have an agreement."
He said they were not able to come to an agreement with Cahava but that didn't mean they wouldn't.
Showing a map of the water lines on the west side, the ownership of the northern and southern infrastructure, and explaining what needed to get done, Francia said there will be a meeting on Monday, Aug. 22 where he will ask council to approve the expenditure of funds to complete the necessary improvements to the southern sector, which is owned by the town.
He said the town could not violate the Constitution by making improvements to the northern sector, which is owned by Cahava.
Francia told residents, "We will not take action here."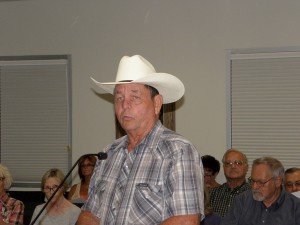 However, he also stated, "We will remain committed to this until this is accomplished."
Unlike the last meeting where Terry Smith threatened the town with a lawsuit, he said the west side residents were simply waiting for a commitment that there will be water and appreciated what the town is doing.
Smith said there were residents north of Saddle Mountain that were talking about forming an improvement district so they can connect to the water main when it's completed.
He said if the town can get the southern half done so it's ready for when the northern part can get done, it would move things along.
J.D. Smith posed the question, "What if we got together on the west side and bought that line instead of spending money suing you?"
Francia stated he couldn't give them legal advice.
Anna Marsolo said she was at a meeting in 2005 and seemed to recall Cahava Springs principal Mark Stapp asking for two exceptions to the subdivision ordinance but stated she didn't recall there being any discussion about waiving the performance bond, which raised the question as to why the town didn't file a claim with the bonding company to have the work completed.
Town Manager Peter Jankowski said for whatever reason the town engineer at the time did not take any action.
John Miller stated he was told there was no completion bond and wanted to know who "dropped the ball."
Michael Wolf said he asked back in 2008 if there was a performance bond and he was told "No."
Wolf said that was unacceptable for a project that size and stated, "I need water. You guys need to step up and do your job. Take care of your citizens. We're not your step children."
Richard Maes, who spoke shortly during Call to the Public to say, "I need water," restated his plea during the agenda item's public comment period.
Janey Morden said she was home that morning when the home burned down and stated, "I hope we can get some water."
Wendy Kerychuk said she too was at that meeting in 2008 and lives two houses away from the fire.
Kerychuk said she recalled Francia telling them during that meeting, "If you give us Walmart, we'll give you water."
Francia acknowledged he made that statement and said, "It's not a matter of expense."
C.W. Jensen stated, "I do not know how much this project will cost."
Francia stated, "It's not a matter of cost," and said that will come to council on Aug. 22.
Jankowski explained on a color coded map, which water lines were owned by the town (brown and red), which were owned by Cahava (green) and the improvements that needed to be made.
He said council can work on the brown and red because the town has full authority but legal counsel was working on a solution for the other.
Kerry Smith said there was such a limited time for preparing material and asked if citizens could be provided a cost estimate on what is essential to meet the residents needs as well as the total for all the improvements it needs to make.
Smith stated the town has made concessions to Cahava and suggested the town renege on those until Cahava cooperates.
Jane Rhodes said during some of the meetings they were told a pumping station was needed and asked if that was needed to get water to the west side residents or farther up the line for Cahava.
Jankowski said he believed it was required farther up.
Before adjourning, Francia stated council's authority is not for the east or west sides of town but for all the citizens of the community.