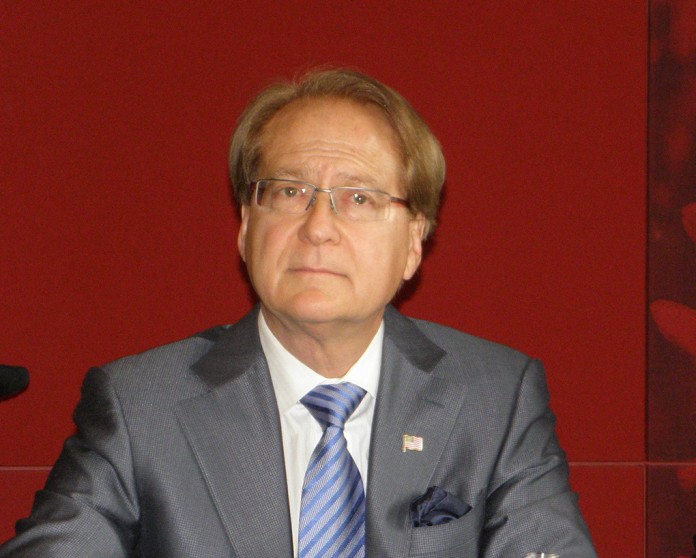 WASHINGTON – Attorney Larry Klayman, founder of Judicial Watch and Freedom Watch, filed a complaint against Hillary Clinton on Monday on behalf of Pat Smith and Charles Woods, the parents of Benghazi victims Sean Smith and Tyrone Woods, alleging she wrongfully caused the death of their sons, defamation, and intentional and negligent infliction of emotional distress.
On behalf of the aggrieved parents, Klayman stated, "Having used a secret private email server that we now know was used to communicate with Ambassador Christopher Stevens with confidential and classified government information, and which we also now know was likely hacked by hostile adversaries such as Iran, Russia, China and North Korea aligning with terrorist groups, it is clear that Hillary Clinton allegedly negligently and recklessly gave up the classified location of the plaintiffs' sons, resulting in a deadly terrorist attack that took their lives. It is no coincidence that covert State Department/CIA operations were being run out of Benghazi.
"To add insult to deadly injury, Hillary Clinton told the plaintiffs that their sons were killed as the result of a video mocking the Islamic prophet Mohammed when she knew that they were murdered by Muslim terrorists. When the families exposed her lies, she called them liars to protect her reputation and to further her own presidential ambitions. She thus defamed the parents of fallen heroes Tyrone Woods and Sean Smith, as well committed other wrongful acts, as alleged in the complaint."
The complaint notes Clinton lied to plaintiffs and the public at large that the Benghazi attacks were caused by Islamic reaction to an anti-Muslim YouTube video posted on the internet in an effort to save President Barack Obama's re-election and, in turn her own chances at the 2016 presidency.
The lies were perpetrated despite Clinton knowing immediately that the video was not the cause of the attack, which she shared with the Prime Minister of Egypt and her own daughter Chelsea Clinton.
Clinton hid this information from plaintiffs and the public at large and even promised that the person responsible for the video would be arrested.
Woods recorded what Clinton told him in his diary, which he has written in for many years.
The complaint goes on to allege Clinton is attempting to save her reputation and intimidate plaintiffs and their surviving family members into silence as she attempts to be elected President, and has gone on "a defamatory smear campaign to paint plaintiffs as liars in the public eye in order to discredit plaintiffs, who have been vocal about defendant Clinton's pattern and practice of dishonesty regarding what caused the Benghazi attack, its aftermath, and the death of their sons."
The facts presented include Clinton's use of a private e-mail server to conduct official government business while serving as Secretary of State, sending and receiving thousands of e-mails regarding matters of national security, including information categorized as "top secret," "secret," and "confidential" was, according to FBI Director James Comey, at a minimum, "extremely careless" in handling classified government information.
Meanwhile, Clinton accused Russian intelligence services of hacking into the Democratic National Committee computers and stated, "We know that Russian intelligence services hacked into the DNC and we know that they arranged for a lot of those emails to be released and we know that Donald Trump has shown a very troubling willingness to back up Putin, to support Putin."
The lawsuit notes it is logical to assume the Russians hacked Clinton's server as well.
According to the complaint, while Secretary of State, Clinton utilized her private e-mail server to send and receive information about the location of Ambassador Christopher Stevens and thus the U.S. Department of State and the covert CIA and other government operations in Benghazi, Libya.
The complaint asserts that information was intercepted by foreign powers and obtained by Islamic terrorists to plan, orchestrate and carry out the "horrific and devastating attack on the American diplomatic compound in Benghazi on Sept. 11, 2012, resulting in the death of four Americans, including Smith and Woods."
After the attack, Clinton repeatedly blamed the anti-Muslim YouTube video and stated, "Some have sought to justify this vicious behavior as a response to inflammatory material posted on the Internet."
When Clinton met privately at Joint Base Andrews in Maryland on Sept. 14, 2012 with the family members of the four Americans who were killed during the attack, she lied and told them the attack was the result of the anti-Muslim YouTube video posted online and that the creator of the video would be arrested.
Subsequently, Nakoula Basseley Nakoula, the man who created the video, was indeed prosecuted and jailed for making the video that Clinton claimed caused the attack.
As Clinton campaigns for the presidency, the complaint states she has "negligently, recklessly, and/or maliciously defamed plaintiffs by either directly calling them liars, or by strongly implying they are liars, in order to protect her public image and intimidate and emotionally harm and silence them to not speak up about the Benghazi attack on at least four separate occasions."
The four occasions cited in the complaint include an interview with ABC's George Stephanopoulos on Dec. 6, 2015 where Clinton flat out falsely denied telling the families of Benghazi victims that the YouTube video caused the attack.
She also stated, "This was a fast-moving series of events in the fog of war and I think most Americans understand that."
On Dec. 30, 2015, during a Conway Daily Sun Editorial Board meeting, Clinton directly branded plaintiffs as liars.
When Sun columnist Tom McLaughlin pointed out discrepancies in Clinton's public and private comments about the cause of the Benghazi attack, referencing Clinton's interview with Stephanopoulos where she denied telling plaintiffs the attack s were caused by the YouTube video, McLaughlin asked, "Somebody is lying. Who is it?"
Clinton responded, "Not me, that's all I can tell you."
On March 9, 2016, during the Democratic Presidential Debate, when asked about plaintiff Smith's allegation that Clinton lied to her by blaming the attack on the YouTube video, Clinton stated, "I feel a great deal of sympathy for the families of the four brave Americans that we lost at Benghazi, and I certainly can't even imagine the grief that she has for losing her son, but she's wrong. She's absolutely wrong."
Most recently, during her July 31, 2016 interview with Chris Wallace of Fox News Sunday, Clinton stated, "Chris, my heart goes out to both of them. Losing a child under any circumstances, especially in this case, two State Department employees, extraordinary men both of them, two CIA contractors gave their lives protecting our country, our values. I understand the grief and the incredible sense of loss that can motivate that. As other members of families who lost loved ones have said, that's not what they heard, I don't hold any ill feeling for someone who in that moment may not fully recall everything that was or wasn't said."
Plaintiffs have demanded a jury trial and are seeking general (non-economic), special (economic), actual, compensatory and punitive damages to be determined by a jury.
Klayman stated, "Hillary Clinton has been thus far fortunate, throughout her career, to escape the long arm of the law, believing and acting as if she is above the law. This time, her 'luck' has run out."