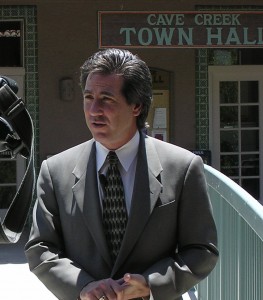 CAVE CREEK – This case dates back to Sept. 14, 2011 when Robert Kerkel was issued a long-form citation by the town for both criminal and civil town code violations associated with his accumulation of enough junk vehicles and junk vehicle parts to completely fill his multi-acre property on East Galvin Street in violation of the town code.
However, the problems leading up to this case apparently began way back in 1990, when Zeita Pochos filed a complaint with the town against her next door neighbor Robert Kerkel because his ever-increasing collection of junk vehicles and junk vehicle parts amassed on his property and encroaching onto her property had become a nuisance.
The case was successfully prosecuted and the town won on appeal. However, when the case was remanded back to the town for sentencing, for some reason it was referred to the town's civil attorney instead of former Town Prosecutor Mark Iacovino and slipped through the cracks without any resolution.
As time went on, things only got worse with hoards of pack rats taking up residency in the junk vehicles which in turn drew packs of coyotes to the neighborhood, endangering neighborhood pets.
Pochos subsequently filed a new complaint in September 2011.
Following a one-day bench trial in October 2012, the last trial to be held in Cave Creek Municipal Court prior to court consolidation with Carefree, Cave Creek Judge Pro-Tem Deborah Weecks found Kerkel guilty of two misdemeanor criminal counts of depositing litter on private property and failing to maintain the property free of litter, and responsible for three civil violations.
Weecks ordered Kerkel to abate the litter, junk motor vehicle storage, nuisance, and maintenance of a non-permitted use of property.
Kerkel was given until close of business on Friday, Jan. 11, 2013 to have all the non-vehicular matter removed or properly stored.
Weecks made it clear her reading of section 92.03 did not permit litter to be kept indefinitely so long as said litter is stored in suitable containers and stated, "Rather, the logical meaning in the context of the city code is that litter is kept in containers and disposed of in due course."
Her order, required vehicles not fully intact and operational to be removed no later than March 15, 2013 and any other vehicle that was not listed that might be on the property in a wrecked, dismantled, or partially dismantled or otherwise inoperable form, to also be removed by March 15, 2013.
Any other vehicles, which Kerkel stated included up to 22 vehicles, that did not meet the town code's definition of "junk motor vehicle" was ordered moved to either a lawfully permitted enclosed building or an area completely screened from view.
He was given until April 12 to comply with that and other parts of the order.
Weecks further imposed a condition of probation for up to two years to end promptly two years after the court finds him in full compliance.
He was sentenced to 30 days incarceration for each of the two criminal counts to be served concurrently and criminal penalties of $2,500 for each criminal count and civil penalties of $250, $500 and $250 for each of the respective civil violations.
However, Weecks suspended all incarceration and fines providing Kerkel successfully complied with her abatement order.
The case was set for compliance review on April 17, 2013.
Kerkel, however, appealed to Maricopa County Superior Court, which affirmed Weecks' order.
Kerkel asserted during his trial that his non-conforming use of the property began before the town's incorporation and the use was lawful under then-Maricopa County rules and regulations.
However, testimony during his trial pointed out although he moved on to the property in 1986, he didn't own the property until 1987, after the town incorporated.
Additionally, the use was also not permitted under county zoning regulations.
Kerkel subsequently appealed the superior court's judgment.
The court of appeals stated it had jurisdiction but only to the extent Kerkel was challenging the validity of a municipal ordinance.
Kerkel did not appeal his criminal convictions and only challenged the municipal court's ruling that found him responsible on two of the civil counts: Junk Motor Vehicle Storage and Maintaining a Non-Permitted Use of Property, claiming the court erred by requiring him to prove his nonconforming use defense that he said imposed an unconstitutional burden of proof.
The court of appeals affirmed the superior court's judgment, stating, "Because Kerkel was not unconstitutionally disadvantaged by application of an unconstitutional burden of proof, he has not stated a basis for relief."
The town of Cave Creek appointed Iacovino as a special prosecutor to handle the appeals since he had successfully prosecuted the case at trial.
Iacovino stated, "Bob Kerkel is a good man with a true passion for collecting junk cars and parts in hopes that he, or someone else, will one day restore them. I'm glad that people like Bob are around to preserve automotive history, but he must pursue his hobby in an appropriate, industrial-zoned location. We simply cannot permit someone to maintain a junk yard in a residential neighborhood. That would be horribly unfair to the neighbors."
Because Kerkel had run the gamut of appeals after the Arizona Supreme Court denied his petition for review in May 2016, his case was remanded back to Carefree/Cave Creek Consolidated Court for sentencing on Wednesday, July 27 before Judge Stephanie Olohan.
Olohan distributed copies of the original decision and sentencing order to the parties and stated the only changes were to the compliance dates.
Olohan said, in order to keep the sentencing true to the original sentencing order, she counted the number of days from the date of the original compliance order and used those same numbers of days for new compliance dates.
She asked if any of the parties had any questions.
Kerkel said he wanted to speak and informed the court he was very ill during the original trial and he was now scheduled for surgery on Aug. 1 "to have my intestines put back in my body."
He said the timing was awful and stated he would be out of it for at least six weeks, adding, because it is a hernia he won't be able to do any heavy lifting for some time.
Olohan asked if there had been any effort prior to this date to come into compliance.
Kerkel stated he was paying someone for two years to get rid of the trash and debris on his property and it appeared to be all gone.
However, he later learned all the person did was hide the piles of debris rather than remove it.
Kerkel then complained that he kept putting up a fence but Pochos kept tearing it down. He claimed Pochos tore down 40 feet of stucco fence that cost him $2,500.
Pochos sat in the courtroom shaking her head.
Olohan advised Kerkel that the court was legally obligated to impose the sentence ordered by Weecks and said the court could not deviate from the sentence she imposed.
Iacovino said he could appreciate what Kerkel was saying but stated he didn't expect Kerkel to move all the vehicles himself.
Icovino stated, "This has been a very long haul. This is nearly four years after the trial," noting the property was worse.
Reiterating it was an admirable thing Kerkel was doing, Iacovino said, "The time has come for all that stuff to go somewhere else."
Coffinger stated the criminal charges had to do with debris/litter, which he claimed had been removed.
Olohan asked if the town marshal had been out to verify compliance.
Iacovino stated the court would reimpose the sentence and they would see where it goes on the compliance dates.
Olohan read the original sentencing order into the record and substituted the original compliance dates with new dates into the future with a compliance review hearing set for Dec. 14, 2016.
Kerkel then stated since the original sentencing his property lines have been moved three times.
He said it was his understanding Pochos' son-in-law works for the county assessor's office and insinuated he had been involved in modifying the records.
Pochos sat shaking her head and later said her son-in-law doesn't work for the assessor's office but for the town of Cave Creek.
Olohan told Kerkel the court could not get involved in a property line dispute and stated, "I have no other authority. All this court can do is impose the original sentence."
After the hearing, Pochos didn't appear to have high hopes Kerkel would comply and said sending him to jail would do nothing to correct the nuisance she and her neighbors have had to endure for over 25 years now.