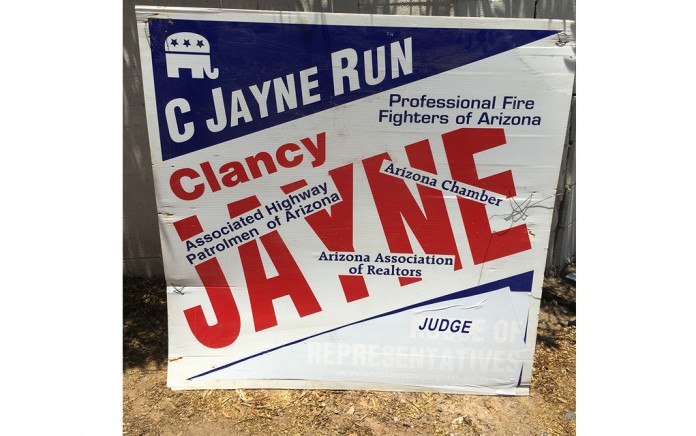 PHOENIX – Desert Ridge Justice of the Peace Clancy Jayne, the recipient of at least five complaints and associated sanctions by the Commission on Judicial Conduct, is at it again.
While there's nothing wrong with recycling old campaign signs, Jayne is dishonestly recycling the endorsements from when he ran for the Arizona House of Representatives, an office he held for just one term a decade ago.
As Jayne took the time to carefully cover up "House of Representatives" with the word "Judge," in his bid for reelection as the Desert Ridge Justice of the Peace, he neglected to cover up the endorsements he may have had when he was running for statewide office a decade ago.
The Arizona Chamber of Commerce, for one, claims it doesn't involve itself in Justice of the Peace elections and will be sending Jayne a letter to remove the endorsement from his signs.
In fact, many statewide organizations don't endorse candidates in regional elections.
Inquiries have been made to determine if any of the other endorsements on his signs from a decade ago are still valid.
His opponent, Cathy Riggs, a former Santa Rosa, Calif. police officer with a law degree, believes Jayne's recently erected endorsement-emblazoned signs are in response to her receiving endorsements from the Arizona Police Association as well as constables who work out of the Northeast Regional Court Center where the Desert Ridge Justice Court is located.