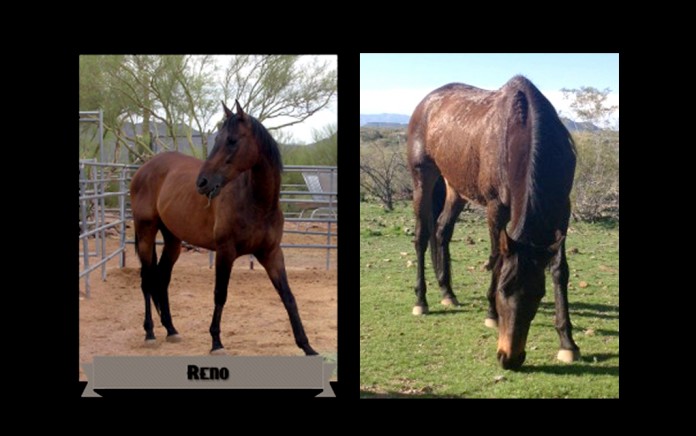 DESERT HILLS, Arizona – After The Homestretch-Arizona (ATHA) is happy to announce it has been chosen as one of the racehorse aftercare facilities to receive a grant to provide training for their former racehorses.   In 2010 ASPCA launched the "Rescuing Racers Initiative" to address the needs of thousands of horses retiring from racetracks to ensure they have a future and receive needed rehabilitation and training to live full, productive lives.
The initiative has proven to be very successful and hundreds of horses have benefitted from organizations receiving those grants.  ATHA is so grateful to have been chosen this year to apply for the grant to train our fully rehabilitated and sound horses…and to have received the grant.
"The members of our Board chose as our main focus for 2016 to have our horses trained to be safe and successful in new adoptive homes," says Dannielle Marturana, the Board President.  "We started the year out with 10 of our 18 horses perfectly sound, healthy and ride-able but they were not ready for new homes.  We wanted to be able to hire a professional trainer to evaluate each horse and provide the additional training it needed so we could be confident we were making a good match between horse and rider and that the horse would be a safe one for them."
In just our first month of receiving the grant, with the additional training, two of our horses have been adopted to families that are perfect for them.  We have also received two Adoption Applications for two other horses and a family that has just moved in the area has been visiting to observe our other horses in training and is looking closely at two.
The ASPCA Rescuing Racers Initiative enables us to provide much-needed grants to dedicated groups like After the Homestretch Arizona to assist in their critical efforts to offer medical rehabilitation, re-training and sanctuary to retired racers," said Jacque Schultz, senior director of the ASPCA Equine Fund. "We are pleased to award them this grant and we applaud their work to care for retirees as they transition into new and varied careers after their racing days come to an end."