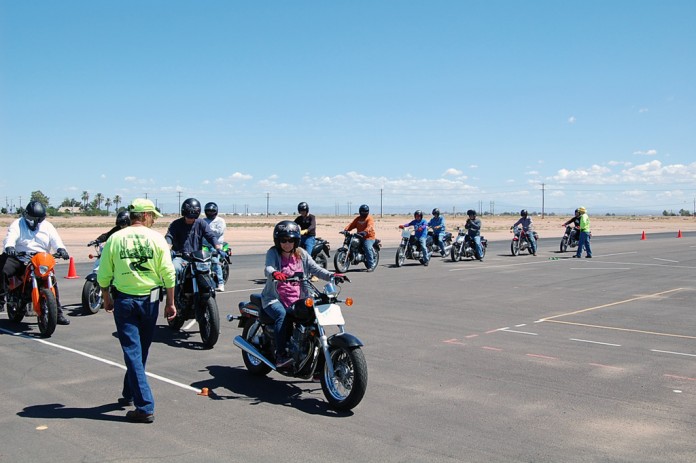 The Arizona Motorcycle Safety and Awareness Foundation (AMSAF) announces the award of a $250,000 grant from the Arizona Governor's Office of Highway Safety (AZGOHS) and the Arizona Motorcycle Safety Advisory Council (AMSAC). The grant, which demonstrates support for AMSAF's mission of boosting awareness of motorcyclists while reducing rider fatalities and injuries, will be used to provide motorcycle rider training classes to the public through a scholarship program.
"AMSAF is excited to continue giving out more scholarships to help educate new and present riders," says Mick Degn, AMSAF chairman. "We want to thank AZGOHS director Alberto Gutier for his continued support for motorcycle safety in Arizona," adds Degn. "This continues to be the largest single activity we do to promote motorcycle safety and awareness and to help reduce motorcycle crashes and fatalities. This will allow anyone in the state of Arizona to apply for, and receive, motorcycle training. The only cost is a $100 non-refundable co-pay. Since we started offering scholarships, AMSAF has provided more than 1500 in Arizona to help educate riders."
In addition to providing yet more scholarships, looking forward, AMSAF plans to:
• develop unique partnerships with Arizona businesses to help reduce crashes and fatalities
• research and identify dangerous intersections and stretches of roadways where most motorcycle crashes occur
• create an electronic library of images, stories, testimonials and statistics for use in promoting safety awareness
• increase participation in rider training through discount incentives
• identify key industry liaisons that can help further the message and promote AMSAF's efforts through activities, events and outreach opportunities
Saving money, saving lives
A basic rider's course can cost a motorcyclist in Arizona up to $300; however, the AMSAF scholarship will enable riders to obtain necessary safety training with a minimal out-of-pocket investment: a $100 co-pay. Every Arizona motorcycle rider or potential rider is eligible to receive the AMSAF scholarship, and can apply by visiting AMSAF online at: http://www.amsaf.org/scholarships/.