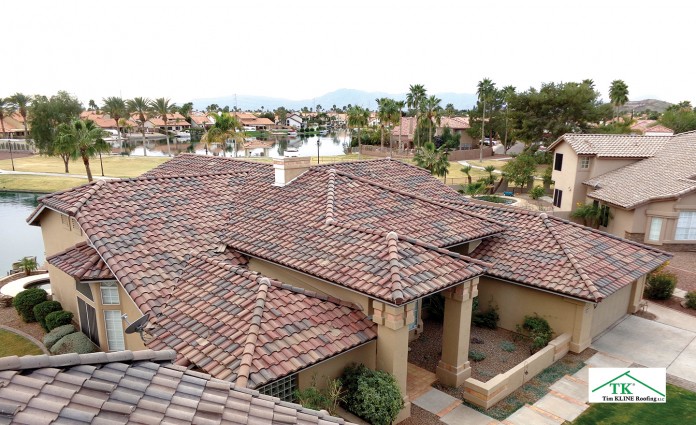 Tim Kline, owner of Tim Kline Roofing, LLC, and his crew are thrilled with how warmly they have been embraced by the Desert Foothills community. Since running an ad in Sonoran News, most of their business has come from folks in Cave Creek, Carefree and Scottsdale. Because roughly 90 percent of customers are calling from this area, they know it well and can advise accordingly. (No need to worry about unapproved tiles in HOA communities!)
"We have been crazy busy," Kline said, "and I really want to thank everyone who has put their trust in us."
If you're considering roof work, phone sooner than later since the summer is about booked for Kline, who works with a single, dedicated and reliable team. Clients sometimes shy away from calling roofers in hot weather, but Kline said it's what they do. "We chose this work, we know what we are doing and we work smart. Neither the guys nor the work product suffer," he assured.
The tagline at Tim Kline Roofing has always been – Roofs done right … the first time. ecause that's not merely lip service, Kline is confident in offering a 15-year workmanship warranty on all complete roof systems. Customers immediately witness the difference as to Kline's excellence when he hands them a free detailed roof inspection and written proposal with photos prior to any work being undertaken. He likes to explain and educate so everyone has a good experience in an industry that is literally and sometimes figuratively over clients' heads and it's easy to take advantage of consumers who are unable to check up on roofing work. From the many referrals at www.timklineroofing.com, you'll know you are in honorable hands.
For pitched roofs or flat, shingles or tiles, maintenance or repairs, contact Tim Kline Roofing at 480-357-2463 or 602-818-0571.