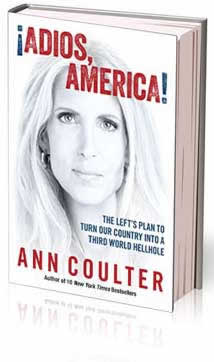 Ann Coulter is back, more fearless than ever. In Adios, America! she touches the third rail in American politics, attacking the immigration issue head-on and flying in the face of La Raza, the Democrats, a media determined to cover up immigrants' crimes, churches that get paid by the government for their "charity," and greedy Republican businessmen and campaign consultants – all of whom are profiting handsomely from mass immigration that's tearing the country apart.
Applying her trademark biting humor to the disaster that is U.S. immigration policy, Ann Coulter proves that immigration is the most important issue facing America today. As Ann points out, if we cave to the Democrats' scheme to bring in 30 million new liberal voters, we lose on everything else, too, from the economy to social issues to foreign policy to constitutionalism, to the very identity of our nation.
Immigration is the one issue where it's nearly impossible to get the facts – or even the other side of the argument. But Ann blows the lid off the cover-up by government, both political parties, and media alike.
A sampling of the scintillating insights and revelations in Adios, America!:
•  On building a border wall: "People who live in gated communities tell us fences don't work."
•  On welfare: "Today's immigrants aren't coming here to breathe free, they're coming to live for free."
•  On how the media shut down the immigration debate: "It can be difficult to discuss America's immigration policies when it's considered racist merely to say, 'We liked America the way it was.'"
The Democrats have always regarded "immigration reform" as a way to stuff the ballot box – starting with Ted Kennedy's immigration law of 1965.
The Democrats know that by changing the makeup of our population they can deliver themselves a permanent majority. Immigration "amnesty" will do just that overnight; continuing our current legal immigration policy will do it within ten or twenty years. Ann Coulter shows what we need to do to stop them.
If you love your country, you need to read Adios, America!
Adios, America! hits store shelves on June 1. Pre-order your copy today.
·  ISBN-10: 1621572676
·  ISBN-13: 978-1621572671