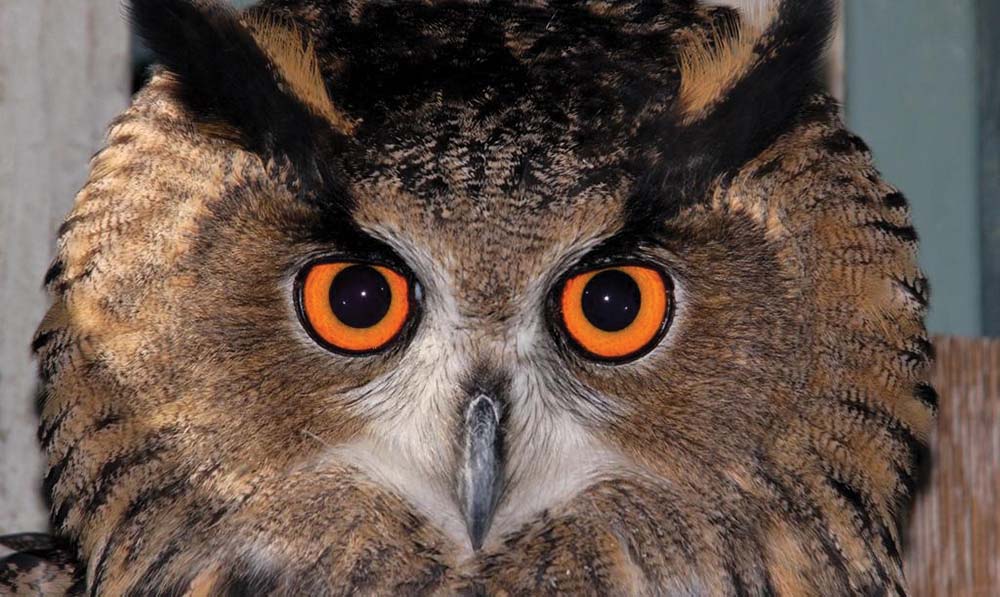 Marielle D. Marne

CAVE CREEK – When it comes to respecting the raptor and honoring the owl, Wild at Heart has been doing so for more than thirty years. Founded by Bob and the late Sam Fox, the rescue, rehabilitation and release center for birds of prey has seen far too many feathered friends fall victim to preventable perils.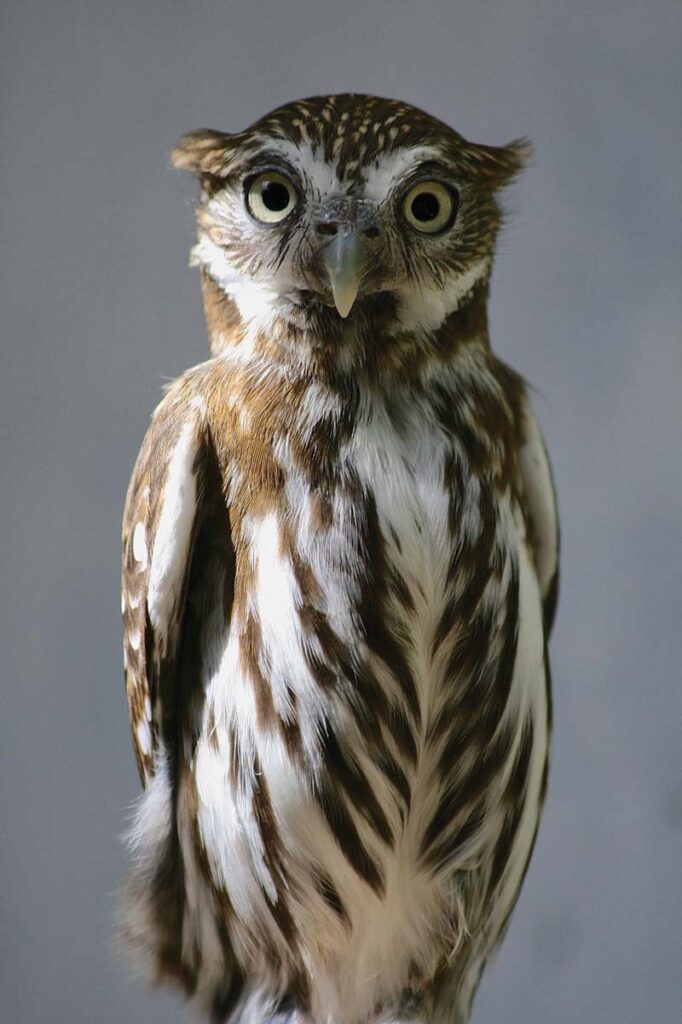 One of the most common? Rat poison. Eric Murray, operations/conservation manager, explained how rodenticides, along with insecticides and herbicides, have a cumulative effect. "Any poison will travel up the food chain." Even the dreaded scorpion may be a meal for birds and bats.

Yes, everyone knows rodents are prolific. "Left unchecked, two adult rats can be responsible for the birth of up to 15,000 descendants after a year." Poison is a quick fix … with too many unintended consequences. A safer alternative? ContraPest is the first EPA-registered contraceptive for both male and female rats developed by rat fertility control scientists to create healthy environments by virtually eliminating rat pest populations.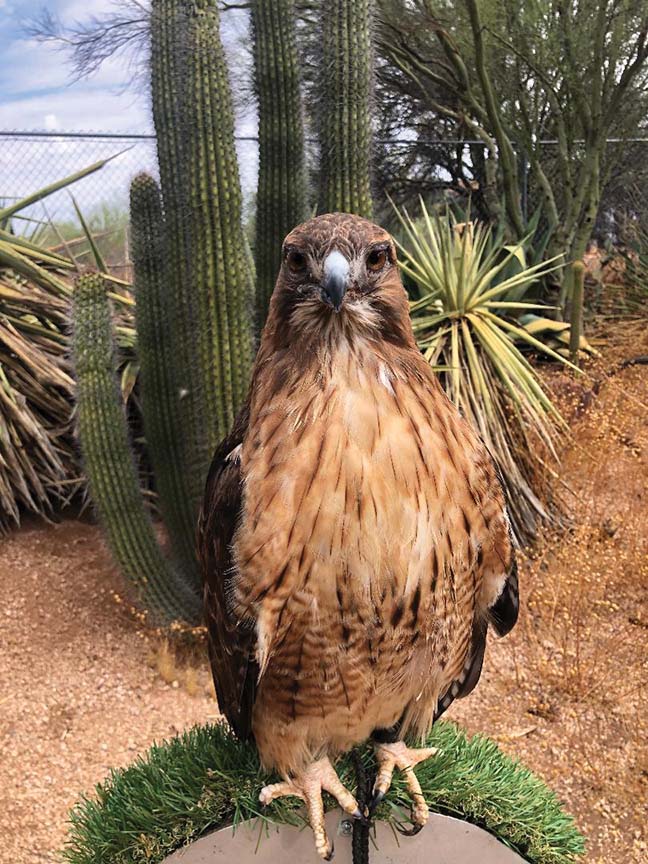 While results aren't obviously immediate, in the interim, remove food sources for unwanted critters. Store birdseed in containers that can't be opened/chewed, pick up dog/horse/chicken chow, clear out clutter where rodents can hide, remove brush and fallen cacti that can attract outdoor inhabitants. And refrain from poison! It's a horrible death for anything that consumes it, even the lowly rodent.

If a vehicle has been fair game for pack rats, try Rid-a-Rat. Designed by a retired aerospace engineer and US made, it reportedly works and gives birds of prey a chance to earn their keep! When allowed and encouraged, nature will take care of its own.

A lesser-known issue is trichomoniasis. Female hawk, Roja, is a lifelong resident of Wild at Heart, having contacted the disease and having subsequently lost her tongue. How to avoid causing this malady? It is transmitted from bird to bird through direct contact with infected individuals, contaminated food or water, so freshen birdbaths and waters, change out seed and keep any feeding areas sanitary.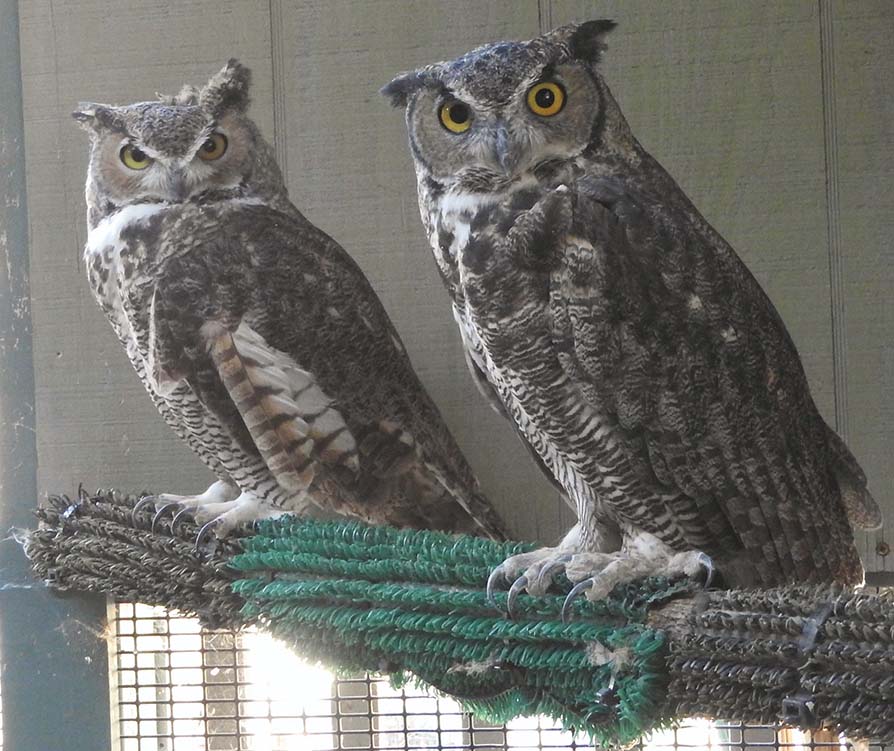 Great horned owls are a common sight throughout Arizona. Jasmine and Aladdin wound up at Wild after Jasmine suffered wing damage from electrocution. Once her wing was amputated, she was un-releasable. Easy to remedy. If an injured bird or nest is discovered on or near a power line, or one that has succumbed to obvious burns, phone APS/SRP and report it so they can address any hazard.

Aladdin was found in Yuma by someone who tried to do the right thing without knowing what to do. Aladdin was taken to a community college after he was found on the side of the road, likely hit by a car. His wing was out of alignment, and though taken to a vet, the wing healed wrong in the two months attempts were made to mend him. He's been a lovely education bird, and has a mate for life in Jasmine, but the folks at Wild would like nothing more than to return all birds in their care to the skies. The best course of action if a raptor is found? First, observe. If a predator is about to pounce, probably okay to intervene. If it's featherless, look for a nest to return it to, unless it is injured, then call Wild at 480-595-5047. The team appreciates photos to better assess the situation and to make sure it's a raptor for which they are licensed. They cannot deal with hummingbirds, songbirds, silly cactus wren or the like.

Other problems plaguing birds of prey and wildlife in general – the prevalence of pools in the Grand Canyon State.
"Rarely do pool birds make it. We suspect they stress themselves too much attempting to get out," Murray lamented. In addition to fencing, keep an eye on pools so if anything does fall in, the sooner it's removed, the better chance it has for survival. Wild also advises "Frog Logs" or other similar devices to allow wildlife to crawl out. Note that more than one may be required depending on the size of the pool/spa.

Soccer/tennis/badminton nets, fences and spiderweb netting common around Halloween also present perils for birds. As with pools, keep an eye on anything that can ensnare owls, hawks, eagles, vultures; however, anyone in wildlife rescue would like see fake spiderwebs relegated to indoors only and any nets secured and tied up out of wildlife's way. To prevent birds smashing into windows, invest in WindowAlert/Bird-Safe® decals.

Other birds that call Wild at Heart home are a Eurasian eagle owl – Khansha – who was someone's pet that either escaped or was let go. It should go without saying that keeping a wild bird illegal, so the folks at Wild say don't do it! Mojo, a turkey vulture, ended up in captivity after a cave explorer found him and he could not be released. Braveheart and Sky are thought to be male Bald eagle B(ird)FFs that have permanent injuries, Braveheart likely hit by a car, and cannot fend for themselves.

For those who appreciate the birds of prey that call Arizona skies their own, be mindful of actions that could harm them. A big no to poison but yes to fertility control devices. Refrain from sticky pads and glue traps. As well as being torture devices to anything trapped in them, "They are cruel deaths," Murray reiterated.

While many neighbors may know Wild at Heart for its rescue work, fewer are aware they are part of conservation efforts, in conjunction with Fish and Wildlife Service, for the cactus ferruginous pygmy-owl, whose numbers are dwindling due to habitat loss. Thus far, eighty chicks have been hatched by these small but mighty owls.

For community members who have done everything to protect birds of prey in their backyards and as they drive through areas where raptors may be traveling but want to do more, Wild at Heart can always use help. First and foremost, it costs $250,000 per year to feed its residents. Cash donations are tax deductible and welcome at wildatheartraptors.org or gift cards from area grocers will fill the fridge with fish. Volunteers are needed, and while they can't play with and pet the likes of Jasmine, Braveheart, Ferocity (ferruginous hawk) or Mocha (Red-tailed hawk), they can get closer than the average person through cleaning, fixing and feeding. Anyone with carpentry skills is encouraged to reach out to build nesting boxes. Wild at Heart is not a public facility but tours are available (donations are accepted in lieu of an entrance fee) by arranging one in advance.
Wild at Heart will be in attendance for Carefree Kiwanis Christmas for the Kids on Dec. 2. Education raptors – possibly two smaller owls, Burrowing owl and a Western Screech owl, and two larger raptors, a Red-tailed or Harris's hawk and a Great Horned owl – will be on hand with staff and education volunteers. Guests are encouraged to learn about these birds, the rescue and rehab facility and take pictures. There will be no actual contact with the birds – no holding, petting or taking selfies.